Lifestyle
Chief Justice of India NV Ramana Highlights Inadequate Representation Of Women In Indian Judiciary And The Issues They Face. This Is A Huge Step
By
|
In the last few weeks, Indian women have been winning accolades and breaking records galore. Whether it be the Olympics, Paralympics, or in the Indian judiciary. Women have gone ahead and proved their merit and inspired young girls all over the country to fight for their dreams. In fact, history was created, when three women— Justices BV Nagarathna, Hima Kohli, and Bela M Trivedi—took oath as Supreme Court judges, with Justice Nagarathna poised to be the first woman Chief Justice of India. And even though this is a big step towards gender equality in our country, women's representation in the Indian judiciary still needs some work. In fact, the Chief Justice of India (CJI), NV Ramana, at a function, spoke about there being only 11% representation of women in the Indian judiciary.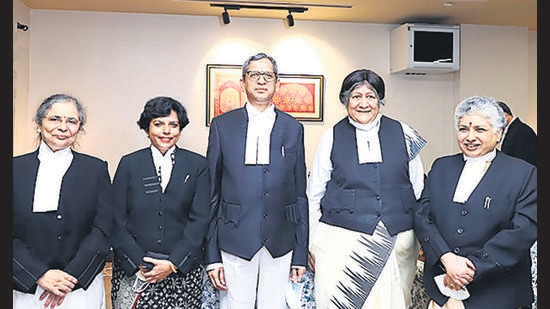 Recently, at a felicitation function held by the Bar Council of India (BCI) on Saturday, CJI NV Ramana stated some hard-hitting facts that highlighted the troubles faced by women in the judiciary and also spoke about how very few women advocates find representation in higher positions. He acknowledged the struggles of the majority of women advocates in the Indian judiciary in front of the Supreme Court judges, Union Minister Kiren Rijiju, and other top law officers who were present at the function.
CJI Ramana stated that after 75 years of independence, one would expect at least 50% of women representations at all levels of the Indian judiciary. But in reality, we have only 11% of women representations at the Supreme Court Bench, that includes the four women judges that we presently have.
Stating the brutal reality of the Indian judiciary, CJI Ramana revealed how women advocates have to struggle extremely hard in this profession. And even after years of struggles and going through hardships, very few women find representation at the top. 
According to India TV, NV Ramana, the Chief Justice of India, made everyone uncomfortable at the function, when he highlighted these facts about women advocates and the representation of women in the Indian judiciary. He spoke about how some courts do not have toilets inside the court for women. He also alluded to how most male advocates do not respect their female colleagues and do not treat them with dignity and respect. In his speech, he urged advocates and other members of the Indian judiciary to respect women colleagues and treat them with the respect they deserve.
Honestly, it feels nice to hear and know that the Chief Justice of India has chosen to pick up this issue and present it to the Bar Council in the most realest way. He didn't sugarcoat anything and spoke hard facts that even though made his listeners uncomfortable, were important to highlight. There are a lot of young women who want to pursue the legal profession. And giving them equal opportunities and resources to grow is the only way that the percentage of women representations in the Indian judiciary will change. 
10-Year-Old Girl From Kerala Writes To CJI Saying She Is 'Happy And Proud' Of Court's Work During Pandemic
GET HAUTERFLY IN YOUR INBOX!