Celebrating The Deeply-Knit Bond Between Fashion And Feminism
Updated March 08, 2022
"We Should All Be Feminists," screams the white slogan T-shirts as designed by Maria Grazia Chiuri for her debut Dior showcase in 2017, and that rightly explains the close-knit bond between Feminism and Fashion. Often used as a medium of expression, a woman's closet is like a little black book of secrets and her inner self. Projecting the world around, fashion has altered and found newer definitions, each passing decade and we're glad to use the one now, which is feminist, free and fab. Fuelling the narratives that allowed women to take charge of their stories, fashion has always served as a woman's BFF at times of war and gala alike.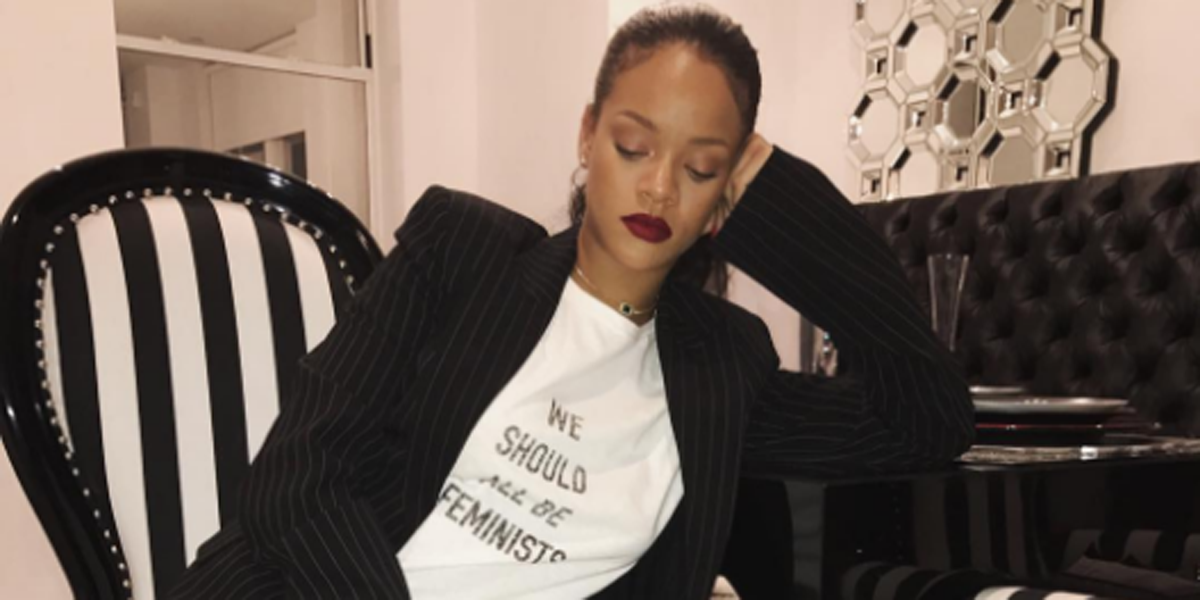 View this post on Instagram
View this post on Instagram
Dating back to the first few impressions of feminist fashion, that gave rise to the bloomer dresses in the 1800s. Introduced by women's activist Amelia Bloomer, the costume was one of the few signs of fashion revolution that rescued the dying wardrobes of women who were forced to wear skirts of a particular length, with tightening corsets leading to health issues, especially in pregnant women. Travelling from the late 1800s to now when corsets define styles of every major female closet, rightfully  elaborates the changing roles of fashion to serve the needs of the women in current times. From a formality to freedom, the battle as fought by fashion is long-lived with its history-shaping the future of tomorrow. 
View this post on Instagram
View this post on Instagram

Be it painting thy lips red, just like Marilyn Monroe or having the ability to embrace the beauty in its truest forms as defined by Frida Kahlo, these women broke out of the box that defined beauty as penned by societal norms. And bringing about that change, many revolutionary designers in the 19th and 20th centuries sowed the seeds of change. A few to mention– British fashion designer and youth icon of her time–Mary Quant's idea to give the mini skirts a new face, Coco Chanels' classic little black dress that still rests in every possible closet, or Givenchy's subtle approach to illustrate how pretty can be powerful too (Audrey Hepburn in Breakfast At Tiffany's) these minds, championed styles that became instrumental in unleashing the voice of women across eras. 
View this post on Instagram
View this post on Instagram
View this post on Instagram
View this post on Instagram
View this post on Instagram
The bond as shared between fashion and feminism is reminiscent of the first image of protest in the year 1969, with the rise of the women's liberation movement followed by bra-burning sessions in the streets, with the year that marked a significant time in history and pushed women to oppose traditional views of feminity. Women ditching lingerie as an act of liberation became much more than the glimmer. As a part of some glorious feminist fashion movements that celebrated silhouettes embarking on a journey of change, everything from French designer Louis Réard's creation of bikinis, that became a symbol of sexual revolution, Yves Saint Laurent's first idea of power dressing that was represented by the blockbuster launch of pantsuits for women in late 60s, to the trendsetter oversized denims, every piece as mentioned and more, attempted to push the limitations applied by patriarchal norms on women. 
View this post on Instagram
View this post on Instagram
Not to say that my wardrobe is a certificate of my character which is often the easiest scale of measure in India, my journey with finding my own style has been like shaping my thoughts, identity. As a young child, the world of television and clothes worn by my favourite film characters never failed to light up my eyes. Spending extra hours in the washroom, struggling with my mom's dupatta to drape a saree, or trying that expired eye shadow palette from my mom's closet to see how it looked on me, the curiosity of befriending elements of existing styles and finally finding my own was a quite an eventful journey, considering it all started at the age of twelve. Living in a world, where women are often told what to wear, the refreshing change as imposed by many onscreen characters displayed women of all kinds, who refused to conform. 
Just like a classic romantic hindi film, with tales of nok-jhok between the protagonists to eventually falling in love, fashion and feminism have had a bumpy ride on the way to embrace each other. From stuffing our faces with glitter, perfectly chiselled chins, photoshopped bodies, to now shifting gears with unbiased ideas of beauty and style, fashion has always offered women from all walks of life a safe space. Talking about the world's most iconic figures who made that shift for us, one name that needs to enter the room is ofc of Marilyn Monroe. Unapologetic and fierce, Marilyn Monroe's charm and words democratised glamour for one and all and as she rightly said, "Give a girl the right shoes, and she can conquer the world," she really gave some extra pairs to women around the world. Female icons ruled the fashion industry and scripted history. From the inches of a woman's heels to her necklines, women across the globe have time and again demanded a change. This also reminds me of so many lovely ladies including Maharani Gayatri Devi, Rajmata Of Jaipur, an icon for modern India, with followers of her style and a persona that exhibited power in the political realm equally. And now looking at powerful onscreen personalities like Neena Gupta, who not only demanded a change in terms of storytelling but banished the rules that marinated fashion with age, these names have driven the much-needed shift, rooting for gender equality, on and off screens (not to miss the runways).
View this post on Instagram
View this post on Instagram
View this post on Instagram
View this post on Instagram
View this post on Instagram

From being inclusive through androgynous styles, serving happiness through its colours, boosting confidence through its silhouettes, speaking mind through the slogans headlining t-shirts to offering comfort in times of need, fashion and its various avatars have altered to serve best to the needs. And style definitely is no more about honing a great taste (which is a term I'd really like to retire), it is indeed all about wearing your confidence. So, ladies, break the glass ceiling and wear your mind for the world to see. Happy Women's Day!
Image Credits: Instagram
From Anupamaa To Imlie, Female Characters That Are Weaving A Wave Of Change In Indian Television