These Celeb-Approved Boyfriend Blazers Will Make A Fab Combo With Both Your Sarees And Skirts
Remember the scene when Emily returns from Alfie's home and parades on the streets of Paris in his oversized navy blazer? And before she bumps into Gabrielle, the blazer reminds her of the sweet moments from the previous night with her potential boyfriend–Alfie. Well, it is not just our American resident in Paris, but many, many onscreen characters who made this exchange a moment to remember. And as much as cute it sounds, to steal a piece from your beloved other's closet, it is now exactly what you'll need to make a style statement. However, in this case, the blazer comes sans a real boyfriend, which is also great. Right? Boyfriend blazers remain a related relative to boyfriend jeans, or rather anything that associates itself with the oversized trend. The star of trend charts today, boyfriend blazers are not just extra large, and comfortable but also versatile in every stitch. Dress them down with denim or dress them up with just a pair of boots, they have the power to stop parties, but only for a good reason.
From sharp and edgy lapels and dramatic collars to padded shoulders, the appealing charisma of this structured and moody-shaped silhouette has crawled from menswear staples to serve every woman's style taste. An essential addition to your gender and season fluid closet in the making, these blazers are much like glue, holding together your look. So, in case you are hoping to give this silhouette, your very own spin, then allow us to help you take some style cues from these celebs.
The Party Pleasers
The post-Covid-era has been cherishing the luxury of dressing up. From trend aesthetics like the night luxe, that injects the spirit of high-octane dressing to the homecoming of highlighter hues and flavourful colours, dopamine dressing is a recommended trick by fashion nerds. And while you are hoping to pick a piece from your favourite Zara aisles, a blazer in its many delightful forms can rush in, to rescue a quick look. A boon from heaven for lazy dressers, a blazer is exactly what you need to put together an ensemble. Experimenting with patterns, fabric colours and even accessories, allow Deepika Padukone, Malaika Arora, Kiara Advani, and Kendall Jenner to inspire your next party look.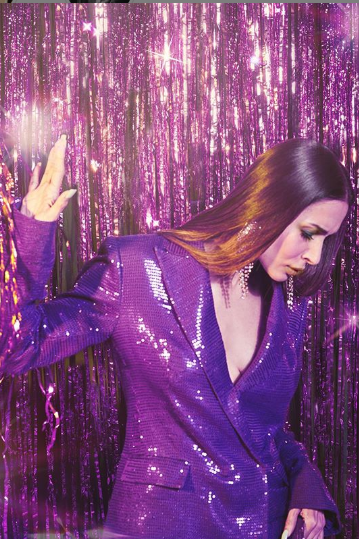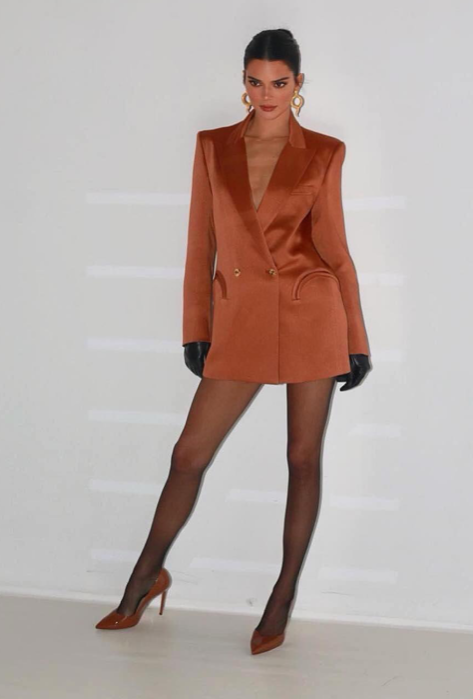 Off-Duty Sightings
Who said blazers can never go beyond boardroom meetings? For times when you are hopping cafes to get your weekend brunch, or parading on the streets for on-the-go errands, a blazer can help you whip up a chic look with even a pair of pyjamas and jeans. Like Alia Bhatt, Zendaya and Hailey Bieber, do not shy away from picking a blazer for even a stroll in the city. Here, you can look out for charcoal, muted tones or settle for a plaid printed or traffic-stopping shade to allow your blazer to lead the look.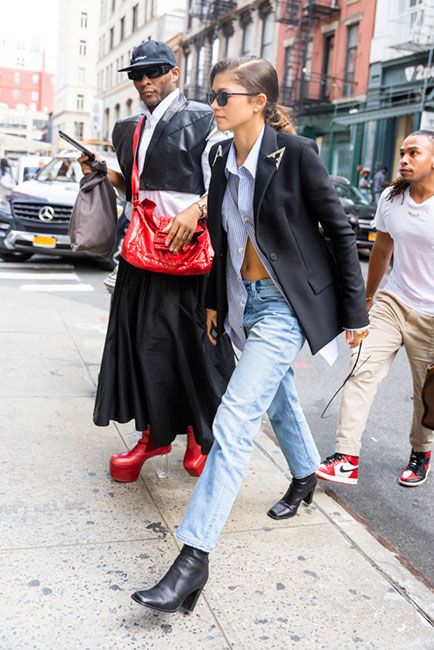 Ethnic Twist
With the festive season knocking on our doors, the urgency to shuffle through designer collections and curate a spread of multiple traditional looks is real. With audiences expanding their appetite for silhouettes of all kinds, fusion dressing has taken the top spot. From coordinated combos to androgynous styles, festive wear is catering to every sartorial taste. And if you hope to spice up the classic lehengas and evergreen sarees, trust thy blazers to do so. Allow sisters Karisma and Kareena Kapoor to inspire your power-packed festive looks.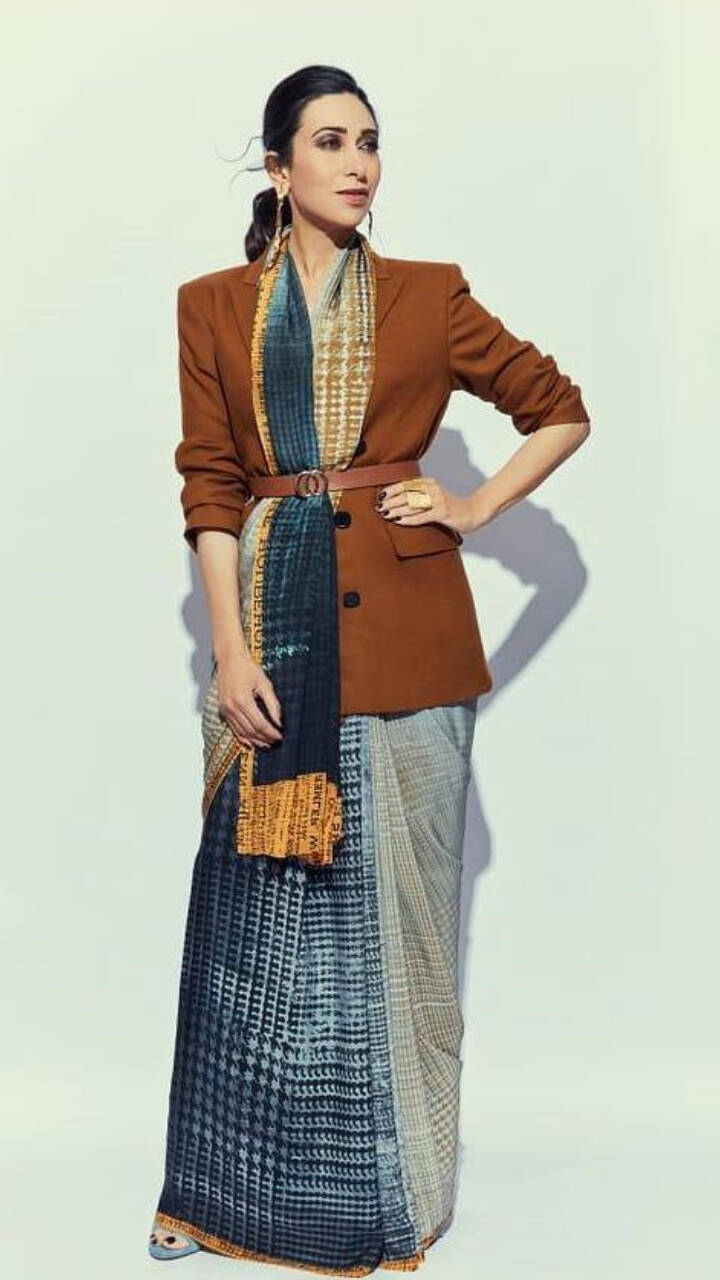 Pure Formals
Blazers have always been loyal to the old-school formals or perhaps are a veteran in the category. Besides a crisp saree, you can experiment with blazers of all kinds to spruce up your workwear essentials. From monochromatic pairings, and mismatched combos to bow-tie events, level up your game with suiting, and take cues from Sonam Kapoor, Anushka Sharma and Lady Gaga.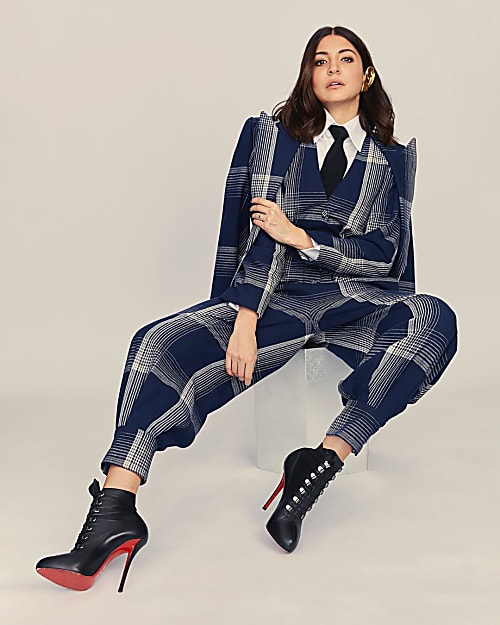 Back To School
The homecoming of tiny, skater skirts and micro-minis has fuelled the conversation around combinations that cater to the school-girl aesthetic. From crisp white shirts to baby tees, the range of pairing a spring-appropriate skirt is expanding as we speak. And an essential member to take the top spot in the list is a boss blazer. Hyping the introduction of skirt suits, celebrities from Priyanka Chopra, Bella Hadid and Janhvi Kapoor will help you find your pick.
Image Credits: Instagram
Green Is Having A Moment In Every Celebrity Wardrobe. It Ain't No Ha(a)raa But A Style Winner!
Jasveen Kaur Sawhney
Jasveen Sawhney loves writing about fashion, enjoys collecting cute pyjamas, and admires her Pinterest mood board every one hour!
Know more