Voices
Hautetalk: Rhea Kapoor Was Called "Silly" For Not Believing In Karva Chauth. Why Are We Still So Regressive?
By
|
I've often been called pseudo-feminist by random and not-so-random men on Instagram. And I don't mind it that much. No, the real betrayal is when I have women—friends, cousins, coworkers, and random women on the internet—say things like, "Yeh aaj kal feminism bohot zyada nahin ho gaya?" Girl, shush! The fact that you can even express that opinion on social media, and that you have the basic human right of owning a phone and being literate enough to type that sentence is because feminists fought for your rights. This betrayal hurts worse when the younger generation continues to pander to the patriarchy by putting a modern spin on regressive customs like Karva Chauth. Recently, Rhea Kapoor revealed that she was called "silly" by some for not believing in the ritual. Really? 
ICYMI, Rhea Kapoor, producer, sister to Sonam Kapoor and daughter to Sunita and Anil Kapoor, recently got married to her boyfriend of several years, Karan Boolani. The celebrity influencer that she is, she has been getting a lot of requests for Karva Chauth related endorsements and brand collaborations, now that she is a "Mrs." *rolls eyes* Now, Rhea doesn't subscribe to this particular custom. On Sunday, she took to Instagram to ask all these brands and collaboration requests to back off, since she won't be entertaining any of them. The reason she felt the need to spell it out was the usual attitude of the society to women who reject such customs. TLDR; they're not too happy with it.
View this post on Instagram
Rhea talked about how she was aggressively being persuaded by people to consider celebrating Karva Chauth because it was her first one after marriage and, IDK, maybe it would like good on Instagram? Thankfully, it looks like neither Rhea nor her husband believe in it, and I love that she was able to distance herself from it, without showing anyone else down for having beliefs different than her's.
And that's the thing, isn't it? Feminism does not mean that you impose your beliefs on other women, in the name of being a feminist. You respect their choices. So if someone like Rhea Kapoor can say that she does not believe in Karva Chauth but respects any other woman who choose to celebrate it, then why can't these other women leave her alone and not call her "silly" for her beliefs?
Now, that is just one part of the problem. The other is more controversial, and thereby, more exhausting to deal with. But with Karva Chauth around the corner (October 24), it is imperative that we address it.
The spirit of Karva Chauth: Fear and faith
I won't even ask you to do much. Just undertake a cursory search on Wikipedia, of all places, and you'll understand that originally, Karva Chauth was meant to be a women's festival for several reasons, none of them having to do anything with their husbands. It was about harvest; it was about female friendships, and women finding a way to bond with other married women in the village or community, since they all married very young and left their homes and villages to come live with their husbands. Also, some of these husbands were working in far off places, or away fighting in wars, and therefore, this was a way to allay one's fears by keeping each other company.
But then, as always, society had to step in and make it about men. So there were stories about how a queen of yore broke her Karva Chauth fast and her husband died the very next minute, only to be saved by divine intervention from the Goddess, who warned her to be careful and not break her fast the next time. There's also a Mahabharata legend that says Draupadi kept this fast after being advised by Lord Krishna. There are several such stories, all of which have one common punchline: If you, the wife, break the fast, then your husband dies.
Now, here's the gist. Back then, women were secondary to men and completely dependent on their husbands. They were therefore readily convinced to pray for the life of this one man because he was their whole universe, and if something were to happen to him, their lives would very literally, cease to exist.
The thing about customs and traditions is that after a point, they feel like too much work, and there will always be those who don't want to do them or who see through the loopholes. I am pretty sure there were skeptical women who asked questions about this custom, or who didn't understand how their staying hungry would help prolong their husband's life? So how do you convince them to fall in line? You instil the fear of God and death in them! Isn't that how we discipline little kids? "Do this or the police will come catch you! Don't do this or God will get angry!" Kids are easily convinced, and don't ask for proof. For adults, religion often harnesses the notion of faith in a higher power and the fear of retribution from said higher power if the rules are not observed, to make everyone follow them.
The story thus etched is convincing. A set of rituals to be performed, all attached to a celestial object, like the moon, which symbolises eternity, thereby fitting perfectly in the logic of praying for eternal health and love of your husband. Of course, asking for such a boon would require a sacrifice, and therein fits the fast. 
Unfortunately, there was no Google or myth-busting YouTube videos back then, or yours truly writing a whole-ass article to inform you about how misogynistic this whole thing is. Women from older generations believed the stories, and out of fear for their husbands' well-being, observed the fast. In fact, they added all sorts of fun elements to it to make it appeasing. So sure, you have to stay hungry and thirsty the entire day, but you also get to dress up to the nines, almost like you did on your wedding day, and play games with your girlfriends. You get gifts from your family members, don't have to work around the house (privilege), and most importantly, you get your husband's extra love and attention that day as he makes you feel like a queen. No food is a small price to pay no for these luxuries?
The romanticisation of Karva Chauth and its fallout on younger generations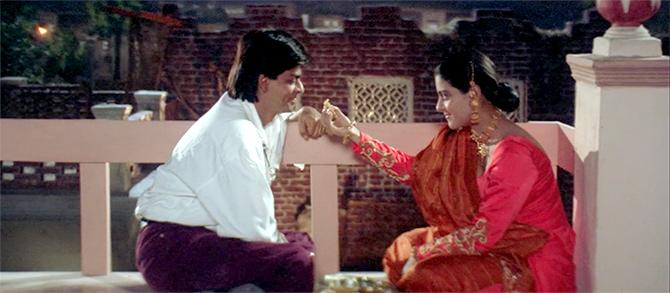 "Tere haath se peekar paani
Daasi se ban jaoon rani
Aaj ki raat jo maange koi wo pa jaaye re…."
The above are lyrics of a a popular song from Dilwale Dulhaniya Le Jayenge. Notice how it talks about a wife feeling irrelevant, almost like a handmaiden, until she breaks her Karwa Chauth fast by drinking water at her husband's hand, and starts feeling like a queen. Erm… what is this supposed to make us women feel about our self-worth?
Bollywood, with movies like DDLJ and Ishq Vishk, has turned Karva Chauth into some kind of desi Valentine's Day. However, while the latter is all about love, Karva Chauth with its rituals focused entirely on a woman fasting for her husband's health and longevity, harbours no equality. Sure, a Raj might fast for his Simran out of empathy and prove to be a better husband than Kuljeet, who is happily stuffing his face. But if he really were a good guy, he'd shut it all down, and tell Simran that neither of them need to give up food for one day and pray on a celestial satellite to grant them good health. Especially, if either of them are on medication or have low blood sugar problems.
Alas, 90s Bollywood toh phir bhi was regressive to a great extent. How do you explain millennials and Gen Z women observing Karva Chauth out of their own volition and calling it new-age feminism? Thoda emotions. Thoda "do it for the 'Gram." Package it with the privilege of 'choice'. Or announce that your husband is also fasting because that's equality. And they think they've managed to make an age-old custom that is patriarchal in its origin a feminist choice. Yeeeeeaaaah…. nope.
How can something with is inherently patriarchal, ever be feminist? That's like saying we'll cast a woman as a female James Bond and give the inherently male franchise a feminist upgrade, instead of actually helping the cause by writing newer, better roles for women! What's worse is that not only are you falling into this trap of token feminism, you're also calling "silly" these other women who chose to explain this truth to you and not join you in practicing these patriarchal customs? Maybe it is time to ask yourselves a question then….
Is Our Feminism Regressive?
Newsflash: Yes, you can be a feminist and still be regressive in your thoughts. Particularly, if you think retrofitting patriarchal customs with modern upgrades will make them any less patriarchal and problematic. 
Take, for example, the customs of wearing a hijab or a mangalsutra, changing your last name after marriage, or even marriage in itself! The argument is that if women 'choose' to do these things or practice these customs, then it is okay. But this is where the privilege of 'choice' comes in. Not all women have that privilege, do they? Mostly, it is women from upper castes and classes who can exercise this choice. And it is because it is a choice for them that they can defend it so vehemently and say that Karva Chauth is about love, and we must respect their choices for wanting to observe it.
There are also those who can't make this choice because they're not educated or aware enough to make this choice. For them, the fear, superstition and blind faith persists, and therefore they are not aware that they have a choice. And many others are too oppressed to even make that choice. 
It is kind of ironic that older generations of women fought so hard to move away from these regressive customs and traditions, and the newer generations are actually falling back into the same patterns, only because it looks nice and because they have a choice. 
Feminism = Respecting Choices
Karva Chauth is patriarchal custom. There are no two ways about it. And no matter of justification is going to change that truth. You're lucky if you get to choose to observe this fast or not. Because most women don't have that choice or the knowledge that they have this choice. And this is where the respect bit comes in. You can have your beliefs and the feminists, who choose to call out the patriarchy, have theirs. And this is a free country (for now it is), so we can all go on exercising our choices. But the thing that must not be compromised is respect for each other's freedom to choose.
Let's keep that healthy debate going on, shall we? In fact, instead of passing pots full of sweets, marriage markers and finery, we could pass around our thoughts and opinions respectfully, and perhaps pray for the longevity of true women empowerment that comes from knowledge and skepticism?
Dear Bollywood, You've Ruined Karwa Chauth For Us By Giving Us Unrealistic Expectations
GET HAUTERFLY IN YOUR INBOX!