Entertainment
How Food Is A More Dynamic Character In 'Modern Love Mumbai' Than The City In Its Name
By
|
Modern Love Mumbai on Prime Video is the official adaptation of Modern Love, the series that adapted stories from the New York Times column of the same name for the screen. And while on paper, Modern Love isn't restricted to just love stories from the Big Apple, the city they're set in are characters themselves in the stories. For example, two of my favourite episodes from Modern Love Seasons 1 and 2 respectively, 'When The Doorman Is Your Main Man' and 'On A Serpentine Road, With The Top Down' do such a lovely job of making the city really feel like an important part of the story. I found that missing in Modern Love Mumbai, which shouldn't be the case considering they've so specifically made this anthology about the city. Instead of the city, I think the stories of Modern Love Mumbai are better linked by food.
After all, food is an ever-evolving love language that entertains no barriers. And in every Modern Love Mumbai story, food is used to represent different emotions, different stages of love and relationships.
Personally, I've always liked people who love food enough to make it a part of their personality. You'll often see people mock someone who calls themselves a 'foodie', as if to earn that title, you must accomplish some course prescribed by an Ivy League university. The harshest judgement is reserved for selective eaters, like vegans or vegetarians! How can you be a foodie, they ask, if you've ignored such a wide selection of food from your diet? You haven't even tasted bacon, they'll smirk, as they dismiss your claims that you do care about food. And let's not even get into the biryani discourse!
In Vishal Bhardwaj's Mumbai Dragon, when Sui calls his son's girlfriend Megha a vegetarian witch, it made me crack up, because of all the times I've been rejected by guys I liked because they couldn't fathom dating a vegetarian. No, apparently this is a legit dealbreaker! *shakes head in disappointment* In some ways, you kinda get it. Eating food, in most cultures, is more of a social act, a way of being together, expressing feelings, and bonding. To have someone whose tastes differ can seem like a deterrent. But to dismiss a person entirely over a minor difference is how we as a world have arrived at this intolerant state of affairs.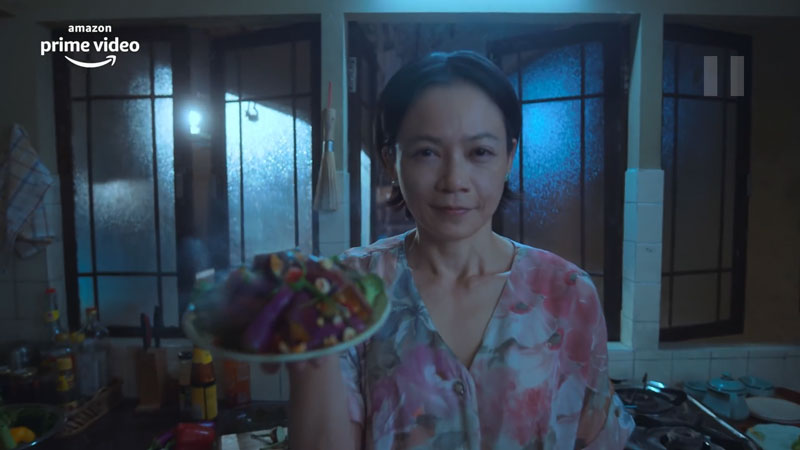 But as we see in Mumbai Dragon, love can find a way without the other person having to change something so fundamental about themselves. And acceptance of that can be a way of showing love too. When Sui sends Megha a dabba of a vegetarian dish, it's a beautiful gesture that she respects and accepts her. But also it's a message for her son, that her love for him, which she has been expressing through food this entire time, is stronger than her stubbornness, which too has been expressed via food in the past. It's a nice metaphor too, for how in our food, we've managed to adapt Chinese into our Indian style, but when it comes to accepting someone like Chang's character into our lives, it's a struggle.
Food is also an icebreaker in Modern Love Mumbai and the start of something beautiful. Whether it's Daniel recommending the chai to Latika over the coffee being served, in the story Cutting Chai, shifting fates because of a singular choice. Or whether it's chef Rajveer striking up a conversation with Manzu by bringing him dishes he cooked that he thinks Manzu will like. Manzu takes a bite and is instantly reminded of the food his Baai would make, memories of his childhood and of relations that he misses, flashing right before his eyes. It's a bittersweet feeling, but in some ways, it instantly comforts him and makes him trust Rajveer enough to open up to him.
In the scene where Manzu is returning home with his father and sister, he hopes his Baai's food will be waiting for him as if he'd walk into his childhood home and everything will be back to the way it was. When his sister reminds him that Baai can't cook anymore, and he won't get any of the food he is hoping for, Manzu is hit hard with reality, of his position in life and the immensely difficult truth he must now finally speak before someone he dearly loves and risk changing everything. Meanwhile, Rajveer and Manzu's mother bond over food, like a mother-in-law would bond with her son's spouse, yet another sign of acceptance of the same-sex marriage that her son has entered in.
Bonding over food is one of the best kinds of relationships, na? When Saiba goes on her first date in I Love Thane, it's a fancy cafe. Her second date is at a shady Mumbai bar. She isn't exactly out of place in either place; she's a Mumbaikar now, and this is normal. But when she meets Parth in Thane, and they both gorge on some misal pav, it's comfort food. Saiba can let her guard down because here's someone who has the same humble beginnings as her, and isn't embarrassed by it. Parth gives Saiba a reason to rediscover her love for Thane because it's giving you exactly what you need, even if you didn't know it.
Food becomes a ritual in some stories. Now rituals can get monotonous. But in this case, they indirectly help break the monotony in the lives of two women. In My Beautiful Wrinkles, Dilbar and Kunal have a coffee occasionally, where they catch up on each other's lives. That is, until one of them speaks a truth that breaks their ritual temporarily, leaving them both unhinged for a while. It forces Dilbar to confront her painful baggage, while it pushes Kunal to stand up for what he really wants. When they find their way back to their coffee ritual, it takes on a new meaning.
Similarly, for Lalzari, our lively protagonist in Raat Rani, eating ice cream with her husband is a ritual she finds comfort in. It's her happy place. Her husband shuns it because he finds it boring, not realising that he was what made the ritual special for Lali, not the ice cream flavour. Without him, Lali struggles, enticing him with food he loves to bring him back. Until one day, she crosses a metaphorical flyover from dependent love to self-love. And finally, we have food as empowerment. Enter: Kashmiri kahwa, which helps Lali find her independence and fulfil her dreams. The kahwa doesn't just help Lali though. Her gluten-free bread eating employer is fighting her own battles. But when she arrives to drink the kahwa that Lali's been selling, it gives her an epiphany too.
I really did miss having some quintessentially Mumbaiyya food in the mix here. I think apart from cutting chai and misal pav, we didn't see much. At least, vada pav, pani puri or pav bhaji would've been cool, na? But hey, just like love is love, food is food, and I would love to know if this weaving in of food in these stories was a conscious choice or not. So, did you think these observations I served you are worth some food for thought?
Modern Love Mumbai is currently streaming on Prime Video.
'The Summer I Turned Pretty' Teaser Trailer Starring Lola Tung Features Taylor Swift's Song 'This Love'. We Heart It!
GET HAUTERFLY IN YOUR INBOX!