Entertainment
Exclusive: Sumukhi Suresh And Neeti Palta On Their True Feelings About The 'Female Comedian' Tag, 'Comicstaan 3', And Their Favourite Contestants
By
|
I still remember my first introduction to the idea of standup comedy. Sitting at a table with a bunch of school best friends, who might not know their plans for the bright future, but had names like Kenny Sebastian, Zakir Khan and Sumukhi Suresh on their tips. Well, I definitely felt like a resident, living under a rock. And it was exactly then, that I knew I am truly missing out on something so big. Fifteen-long-minutes, that blow your mind and keep it away from wandering through the lanes of fake scenarios, that's how I found my deep affection for each one of India's most loved comedians.
And as I sit down to chat with two of my most favourites from the bunch, it feels like, that table with those friends (oh, I wish) chatting again, has returned, but this time with me finding a tad bit of a simp in myself. Joining me in a conversation are Sumkhi Suresh and Neeti Palta, who unleash their true feelings for the tag–'female comedians,' the power of being funny, the much-awaited arrival of Comicstaan Season 3 and of course, a lot more.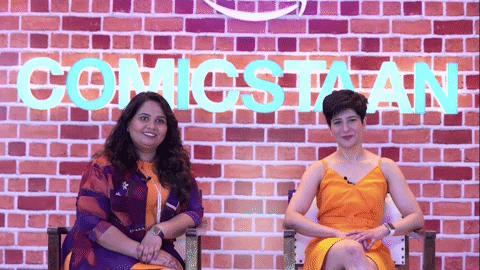 Q:  You're judging a show that's about to add more competition to your field. What is that feeling like?
Sumukhi Suresh: I know that we like to say that, but I don't think this season that's happening because we've been shooting it like a good course of time. And I think a lot has changed. Like post-pandemic, we are in a very loving stage. We're like, no, no, we want them to do so well, especially since this bunch is so nice. They really like each other. They're very well bonded and they've worked so hard. This one is definitely not about competitors. We're hoping the audience enjoys it and I hope they are favourites for all of you.
Neeti Palta:  They're actually so fresh and I think we are also learning from them while we are trying to give them guidance. That's the beauty of this season.
View this post on Instagram
Q:  You must've seen some fantastic comic debuts this season. Which one has been the most memorable for you?
Sumukhi Suresh: I was very excited to watch Gurleen. What voice. So funny! So exciting. And, I cannot wait for you guys to enjoy what she brought to the table. She was fabulous. Also, Adesh in one of the rounds was fabulous, that entire set of his is a meme. There was also Shamik who was both Kenny and Neeti's favourite because he's also a good writer. Everyone has worked doubly hard to make sure the response is great.
View this post on Instagram
Neeti Palta: I mean, Gurleen is also someone who's been doing comedy only for a year and a half.  And then she just came in from nowhere and blew us all away. She visualises every joke in a way, that she makes you feel like you are there in the situation. It's brilliant. There was also Shamik, who has a deadpan quiet, reserved, introverted style. And just to see him come out and be funny was hilarious. Shamik and also Aashish who is a professor had a similar vibe.  The fact that professors can be funny was hilarious. You'd also wanna adopt Pavitra if you see her.
View this post on Instagram
Q: Does it annoy you when people ask you about your 'female comic experience'?
Sumukhi Suresh: As a female comic, the biggest challenge for me is PCOS. But again I think that's for any female. Honestly, I get the tag. I personally would want to disassociate and would like to be called comics because that's the aim. But I get it if that tag exists for other women to come forward and say, "even we wanna do an open mic" then man, just use it, it is okay. Also, if someone wants to buy a ticket to the show for that tag, we will take it.
Neeti Palta: I have a different take because generally I'm not annoyed by it because, I am a female and I am comedian, why is that an insult in the first place, but when I'm on stage, I'm a comic and I'm funny. And I  don't think gender matters in a field like a comedy at least. Apart from the fact that you bring your own, like, Sumukhi would've faced certain situations in life being a female. I would've faced certain issues being a female. We talk about that. If they wanna brand that as a female comedy that's on them.
Q: What's the one question you really hope retires?
Sumukhi Suresh: Just the bit about female comedy and the tag female comic. I hope we reach a stage where that's not a question anymore. You know, like there's just so many of, us with women and also, we haven't even explored the fact that other gender comics also have to start an open mic. So there's so much more. Hopefully, it reaches a stage where it's just comics and I hope that happens soon.
Q:  If you were a Comicstaan contestant this season, what's the one thing you'd kill at, and what's one thing you'd spectacularly fail at?
Sumukhi Suresh: See, I personally think I'll kill at everything because, I'm competitive. But I feel I'll terribly fail in the finale. Because I think I'll be that girl, who did not win and everybody's like,  "she should've won, iski shakal round hai," or something like that. I was telling someone yesterday that I think in terms of competition, I'll be that girl who's the most entertaining contestant and I'd love to be that.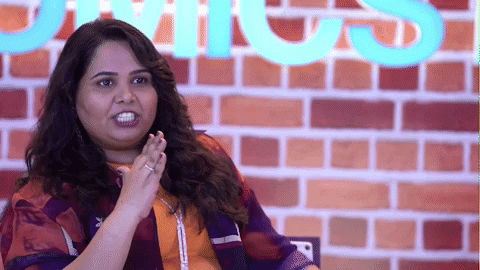 Neeti Palta: Observational, anecdotal. I might be absolutely terrible at sketch, which is Sumukhi's strength. I would suck at it.
Q:  What is the most exciting part of having the power of being Funny?
Sumukhi Suresh: That you're loved by everybody for at least those two hour in a room. I mean, they don't know your reality right now and that deep inside you're just crying, but for those two hours in that room, you're being loved by everyone. Like, "wow she's so cute, kitni bubbly si hai."
Neeti Palta: For me, you can say the truth and the person sitting in front is laughing thinking, that's a joke. I believe the best joke is always the truth.
Q:  What is the best part of this season and how is it different from the rest?
Sumukhi Suresh: The fact that there's a new genre, roast comedy has been introduced. Rohan Joshi is mentoring the same. We are not mentors in this season and we're very happy about it. We have seven exciting mentors, like Rahul Subramanian, Sapan Verma, Kanan Gill, Anu Menon, Prashasti Singh, Rohan Joshi, and Aadar Malik. So you get to meet, seven new comics every episode. Also, the pressure of being funny is off everybody, like we're all just making sure that there's someone that every member in the audience likes, so that you love the show overall. Other than that, I really feel, these eight contestants are going to blow your mind.
I'm not joking. I think the first season was when we were some sort of getting our footing and everyone was excited about it. And the second season, there were well-established comics who really showed you how the skill worked. And now it's come to third where you have an idea about Comicstaan and now, you know how the eight have developed. And honestly, till the end, you won't know who will be the winner.  Like it is insane.
Neeti Palta: Again the part where we also become mentors has changed. Because I feel, we get so close to the contestants for just that round and then for the next, you're acting like a teacher again saying "no that wasn't right, or that went wrong," and they're like, "but we were friends until yesterday." So this little separation was great. Mentors will change the diaper and we'll say whether it stinks or not. Apart from that, this season, you'll feel for each one of the contestants because you'll see failure on stage. You'll see success on stage. You'll see people stumbling on stage, literally with their words and then recovering from that and killing. I mean, for me, the ups and downs, are interesting, because this is not scripted. There's nothing more that you can ask for.
View this post on Instagram
Comicstaan 3 streaming exclusively on Amazon Prime Video from July 15, 2022.
'Comicstaan' Season 3 Teaser Is All About Zakir Khan, Sumukhi Suresh And Others Going LOL!