Lifestyle
Runaway Bride Fled Her Vidaai To Marry Lover At A Police Station. She Planned It So Well
By
|
A UP bride had a wedding, with all the gaana bajaana and didn't even get married. What does that mean? It means she got to wear all the fancy clothes, celebrate, and all that without getting tied down to a man she didn't love, a man she was being forced to marry. The runaway bride from Chitrakoot district in Uttar Pradesh fled from the celebrations and tied the knot with her lover at a local police station.
In Mawai Khurd village, Shatrughan promised his daughter Rani's hand in marriage to Ajay from Suraundha village. On 29th May, Ajay and all the baraatis arrived at the village for the celebrations. Both Ajay and Rani took part in all the rituals and got married or so everyone thought. So the next morning when Rani was supposed to leave with Ajay and go to her sasural, she said she wants to use the toilet and didn't return. She fled with her lover Chhuttan Patel because legally she was still unmarried na! Rani the runaway bride is so good at this. I am lovin' her wits!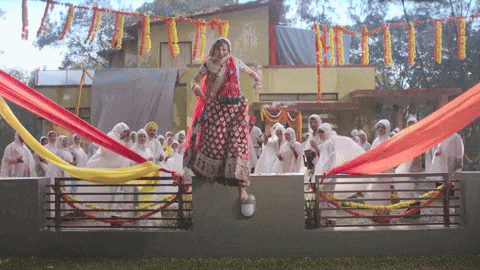 So when chaos happened, Rani's family did what people have been doing for ages – treat women like cattle. They offered her younger sister in marriage to Ajay because you know, izzat! What makes the product-replacement program is that the girl was a minor. Thankfully, Ajay and his family didn't want a balika vadhu so they refused. Poor girl got saved, for now. With that mindset, I can't say her interests are taken into account.
Now Ajay's complain box father decided to complain to the police as if it's illegal for Rani to exercise her freedom of choice. But anyhoo, the police launched a search for the runaway bride. However, the couple arrived at the police station and thought, 'this looks like a good venue to get married!' They exchanged varmalas and got married at the police station itself. Rani's family members were present too, as reported.
Do you see how amazing their planning has been? Rani's father forced her to get married to a guy. She participated in the ceremony, wasted her father's money (they kinda deserve it for treating their daughters like that), and then married her lover anyway. And the runaway bride got married at the police station; I bet that deterred the parents from beating up the lover, in case they would have done it otherwise.
Maybe they should just stop transporting their daughters from one shed to another, like cattle. And if one runs away or dies, throw in another one because you're such an amazing seller, you guarantee product delivery. Oh, stop!
GET HAUTERFLY IN YOUR INBOX!