Culture
Here's Why Marvel's Eternals, Directed By Chloé Zhao, Is A Pretty Big Deal For Women In Comic Book Movies
By
|
It's been two years since Avengers: Endgame released, and Spider-Man: Far From Home concluded MCU Phase 3. And for anyone who thought this ended Marvel's reign on our comic book movie (CBM) loving hearts, they had another think coming. Marvel boss Kevin Feige promised a grander MCU Phase 4, and ever since it began, with the explosive WandaVision series on Disney+, there has been no looking back. Marvel's Phase Four is uncharted territory, with many fans experiencing a whole new dimension of what comic book movies and series could really be. And amongst a slew of changes, including a seamless shift from film to series, one major thing that has been talked about by fans and critics alike is the emergence of women are power players, both in the MCU and behind the camera. The spotlight right now, in fact, is on Academy Award winning filmmaker Chloé Zhao, who has helmed Marvel's Phase Four swan song, Eternals, the second trailer and poster for which, dropped today.
View this post on Instagram
Marvel's Eternals is the Avengers Assemble movie of MCU Phase 4 and therefore, a film of enormous stakes. The cast is quite the heavyweight mixed bag of Hollywood and TV stars, promising newcomers and some MCU returnees. It stars, Salma Hayek (Ajak), Gemma Chan (Sersi), Richard Madden (Ikaris), Kumail Nanjiani (Kingo), Barry Keoghan (Druig), Lia McHugh (Sprite), Brian Tyree Henry (Phastos), Lauren Ridloff (Makkari), Don Lee (Gilgamesh), Kit Harington (Dane Whitman) and Angelina Jolie (Thena).
What makes these stakes higher is that the Eternals are a hitherto unfamiliar bunch of superheroes. The comic book fans could have some investment in their story, having read about them. But the real task will be to get the movie-only audience to care for these characters, who they haven't gotten to know as much as they did a Tony Stark or a Steve Rogers.
With all of this and more, it feels incredibly empowering for me, as a woman and a CBM fan, that Marvel would have a woman filmmaker helm Eternals. Of course Chloé Zhao did just do a clean sweep at the awards for her film, Nomadland. But it is indeed a milestone moment to have not just a woman, but a woman of colour direct such a huge superhero franchise film. And that's just the beginning of what Eternals, even before it releases, could do for women in the CBM genre.
Kevin Feige has said that Marvel wouldn't even have attempted Eternals without Chloé Zhao. "We thought, here's a filmmaker who is equal parts cinematic visionary and genre nerd," Feige said about Zhao helming this ambitious film. She has a unique style, which industry experts might be able to describe better. But if you ask me, personally. Zhao's work has this serene, awe-inspiring effect on you when you watch them. And if you've watched the trailers for Eternals, particularly this last one that dropped today, those are the exact words that you'd be tempted to use.
Chloé Zhao isn't the first women director to work on Marvel's Phase 4 or make a superhero film. In fact, Marvel's Black Widow was directed by Cate Shortland, The Falcon And The Winter Soldier by Canadian filmmaker Kari Skogland. And Nia DaCosta and Olivia Wilde have been reportedly signed on to direct Captain Marvel 2 and a rumoured Spider-Woman, respectively. What will be worth noting is what happens after Eternals releases and we know the audience and box office verdict. When Patty Jenkins made Wonder Woman, it was a massive hit for Warner Bros. Studios. And yet, when the time came for her to direct the sequel, she had to fight for salary to be commensurate to what she had and was bringing to the table, and at par with what the industry shelled out for her male counterparts. With Chloé Zhao being an Oscar winner already, the situation might be different, or not. Either way, this is a pretty big deal, and proves that Marvel Studios is serious about telling comic books stories with a different gaze than the usual. And Eternals, for now at least, looks unlike any other MCU film we might've seen.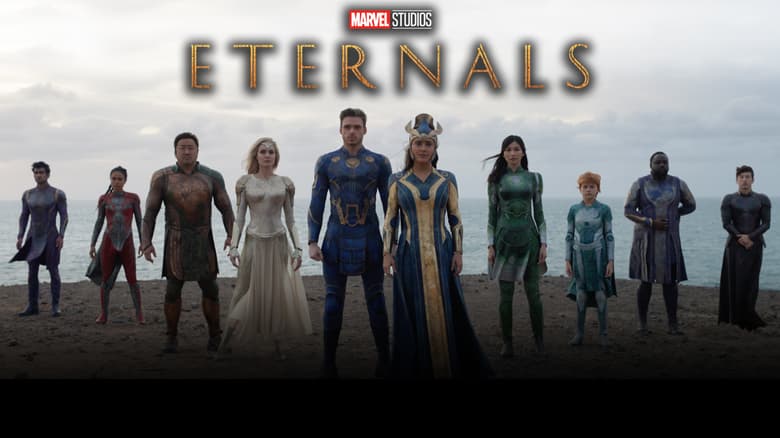 The future of Marvel is clearly female, and even on screen, it is the ladies who're power players. Be it Wanda Maximoff, Agatha Harkness, Yelena Belova, Sharon Carter, and Contessa Valentina Allegra de Fontaine or the Eternals, which are led by a Salma Hayek's Ajak, with Angelina Jolie's Thena and Gemma Chan's Sersi being some of the most powerful Eternals of the lot. Some old favourites like Captain Marvel and Shuri are yet to return with their stories and the new ones, like Hawkeye Kate Bishop, Ms Marvel and She-Hulk waiting to begin their's. And with female filmmakers working on these movies, one can expect the female gaze to bring forth a more layered portrayal of female superheroes. And true to that, Zhao in an interview has said that Gemma Chan's Sersi will "will invite viewers to rethink what it means to be heroic."
It all looks super exciting to me to see women having their moment in the CBM genre. And Eternals is a pretty major milestone! Cannot wait to see what Chloé Zhao has created in the Eternals, which will release in theatres worldwide on November 5, 2021!
Disney+ 'Loki' Teaser Finally Confirms He's Gender Fluid. Here Are 10 Other LGBTQ+ Superheroes You Need To Know About!
GET HAUTERFLY IN YOUR INBOX!