Chingsanghoih Guite / The Hauterfly
Culture
Nomadland Review: Wanderlust And Homesickness Beautifully Coexist In Chloé Zhao's Oscar-Deserving Film
By
|
What's the difference between being alone and being lonely? Being on the road and still feeling at home? Being houseless and being homeless? I unexpectedly found answers to these questions in the Oscar-shortlisted Nomadland. The film is an American neo-Western drama that is written, directed, edited and produced by Chloé Zhao. She based it on a 2017 book, Nomadland: Surviving America in the Twenty-First Century by Jessica Bruder, which tells the story of real-life American nomads who're spending their retirement age living on the road in camper vans and RVs, doing odd jobs across the country to maintain their lifestyle. Two-time Academy Award winner Frances McDormand plays Fern. And through her story, we experience both a wanderlust for life on the open road and a profound sadness for what created these nomads in the first place—the collapse of the American dream.
View this post on Instagram
What is Nomadland about?
The name is actually pretty evident, especially if you're a millennial or Gen Z who has seen enough ads about working remotely and the phrase 'digital nomad' in people's Twitter/LinkedIn bios. However, the people we meet in Nomadland are not young. These are men and women close to, or already of, retirement age, living a nomadic life as they travel across the continental US in camper vans or RVs (Recreational Vehicles). They travel light, shedding materialistic baggage but carrying plenty of emotional one. They do odd jobs in the service sector and earn enough to sustain themselves and their home on wheels.
As one of them points out, this choice of lifestyle is a statement against "the yoke of the tyranny of the dollar." And indeed, most of them are remnants of a generation that suffered major setback in the 2008 economic recession and its fallout. But there are also those who choose to do this in the aftermath of a personal trauma or epiphany that if they don't live their life, it'll pass them by.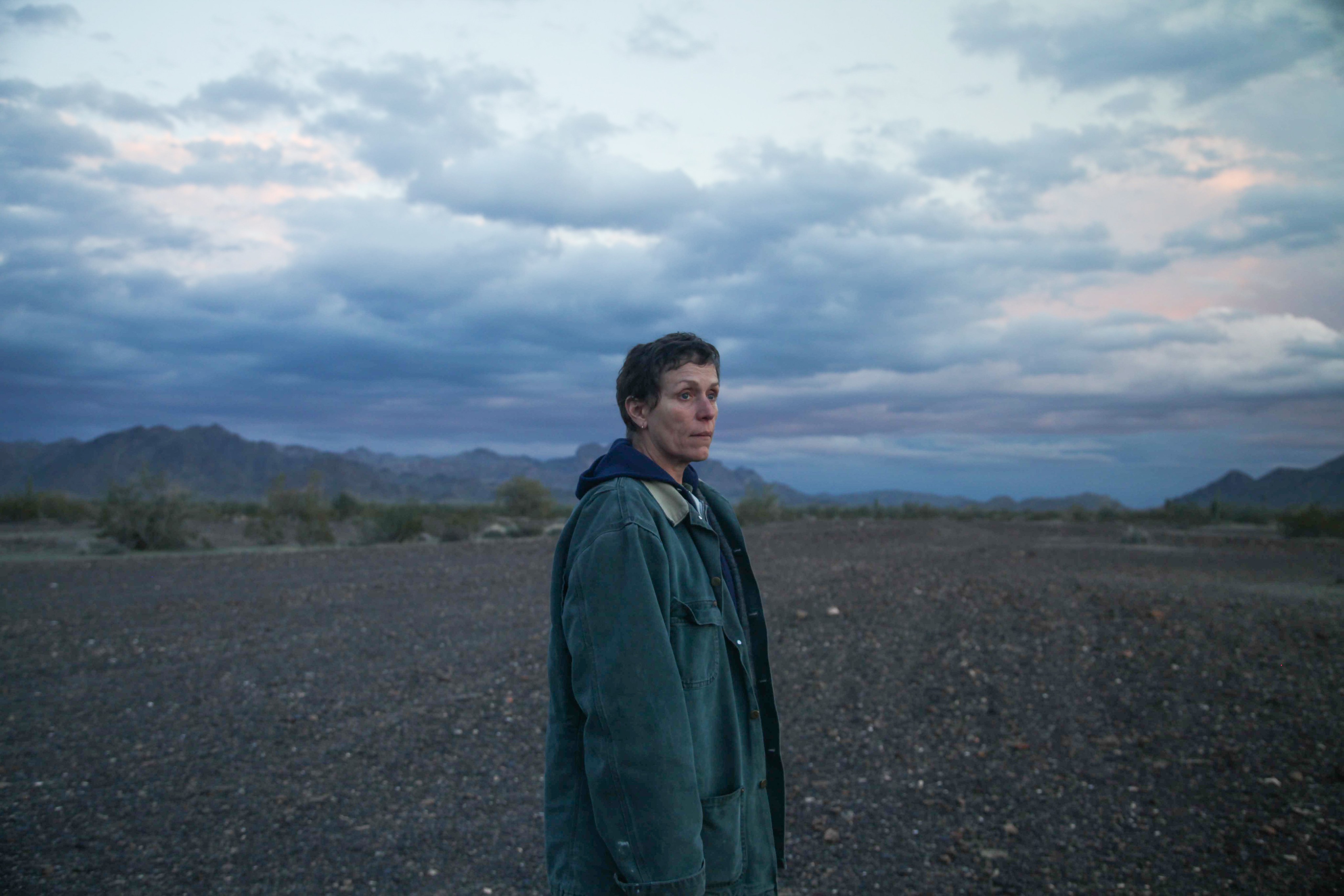 Fern (Frances McDormand) is one who has experienced a bit of both. The film opens by informing us that in 2011, when the US Gypsum plant in Empire, a mining town in Nevada, shutdown, all the people who worked and resided there were disenfranchised. Fern and her husband were amongst them. After her husband Bo dies, she finally moves out of the deserted Empire, sells most of her belongings, and begins living in a van, on the road.
We find out that the nomads keep a seasonal calendar, which takes them through various towns and states depending on seasonal availability of jobs. So in winter, we find Fern working at an Amazon packaging centre, until the end of December, post which she drive on to another state and find another employment. It could be at one of those state fairs, it could be at a town with a beet harvest, it could be absolutely anywhere her wheels and her whims take her.
In this one year of Fern's life that we are privy to, we see how life on the road can be both liberating and weightless but also dangerous and lonely. And yet, the nomads find ways to make friends who they know they'll see down the road sometime. We also realise that most of them actively choose this life, despite having the option or invitation to settle down in a permanent house and live out their ripe age in comfort. But as we learn from Fern, comfort can be subjective, a house does not necessarily mean a home, and being alone does not always mean being lonely.
Chloé Zhao seamlessly melds fiction with reality to make a simple yet profound film
What makes Chloé Zhao's filmmaking style, and thereby Nomadland, unique is how she marries reality with fiction. Bruder's book is non-fiction and based off her own experiences. But Fern is a fictional character. Yet, barring Fern's story, almost everything else is quite real. Apart from Dave, played by David Strathairn, the people Fern meets and befriends—Linda May, Swankie, Bob Wells—are all real life vandwellers.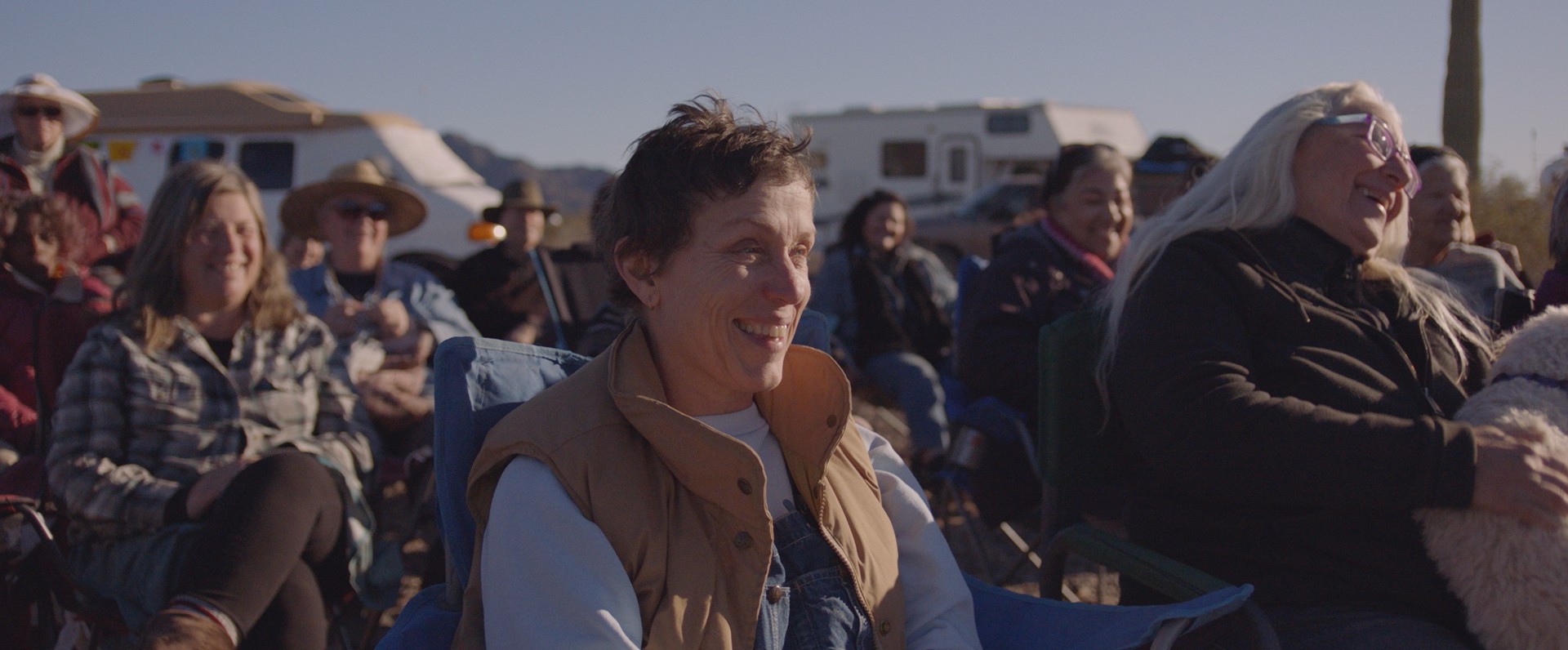 The film gets its semi-documentary tone because Zhao opts for no-nonsense, linear and non-dramatic storytelling. And believe me when I say it that it does the trick, much more convincingly than the added drama would've.
We know the open road is full of dangers. And Fern is a woman, which automatically makes you fear for her safety even more. At any point, Fern could be robbed or stranded or number of other bad outcomes could happen to her. Even the vast open spaces, shot by cinematographer Joshua James Richards, dwarf Fern and it makes you feel a little concerned of just how tiny and helpless she would be in a place like this, so far away from civilisation.
Nothing unfortunate transpires. And yet we're still made sufficiently aware that this is real life and these dangers are a very real possibility. Fern is aware of it too; she is constantly alert. She is a light sleeper. When she arrives at a new campsite or RV park, she makes an effort to be friendly, offering others coffee and being gracious and helpful. You instantly recognise that as a tactic used to ease into or diffuse any potential tension in unknown situations. And when she punctures a tire, she gets scolded by her friend Swankie for not taking the dangers of being stranded out in the desert, seriously.
This rooting in real possibilities devoid of drama made this believable and got me instantly wrapped up in the story, like I was listening to the adventures of a traveller friend.
Evoking wanderlust and homesickness at the same time
"I'm not homeless, I'm just houseless. Not the same thing, right?" 
I am a non-American privileged millennial home-dweller watching Nomadland in the luxury that my stable, employed life accorded me. And yet, the film managed to simultaneously evoke the dual emotion of curious wanderlust and an uncomfortable homesickness in me after just minutes into the film.
Initially, you couldn't help but think that it was Fern's grief over losing her husband and her home and job that was forcing her to live in this way. And watching her live like that made you instantly feel homesick by proxy. Once again, Zhao opts for simple, everyday movements to help you make this journey.
The cramped space, especially in that one scene where Fern has an upset stomach and has to take a dump in a bucket inside her van, makes you uncomfortable. It's a car! Imagine having your WC just inches from the place you cook your meal! It makes you wonder why someone would want to live in such a way, shit in a bucket or pee in freezing cold outside, when they have people who care about them offering them a nice home. Not to mention the warmth of company that isn't likely to abandon you for the road, as both Linda May and Swankie, Fern's friends, depart on their own journeys, leaving Fern to make her own.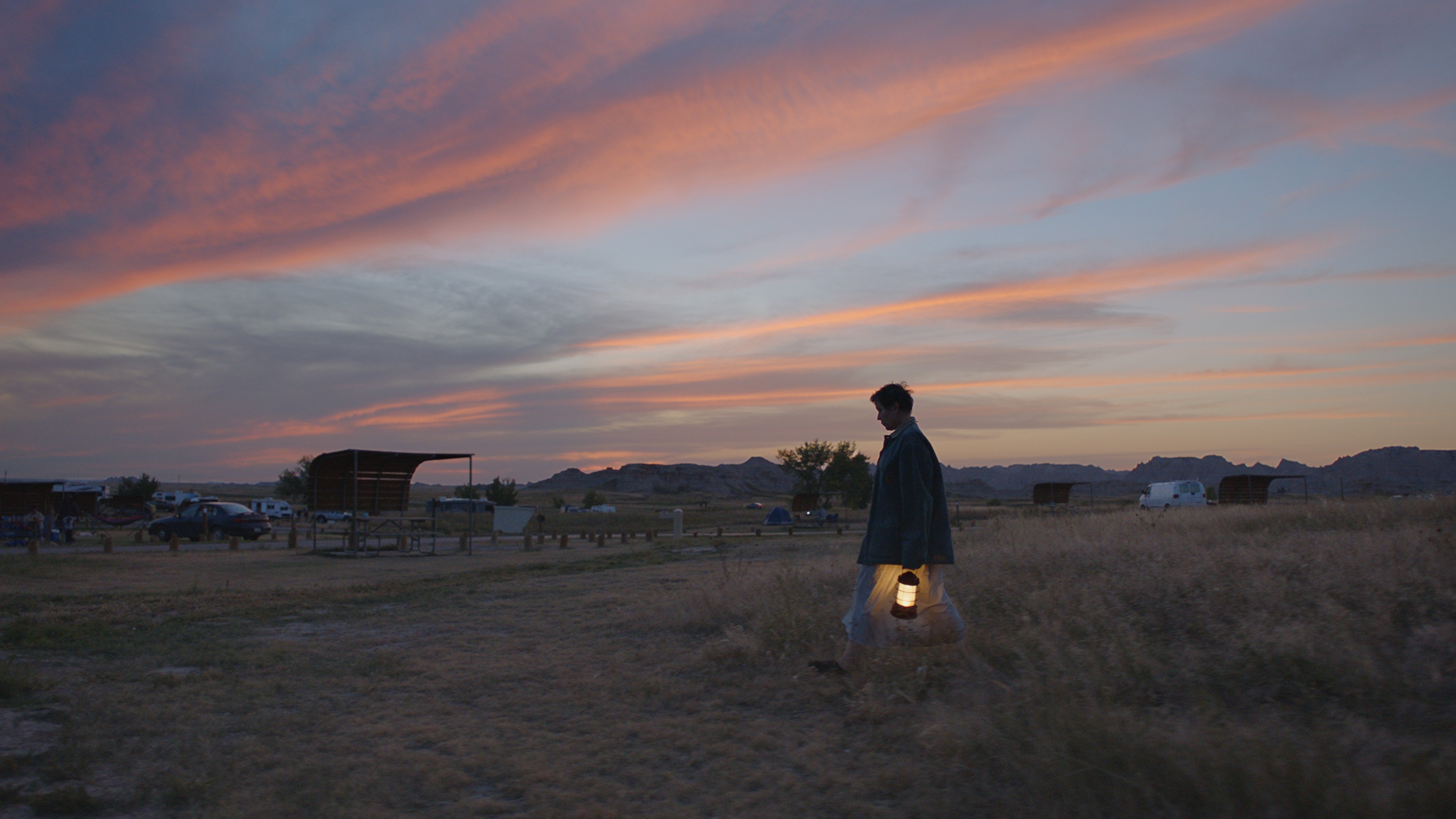 And then, just like that we see Fern floating naked in a cold stream. Or parked near the edge of a cliff with the wind in her hair as she sits on a lounge chair. When her van home needs repairs and Fern's sister makes her come home for a visit, we see how uncomfortable Fern is with people trying to convince her that their way of life, tied to physical property, is better. And when she visits her friend Dave, the soft bed is a luxury she cannot find comfort in, and sneaks out to sleep in her van. When she finally runs away from Dave's and drives along the ocean, feeling the spray on her face, her joy brings up a wanderlust. You wish you were brave enough to drop everything and live this wondrous adventure
We find out that Fern has cleverly named her van 'Vanguard'. I guess later on in the film, I realised that perhaps the van wasn't just home for Fern, it was also, in some ways, her armour that protected her from breaking down after the tragedy that had struck her. Fern enjoys her cramped solitude in the van, feels comfortable in it. Because in it, she's somehow still living her own pre-Empire shutdown life. If she were to live with the people that constantly ask her to stay with them, it would mean inducting them into her life, and changing things around, which we see she isn't too keen on. She and Beau probably never had kids for the same reason. And didn't her sister point out how Fern was out of the house at an early age?
The film made me question, is solitude really that bad? Because at no point do you feel bad for Fern or any of those people. On the contrary, there's this inexplicable calmness washing over you, that makes you want to experience even a tiny bit of the peace and content that these nomads must be experiences to want to continue living this life. You know how there's wanderlust? Well, I felt drawn to the lightness that this life would accord to the people who live it.
View this post on Instagram
I cannot imagine anyone but Frances McDormand doing this!
No hyperbole here, but Frances McDormand, who is also a producer on the film, is incredible, one of the finest in the business. She blew all our minds Three Billboards Outside Ebbing, Missouri, which won her her second Best Actress Oscar. And I whole-heartedly believe she deserves her third for Nomadland. There's a certain down-to-earth, connected to her roots energy around McDormand and she channels that so well into playing Fern. Little things she does, from that careful smiles and gracious manners to the way she recites Shakespeare's 'Shall I compare thee to a summer's day?" to a fellow nomad, to those therapy-like sessions she has with Bob Wells about the life on wheels… make you feel so much. I think she's perfect for Zhao, because there is no need for any intense expression or drama.
Let's not forget Nomadland's technical brilliance and that score!
It's very easy for a film like Nomadland to become an out-and-out travel documentary, if it were to focus too much on the IRL nomads and the stunning landscapes. I believe this is where Chloé Zhao, the director and the editor, must be applauded for never losing sight of whose story it ultimately is. Keeping Fern's perspective intact is what makes watching Nomadland a personal experience and feel all those emotions.
A major trigger for those emotions that I felt was the music by Ludovico Einaudi. I loved that the ambient sounds were intact and easily flowed into Einaudi's score. It had a very soothing, liberating feeling that made me want to introspect on all my life's decisions!
Made me question, is solitude really that bad? Because at no point do you feel bad for Fern or any of those people. On the contrary, there's this inexplicable calmness washing over you, that makes you want to experience even a tiny bit of the peace and content that these nomads must be experiences to want to continue living this life. You know how there's wanderlust? Well, I felt drawn to the lightness that this life would accord to the people who live it.
Verdict: See you down the road, at the Oscars!
View this post on Instagram

Nomadland is, IMO, one of the most unique films I've seen. And I'm still coming to terms with how it makes me feel so much with its simplicity.
It carries in it this profound sadness, and evokes it not through the acts of the people in the film, or Fern, all of whom, are living their life by choice. But its when you look at what drove these people to that life in the first place—some personal tragedy, or the country's economic fallout—and the realisation that they've been left to chose this life in their twilight years, that it hits you in the feels. In fact, I might be reaching, but it's probably why the skies are almost always brilliant pink-purple hues of sunset, so as to remind us that while it is a beautiful sky, it is also the end of the day. Which, in this case, signifies the end of a way of the road, and life.
Fortunately, Zhao does not try to comment on this choice, nor does her film want you to feel bad about these nomads or praise their decision to live like that. From what I understand, Nomadland is a very poetic ode to the American nomad, seeped in part wonder and part heartbreak, but never not admiring the courage it takes to live life on one's own terms. And that wins my heart!
Director Chloé Zhao toes the line between fiction and documentary to create a simple, non-dramatic but beautiful look at the life of American nomads living their twilight years on the road. Through Fern's story, Nomadland made me see wanderlust, homesickness and solitude in a whole new light. Frances McDormand's performance and Zhao's deep therapeutic storytelling easily make this film worthy of its touted Oscar win. Not to mention, it's got me super excited for women filmmakers getting their dues, and hopeful for another Frances McDormand Oscars speech that kicks ass!
Nomadland will release on Hulu and in theatres o February 19, 2021.
Kangana Ranaut Compared Herself To Meryl Streep, Gal Gadot. Mamma Mia, Here She Goes Again!
GET HAUTERFLY IN YOUR INBOX!