This Pride Month, Let's Talk About The Time Barbie's Ken Accidentally "Came Out" Of The Closet
So Ryan Gosling recently stunned the world with his Ken look for the live-action Barbie movie and depending on how you see it, this may or may not be your worse nightmare. And the more I read about Gosling's new plastic-like avatar, the more I read about theories that he is actually supposed to be emulating Earring Magic Ken, a doll Mattel released in 1993 as a companion to their Earring Magic Barbie. And clearly, no one cared about Earring Magic Barbie because Earring Magic Ken ended up turning into a gay icon and became one of Mattel's most profitable dolls! So this Pride month, let's take a look at how Mattel accidentally created a doll representing the LGBTQ+.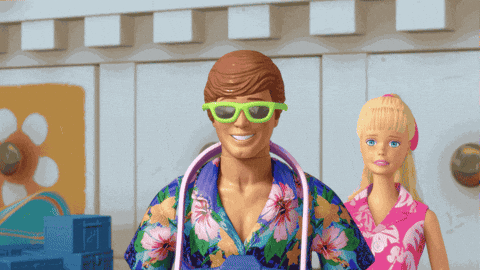 Barbie was at the height of her popularity in the early 1990s. Her partner, Ken, on the other hand, was not. Moreover, he was a pretty boring; a geek who was most popularly seen wearing satin tuxedos. The crux of the issue was that Ken wasn't "cool" and Mattel was not okay with it. The options were very simple: either Mattel gives Ken the boot or they improve him. Mattel's research team worked with a group of 5-year-old girls in the early 1990s to find out what may make them more inclined to push their parents to buy a Ken doll. Inspired by the music videos these girls saw on the legendary MTV music video network, they wanted Ken to have a cool new look and "cool" meant something like a mesh top, a leather vest, tight pants and an earring. Also! A statement necklace.  
This gave birth to Mattel's early 90s gay nightmare (a beautiful accident, if you ask me): Earring Magic Ken looked like the plastic stereotype of queer fashion back then: dressed in a lavender mesh t-shirt, a matching purple leather jacket, tightly fitted black jeans, and a pierced earring at a period when men having pierced ears was still considered taboo in the United States. Earring Magic Ken was written about by Dan Savage who is a popular columnist and podcaster, in 1993 when Mattel had become the laughing stock of pop culture for their failure to understand that kids of that era found outfits by Prince, members of Right Said Fred, or Madonna's backup dancers "cool" but they were considered by the adults as simply… gay!
View this post on Instagram
The doll rocketed off the shelves, particularly because gay men, including Savage, hurried out to get their hands on one. Earring Magic Ken became the best-selling Ken doll of the early 90s due to its showy element. According to reports, Savage said, "It was hilarious that they thought the earring was going to be the headline-making aspect of Ken's new look". Though the Earring Magic Ken incident evidenced that LGBTQ+ culture had been absorbed into the mainstream media at the time, Ken merely continued to remain the butt of jokes until Savage published his interpretation of the gay-culture underlying message conveyed by wearing the sex toy and fashion. Now if you are wondering what's with the sex toy controversy, let me educate you guys on the drama revolving around Ken's necklace. Yes! Necklace!
Ken wore a dazzling, round chrome ring around his neck. What Mattel failed to realise were the gender and sexual implications of this necklace. Little girls obviously lack the awareness and inherent bias of understanding what the circular necklace meant along with the queer-friendly fashion of Earring Magic Ken. However, the adults did and could not help but ridicule Mattel's ill thought out design. This caused the Ken Doll to also be called, Cock Ring Bottom Ken.
View this post on Instagram
Savage detailed the fashion statement the chrome metal ring made. He wrote that it was worn as an accessory used by certain sections of the queer community. The rings worked in not only necklaces but also zipper pulls, bracelets and anywhere they could be styled. Savage detailed the implications these fashion pieces had and made regarding one's sexual preferences. 
Mattel ended up pulling the dolls off the shelves and apologising for the "error". Lisa McKendall who was the manager of marketing and communications at Mattel even said, "We're not in the business of putting cock rings into the hands of little girls".
View this post on Instagram
At the end of it all, Savage and even I do not believe that the doll was anything but a happy (and hilariously disastrous) accident. Earring Magic Ken or Cock Ring Bottom Ken was not a revolutionary for the LGBTQ+ at the time but I imagine that for an era with almost zero queer representation, the doll came as some sort of joy and hope for the people from the community. The doll just continues to remain a non-contributing but memorable aspect of the LGBTQ+ movement. An accidental representation in a long road of fighting for that and much more, I presume that Ken "coming out" was a short-lived respite to many. Well as Bob Ross rightly said, "there are no mistakes, just happy accidents."
Gabriella Demetriades Shuts Down Trolls For Calling Her Lifestyle Shallow In The Best Way Possible!
Know more