Christopher Miranda/ Hauterfly
Lifestyle
This Wedding In Karnataka Got Called Off Because The Groom's Family Did Not Like The Quality Of The Bride's Saree. WTF Going On?
By
|
It is no secret that Indians love weddings. We totally lose our shit when it comes to any aspect of it, from finding a bride or a groom (people like my grandmother treat this like a full-time job) to actually attending like a thousand events, we're enthusiastic. Okay, I will admit, I love weddings too or wait maybe I just love the buffet spread. But trust me when I say this, I have seen some really random things happen at weddings. Everyone has, right? I mean where else in the world will you be able to see the bride entering on an elephant while Kabira or Din Shagna plays in the background? Well, that is an exaggeration for effect but you get my point.
We go all out to make sure everything is absolutely perfect. Everything from flowers to the venue needs to be checked and rechecked before being locked down. And don't even get me started on the outfits, especially if you're the bride. It is truly a high-pressure situation. But today I came across a story about a crazy wedding that well just wasn't cut out for the pressure.
A groom absconded from his own wedding at the instructions of his parents because they did not like the "quality" of the saree worn by the bride. Yep, someone canceled a whole wedding over a saree. Now, I might not know what exactly went down, but I would pay to be a fly on their wall just to watch all that drama unfold.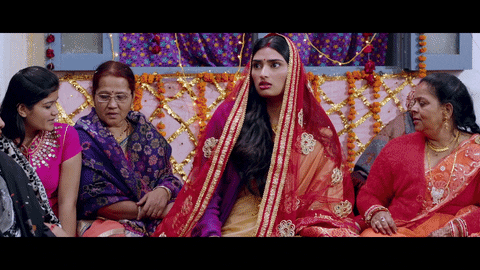 B N  Raghukumar and BR Sangeeta belonged to the same village near Hassan. They fell in love about a year ago and decided it was time to get hitched. So, a wedding was planned with the blessings of both their families but was called off after Raghukumar went missing.
Apparently, his parents thought the saree adorned by Sangeeta was of poor quality and had asked her parents to change it. The bride's parents had brought that saaree from Bidarakere village of Hassan taluk and must've neglected to change it. I don't blame them because why is a reason like "poor quality" okay to cancel a whole wedding?
The groom's parents finally canceled the whole wedding which was scheduled for Thursday after Raghukumar went missing. The bride and her family have lodged a complaint with the women's police station in Hassan against him.
On one hand, this incident makes my blood boil and on the other hand, makes me want to laugh so badly. But seriously, I have heard of a lot of reasons to call a wedding off, but this is a first. It is seriously messed up and I am so glad it got called off because clearly that poor bride would've been miserable there. Also, this incident is a testament to how cowardly men can behave sometimes. Let her just wear what she wants, okay?
Priyanka Chopra Jonas's Umaid Bhawan Wedding Venue Rent Will Make Your Jaws Drop. We Are Weeping.
GET HAUTERFLY IN YOUR INBOX!