This Telangana Bride Walked Out Of Her Wedding Because She Spotted Her Ex There. This Sounds Like A Bollywood Movie!
Updated March 02, 2020
We've grown up watching Bollywood movies so excuse us for being ambassadors of hope.  Basically, till someone isn't absolutely married…very married…as in, the entire wedding with mangalsutra, phera et al has happened, it's anyone's game. Say for example in DDLJ, Simran was getting married and Raj walks in with full confidence that he can convince her parents to allow him to marry her at the very last moment. Even in Kuch Kuch Hota Hai, Anjali leaves a sweet Aman Mehra at the mandap for a fuckboi Rahul. In fact, life is so unpredictable that I would say wait for a few months to really be convinced that you're married. Don't you remember how Meera backs out of her marriage the very next day in Love Aaj Kal?
Fickleness and cold feet can do a lot of damage. So I know that when I will get married, I am not going to put any social media posts for six months straight! That is, of course if I don't end up being a runaway bride and believe me it's possible; I have already told my friends to keep a watch on me. Jokes apart, all of this seems like a perfectly Bollywood thing to happen. We don't expect it from real life considering how much pressure a wedding comes with and it's not easy to walk out of it. It's not as simple as deciding to ditch someone's birthday party. Hell, I find that also difficult to do but then again there are people who are not as gullible as I am.
Surprising us in real life, this bride from Telangana walked out of her mandap because you know, dil toh baccha hai ji (however, I don't think the groom appreciated that!) This incident happened in Charlapally village of Wanaparty district and left the bride's family shocked. It happened in the most dramatic way and I swear if she was a star kid, Karan Johar would have taken her in his next.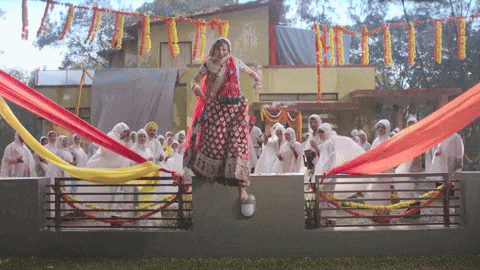 The groom was just about to put the mangalsutra around her neck and that's when some sort of epiphany struck the bride. She announced that she doesn't want to get married and walked out. Her family tried to convince her but she kept her foot down and didn't budge.
The bride's family said that she changed her mind because she saw her ex-boyfriend at the wedding. And that's all that we know. But hey, don't leave us hanging. We want to know what happened next. Did she reunite with her ex? Or was he just a fuckboi who ruined her wedding without the intention of marrying her? Guys, we are left in suspense here and I don't know how to carry on with my day without knowing how the story ended. It's like leaving just before the climax of a movie.
Anyway, whether she got back with her ex or not, one thing is clear that she didn't really love the guy she was getting married to. So maybe it wasn't so bad that she called the wedding off. Even if it isn't, let's be in denial for her sake.