Fitness
I Tried Aerial Silk And Aerial Hoop For Fitness And It Left Me With Aching Arms And A Full Heart!
By
|
Staying fit is extremely essential for us all. But the good old workout or hitting the gym is not everybody's cup of tea. Personally, for me, a workout has to be something that feeds my soul and keeps me fit. Since hitting the gym or doing burpees or going for a run isn't an option, dancing is the only thing that works for me. And if you're anything like me, I'm sure you're always on the lookout to learn new things and dance forms to stay fit or something similar. During my search for the same I came across something interesting – Aerial Silk and Aerial Hoop.
What Is Aerial Silk?
Aerial silk is a performance where an artist performs aerial acrobatics while hanging from a fabric. This fabric can be hung as 2 separate pieces or one single piece or can be folded and knotted to make a loop. This suspended fabric is users by the artist to wrap, suspend, drop, swing and spiral their bodies in different positions as they fly through the air and strike poses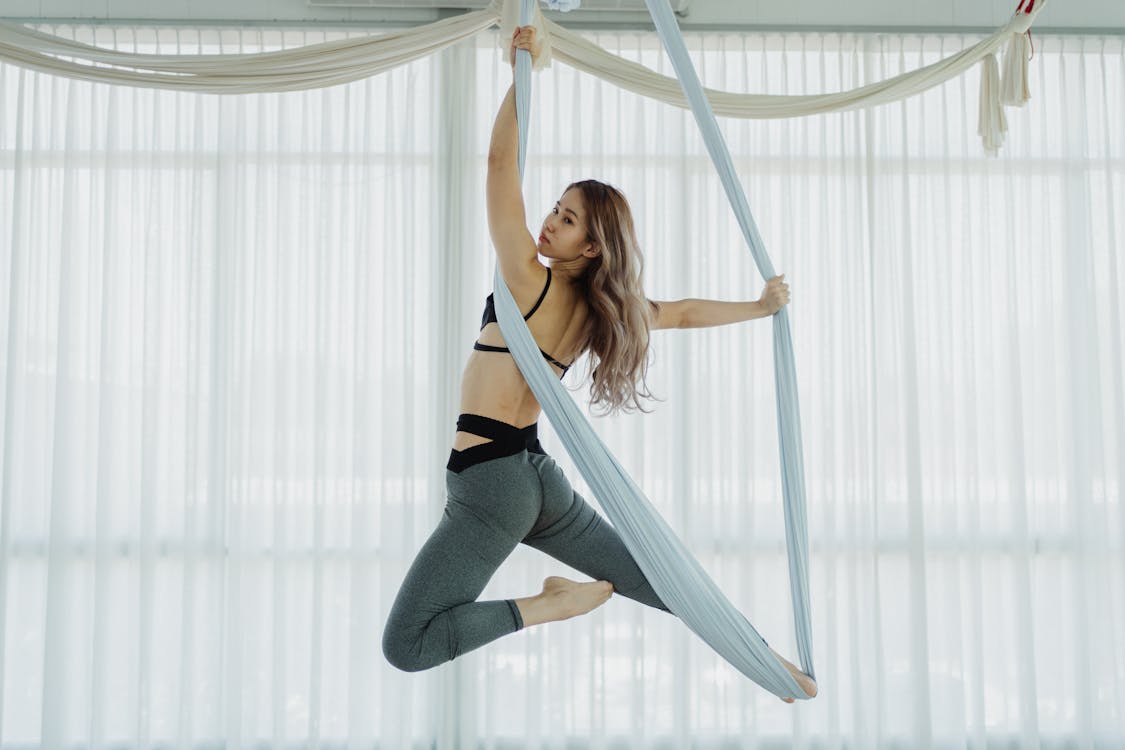 What Is Aerial Hoop?
Aerial hoop is a type of aerial acrobatics that is performed using a circular steel apparatus, much like a hoop, suspended from the ceiling. This is often used by artists in circuses to perform acrobatics. The hoop can be used to strike poses, spin or swing.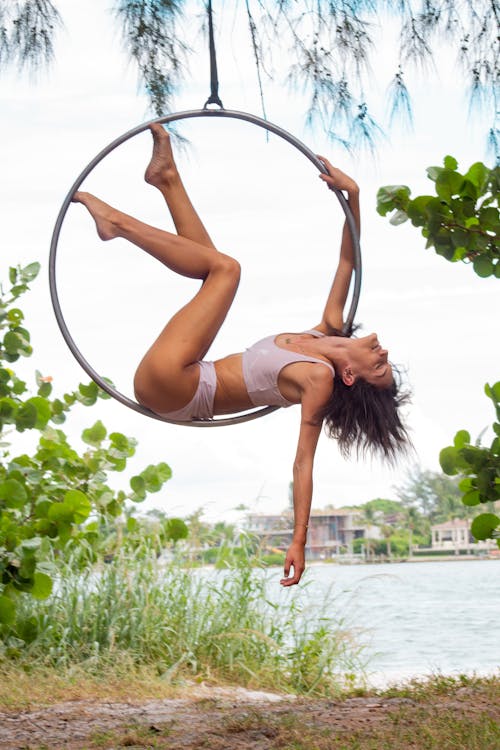 Here's What Happened When I Went For An Aerial Silk And Hoop Workshop
I recently found out about aerial silk and hoop and decided to give it a shot. I headed to 6262 Fitness Studio located in Bandra, Mumbai for an aerial silk and hoop workshop with AirBound By Ria Bajaj. AirBound specializes in aerial arts-based fitness. FYI, aerial arts are acrobatic movements that are performed while being suspended in the air with a fabric, hoop, pole or hammock. While it is considered to be a gymnastic movement, aerial arts and aerial dance is also a form of theatrical expression.
Now before I go ahead, let me warn you that aerial arts are all about the upper body and core strength which means that a one-day workshop will end with you having aching arms, shoulders and abdomen. Ria Bajaj and team AirBound were very warm and friendly. After a quick round of introductions, the team got me started on a warmup session which was mainly for the upper body and core. We began with some push-ups, followed by crunches, bicycle crunches, plank, squats, and burpees and ended with pull-ups. Oh yes, they come at your hard with the warm-up.
View this post on Instagram
We started the workshop with aerial silk. Two long pieces of silk fabric were suspended from the ceiling and were tied in a knot in the end by the instructors. They started by teaching me how to tie the knot and climb on the silk loop and remain stable. After acing the stability, they taught me how to strike simple yet stunning poses while being suspended in the air with the fabric. This included splitting my legs till they hurt and make a triangle, turning over on my head with the silk fabric holding me steady as I hung upside down and the Titanic pose while being suspended in the air among several other poses.
Here's the thing about aerial silk, it required immense upper body strength and balance. You have to hold and pull yourself up using the fabric while ensuring that your feet are properly placed on the fabric and have a good grip and balance. You have to understand how to gracefully use the fabric to climb, wrap, drop and balance as you pose along with foot locks to keep your balance. But more importantly, aerial silk makes you feel like an angel twirling in the air with beautiful fabrics flowing around you. Apart from toning your body, aerial silk helps you develop, flexibility, strength and balance as you have to use your upper body strength to pull yourself up, maintain balance on a piece of silk fabric in the air and do several stretches and splits. As much as I find splits painful, it's an art that required practice. Mastering a split is no cakewalk. Aerial silk helped me shed my inhibitions and get some workout while moving my body with some grace.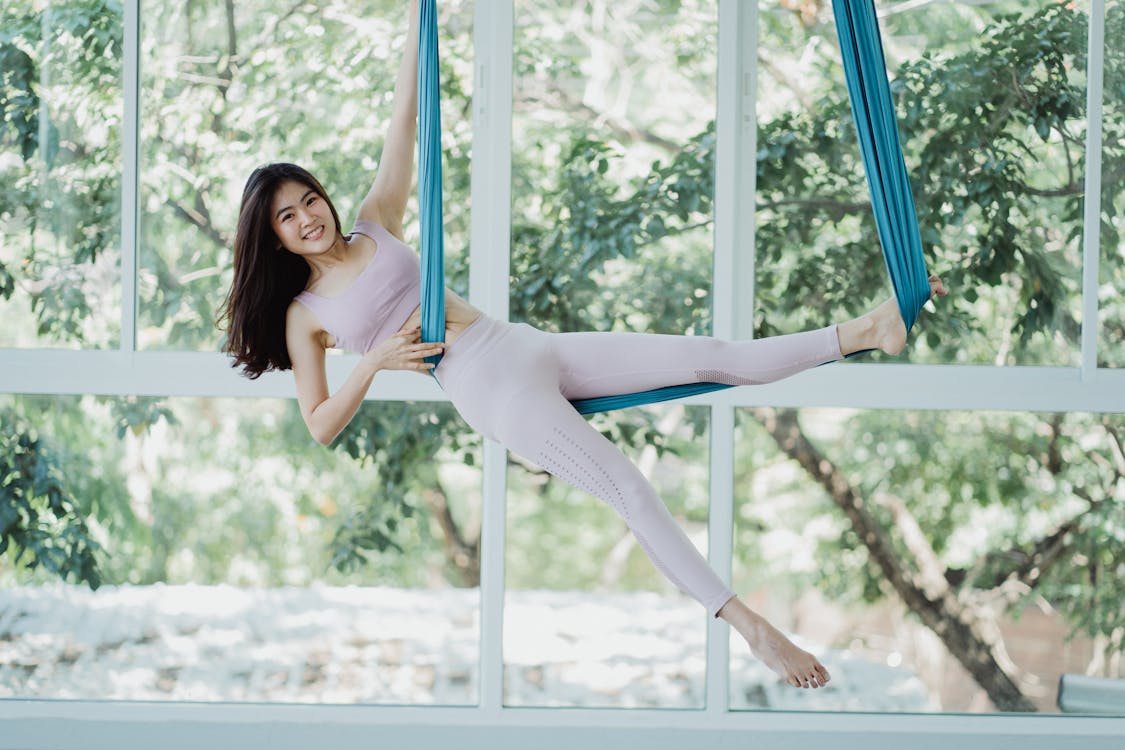 But my heart lies in the aerial hoop. Yepp, I've always loved a good hoop and what better than a hoop suspended in the air to strike poses and swing around? While aerial silk left me with aching shoulders and arms, aerial hoop made my palms hurt. Holding the hoop requires grip and ensuring that I had enough chalk powder to get a good grip on the hoop. The aerial hoop session began with a simple lesson on how to sit comfortably on the hoop followed by some artistic monkey business on the hoop which I absolutely loved. I got help to master some easy poses while swinging on the hoop. The hoop can be used static, swinging or spinning while performing poses. But spinning while posing can be hard for beginners so, the instructors taught me poses and kept the hoop static. It was only after I managed to get a hang of hanging in there that they would spin me a little. I believe I lack grace but I don't think I could've looked more graceful than I did when I was on that hoop. From pointing my toes and spinning on the hoop to swinging on it and striking poses to switching poses and positions without putting a foot down, I did it all beautifully. They also taught me how to do a mermaid pose as well as the man on the moon pose on the aerial hoop. TBH, the mermaid was my absolute fave!
Apart from a great workout, aerial silk and hoop make for a great way to learn grace, flexibility and balance while building upper body and core strength. And the icing on the cake is that it's fun to do all that monkey business in the air!
Rashami Desai Gets Fat Shamed For Sharing Fitness Video. Forget Fats, Can We Lose Some Of These Trolls First?