Fashion
Paris Hilton Wore A Toilet Paper Dress To Her Bridal Brunch And Looked Absolutely Stunning In It!
By
|
We're all accustomed to and have experienced just how much goes into planning and executing a wedding successfully. All the decorations, guests, food, venue, jewellery, and the list could go on forever. And the dress! The wedding dress is often the centrepiece of the wedding, regardless of the culture. What a bride wears on her wedding day and the other ceremonies around the wedding is usually planned a year in advance! But imagine being able to rock a dress made out of toilet paper amongst all this chaos for your bridal brunch. And imagine looking absolutely stunning doing it! That is basically what socialite Paris Hilton just pulled off!
Paris Hilton breathed new life into the phrase "Hotty at 40," when she stepped out covered head-to-toe in a makeshift toilet paper dress for her bridal brunch. Don't be mistaken, no one pulled a prank on her. However, it feels like she pulled a fast one on us because of how stupefied I was by how amazing she still looked! 
The wedding brunch took place in the backyard of her home in Los Angeles. She and sister-in-law Tessa Hilton were the designated models of the afternoon as the guests scrambled to make a dress out of toilet paper in 5 minutes. "Don't give me a brutal veil," the hotel heiress was heard saying before the games began. 
While this was just a party game, Hilton absolutely rocked that dress and went as far as to detail it by adding accents to the shoulders. What an absolute queen! She looked really stylish as the "dress" flattered her body, complimenting her perfectly. She was seen uploading stories of this event to her Instagram for her followers to join in on the fun. Her sister-in-law and Paris Hilton were seen posing for the cameras while being really good sports about the whole game. Funnily enough, both dresses were ruined as her dogs started chewing on them.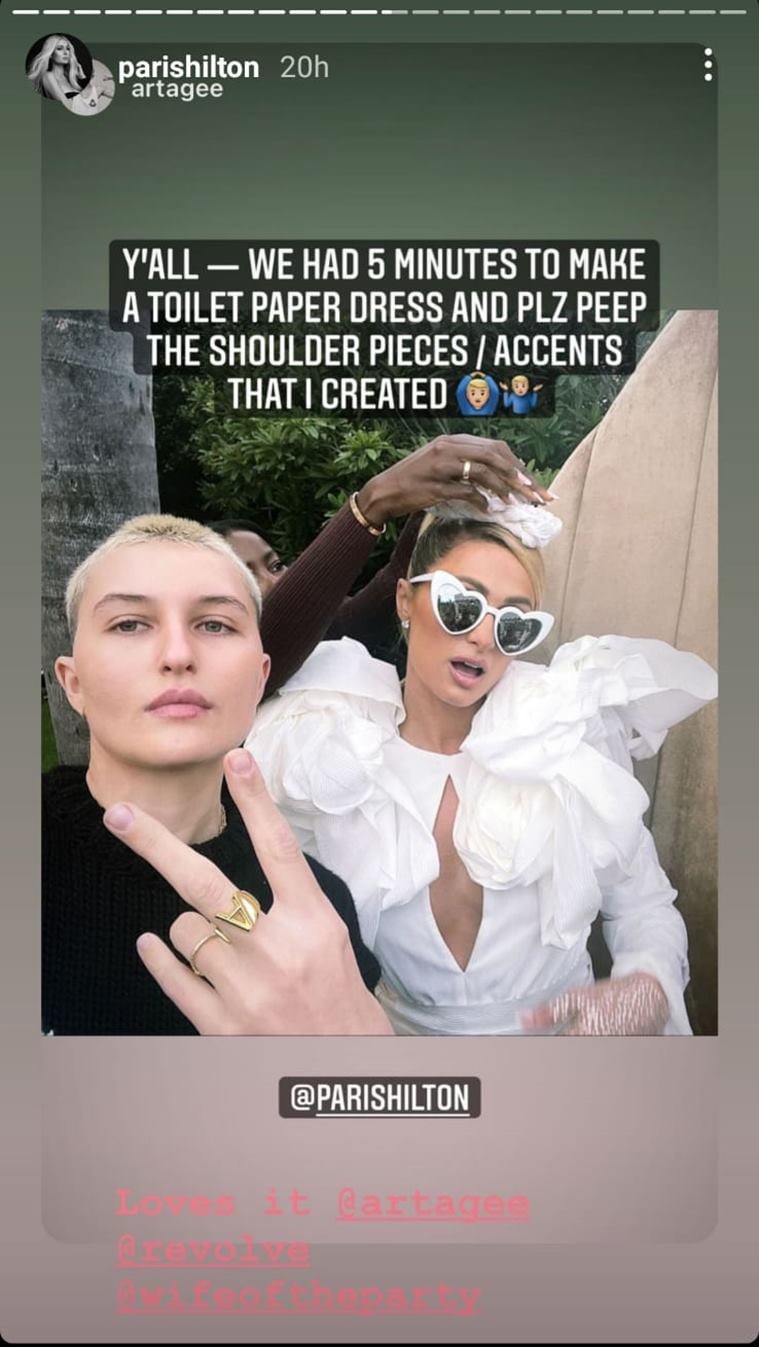 View this post on Instagram
Paris Hilton did wear a proper dress for the rest of the brunch. She was seen donned in a white mini-dress with long see-through sleeves, white pumps and heart-shaped white sunglasses with her hair up in a high ponytail. Somehow, she managed to look even better in this simple yet chic outfit!
Lash Lift: Everything You Need To Know About This Beauty Procedure
GET HAUTERFLY IN YOUR INBOX!