Shrey Sawant / The Hauterfly
Culture
#Culture: UK PM Boris Johnson Urges Brits To Lose Weight To Fight COVID-19. Indians, You Listening?
By
|
Who remembers the banana bread phase of the lockdown? That was the norm in the first couple of months, wasn't it? If Coronavirus pandemic kept us indoors and away from dining out, we'd cook up a feast ourselves. Gorging on self-baked desserts and cuisines you'd turned chef for was the order of the day. But look where that has gotten us. We've all put on a few kilos, which isn't what the doctor ordered, especially since being unfit or overweight can become a co-morbidity factor in COVID-19. Which is why UK Prime Minister Boris Johnson, who himself contracted and recovered from the virus, has urged his people to lose weight.
According to a British government policy paper published this week, there is now consistent evidence that overweight people are at a higher risk of being severely affected and requiring hospitalisation if they contract COVID-19. They would need ventilators and intensive care and COVID-19 could be more fatal to them compared to those within healthy weight ranges. The paper further revealed that around two-thirds of the UK's adult population was overweight and over half of them were obese. 
Back in April 2020, as the world was grappling with the pandemic, and Britain was struggling with an increase in cases, their PM Boris Johnson was reported to have contracted the virus and was also hospitalised. Although now recovered, and the UK slowly opening up amidst a steady decline in cases, the PM has seized the chance to get Brits into fitness, thereby reducing their coronavirus fatality risk.
Furthermore, this move would also decrease the strain on the country's National Health Service (NHS). The idea is that if all the citizens considered overweight dropped 5.5 pounds (roughly 2.5 kg), then the NHS would save millions of pounds (money) by 2025.
PM Johnson posted a video on his social media, where he talked about his own case of being overweight when he contracted COVID-19 and needing to be hospitalised, to make a point that fitness was of prime importance in the battle against the pandemic. He spoke about the UK government's 'Better Health Strategy' in the video, which advocates an urgent need for people to lose weight, and more importantly stay fit. As for the PM himself, he has started going on daily runs with his dog post-recovery and has eve dropped 14 pounds (6 kg).
Losing weight is hard but with some small changes we can all feel fitter and healthier.

If we all do our bit, we can reduce our health risks and protect ourselves against coronavirus – as well as taking pressure off the NHS.

Our Better Health Strategy https://t.co/WdazXhuhRN pic.twitter.com/KZhW8p17FJ

— Boris Johnson #StayAlert (@BorisJohnson) July 27, 2020
Some of the measures introduced as part of the Better Health' campaign include a ban on junk food advertisements on TV or online before 9 pm, which can be a huge step in discouraging any cravings or customer recall for unhealthy eating habits. Restaurants might also be urged to display calorie counts next to each dish on their menu, which to me sounds like a great idea. It simplifies the process for those already watching their calorie intake, and it lets you customise your meal and decide whether you want to eat just dessert or stuff up on mains. There might also be certain guidelines and restrictions on how grocery stores and supermarkets display junk food in their aisles. Maybe prominent, alluring displays would be discouraged.
Now I know we Indians hate to be told what to do by the British (and rightly so), but maybe this is one strategy that, like cricket, we ought to borrow and make our obsession. We love our fried naashtas and mithaais and a lot of that has been going on in our kitchens during this lockdown. The queues outside supermarkets are less about buying essentials and more about buying fancy ingredients like, I don't know, Gouda cheese and whipped cream, so we can make our own pizzas and bake our own cakes and cookies. While all this seems like the only thing cheering up our morose selves, how many of us our also putting up our workout videos, eh? Is weight loss a hobby that we're trying out during the lockdown?
I am barely one to talk, considering I am both overweight and indulging in these cooking/baking fads. But a close enough encounter of the COVID kind made me wake up and smell the diet food. Even if it is 15-20 minutes of any exercise, it could help you keep healthy.  Or there's always fun ways to burn calories like a virtual zumba party with friends, walking every time you're on the phone, going for a walk with a neighbourhood buddy while maintaining social media distance, or simply a few surya namaskars in the morning!
You can laugh all you want at PM Modi's obsession with yoga, but here's PM Boris Johnson telling you exactly that—fitness se hi hoga!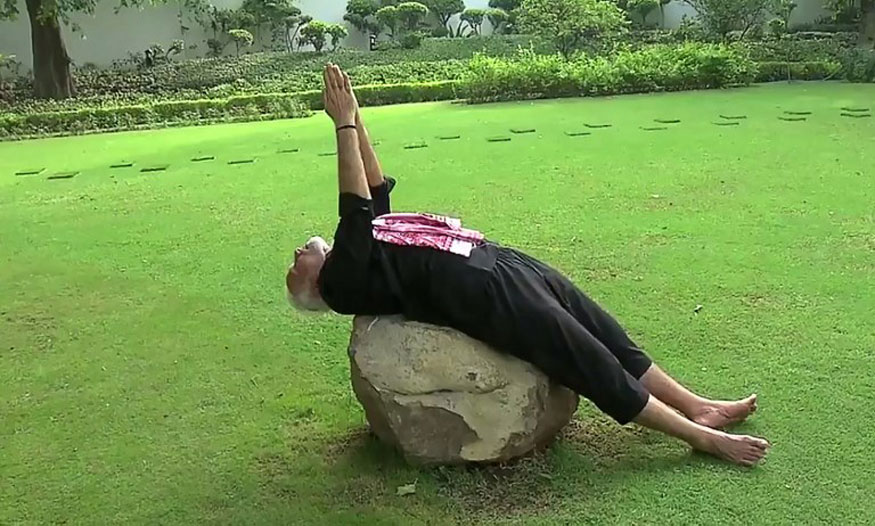 GET HAUTERFLY IN YOUR INBOX!