10 Thoughts I Had While Watching Netflix's 'The Kissing Booth 2'. Mainly That I Hope 'The Kissing Booth 3' Avoids The Fatal Flaws Of Its Predecessor
I am a sucker for romantic comedies. And because I didn't have an amorous high school life myself, I'm an even bigger one for high school romantic comedies. Netflix's roster, which boasts of films in the genre like the To All The Boys I've Loved Before franchise and series like Never Have I Ever or even Sex Education, is easily my happy place. When The Kissing Booth sequel dropped on July 24, I had my Friday night all planned out. I'd wrap up work, pour myself a glass of vino, and watch the Joey King, Jacob Elordi and Joel Courtney starrer. I was hoping it would be as easy-breezy a watch as To All The Boys: P.S. I Still Love You, and was looking forward to the addition of another hottie, Taylor Zakhar Perez, to the mix.
Umm, let's just say, 2 hours and 12 minutes later (yep, that long), I was exhausted, which isn't how you want to feel after watching a rom-com! It wasn't exactly a bad one. But considering The Kissing Booth 3 has already been shot and announced just this morning, guys, we need to talk.
What's new with The Kissing Booth 2?
Remember where we last left high schooler Elle Evans? She finally convinced her best friend, Lee Flynn, that he couldn't tell her who she can love. Lee gave Elle and his brother Noah the green signal, and the two spent a perfect summer together before Noah left for Boston to begin college at Harvard.
After a montage of their summer, which served as a recap of the prequel and a reel of their summer, we find out that Elle is trying to be mature and give Noah some space in his new college-boy existence. This means she's third-wheeling hard with BFF Lee and his girlfriend Rachel, who's welcoming at first but then gets justifiably annoyed. School starts and there's a new hot admission, Marco Peña, that everyone is swooning over. Due to an unfortunate incident, Elle finds herself in his line of sight, and Marco is intrigued by her. He even agrees to do his year's Kissing Booth at the Homecoming fair.
Noah finally convinces Elle that not only is he still in love with her and wants to make their long distance relationship work, but he also hopes she will apply to Boston colleges to be near him. As Elle prepares to shift her priorities to align with that, it includes lying to Lee about wanting to go together to UC Berkeley and getting her finances in order because Harvard's expensive.
But it's never that easy for Elle, is it? Noah's collegiate friends include a supermodel-looking Chloe Winthrop, who is too close to Noah for Elle's comfort. This insecurity only pushes Elle further into the waiting arms of her dance competition partner, the delicious Marco, who is just perfect for her, emotionally and geographically. What happens when all of Elle's worlds collide and who she chooses is the rest of the story.
You know what was another part of my Friday night plan? That I'd tweet my experiences of watching the movie as I was watching it. I'm glad i dropped the idea a few minutes into the movie because you see how complex Elle's problems have gotten in this sequel? If I was even a tad distracted, I wouldn't be able to keep up!
But fret now, I have gathered all my thoughts right here, because girl (or guy, or anyone who watched the movie), we need to discuss this.
10 Thoughts I had while watching The Kissing Booth 2
1. Elle Evans is such a cool girl. Yes, she is dorky, but also beautiful, smart (apparently because she gets into schools like UC Berkeley and Harvard), has her own gaming podcast, and can dance. Why has no one ever noticed her before Noah? And yes, I get that Noah put a ban on other boys approaching her, but he couldn't have gotten to all of them, right?
2. If Elle is such a dorkus, why does she manage to attract the two hottest boys in her high school, amirite? But then again, when you see Joey King like this, you get it. Of course. But this also begs the question, why does it take a guy(s) to make a girl reach her full potential? I spotted this in Yeh Jawaani Hai Deewani too. Can we be done with this trope, please?
3. Marco is a great guy; pretty much like the dreamboat who is 100% likely to be rejected in favour of the bad-boy-turned-good-guy by the heroine in the climax. And he just happens to be single? I get why Noah fell for Elle. But why Marco? Is Elle the only not-superficial, deep chick in the school?
4. Why does Elle and Lee's dance club have no other members? Maybe they were unpopular dorks before, but didn't last year's Kissing Booth give them some street cred to attract more members? Does nobody else in the school like to dance?
5. Now I am not a big fan of cliché high school clique tropes. But how is every person in this school so… umm… supportive? There are still divisions amongst their ranks, but everyone coming together and being nice to each other is still something that feels utopian.
6. Noah's friends make zero efforts to get to know Elle and make her feel welcome. I get why she starts feeling insecure in the first place. Why does he not tell Elle about what his deal with Chloe is in the first place? 
7. Most movies have this one major event in the climax that it is building up to. In TKB2, there are three—the dance competition, the homecoming game and the kissing booth. The film crescendos at all these points before falling flat again, which to me feels a little drawn out. 
8. I love callbacks in movies because they feel like inside jokes only fans of the franchise would get. It's fun to spot them everywhere too. But in The Kissing Booth 2, there are so many of them, that I feel like they're trying to make the movie exactly like the previous one so fans don't have to make too much effort to like it. No guys, come on. Excess of anything can be bad too!
9. I wanted more No-El/ElNo, I mean Noah and Elle scenes! They had such an intense romance! They're the OTP!
10. One of my favourite things about Elle and Lee's friendship is also the relationship Elle shares with Lee's mother, who is her deceased mom's best friend. Molly Ringwald feels like such an under-utilised asset in the movie. We should've gotten more scenes between her and Elle, especially when she was making all these big decisions about where to go to college!
P.S: How do these guys fail miserably at their essays at first and then nail them enough to get into all the top colleges? And how are they maintaining that GPA with so much going on in their lives!
But The Kissing Booth 2 still has my heart because….
1. Elle and Lee's friendship
I love these two dorks! Everything that happens with them, including the third wheeling and the 'lying to your girlfriend because you can't let your BFF be alone' conundrum. It is real, it happens, and it proves that more often than not, problems can be solved by just communicating what we really feel instead of lying to each other.
I love their friendship rules, and Joey and Joel's easy dynamic makes me wish I had a friend like Lee or Elle too!
2. Noah and Chloe's friendship
I kind of forgave Noah for being a little silly and not telling Elle the whole truth after he gave his reasons. I'm glad they don't explicitly explain why Chloe and Noah never went beyond just friends. Instead, Noah just wants to have with Chloe what Elle has with Lee—a solid friendship that can save you from the worst. And I think that's beautiful! Hope we get to see more of it!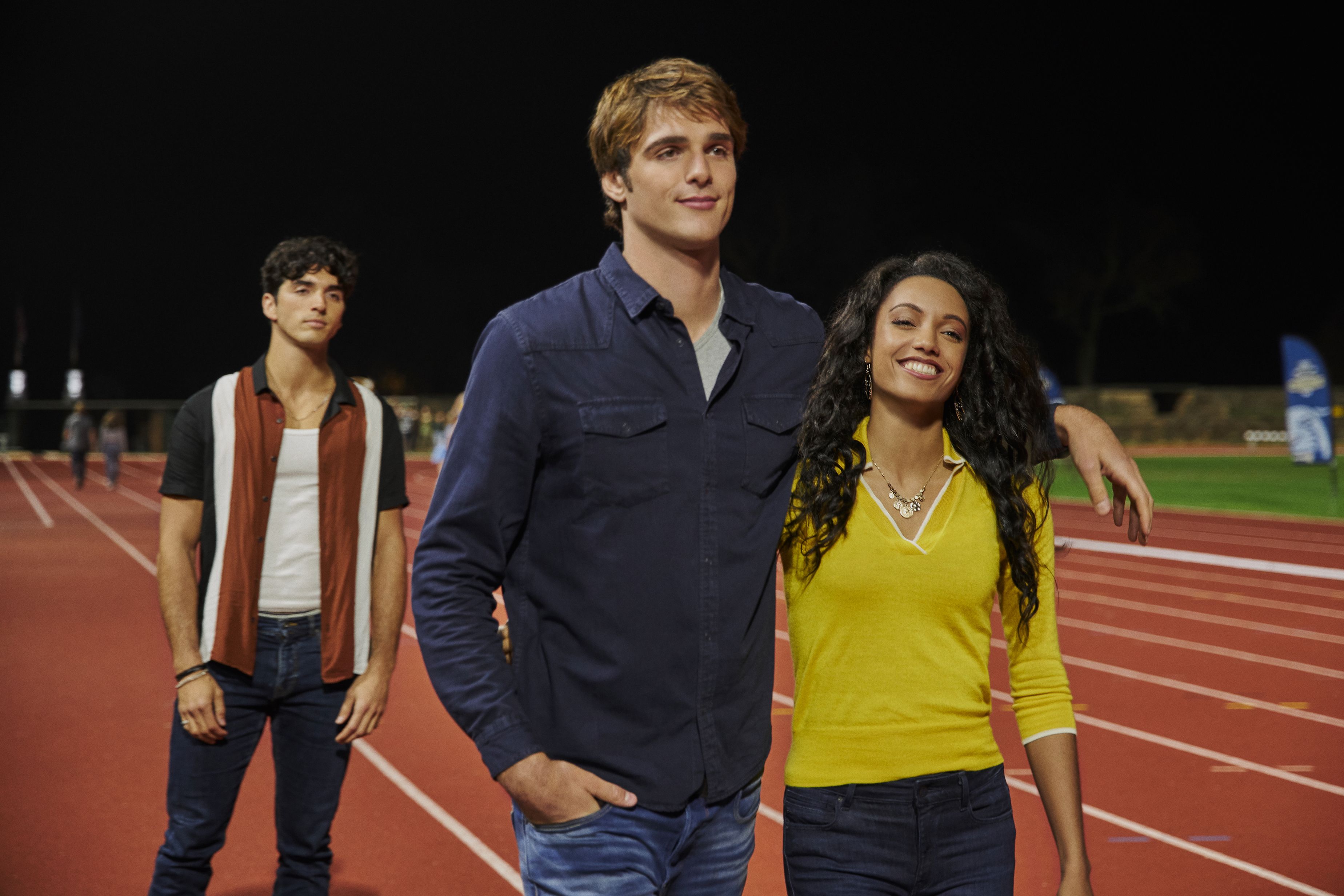 3. The chemistry between Elle and Marco
Okay you know there was something there! There's a fraction of my heart that feels Elle should've tried it out with Marco. Look, while I am Team Noah, I do think that Elle, who has never dated anyone before, could do with expanding her experiences. Maybe the third instalment should've been how she and Noah find their way back to each other because they're meant to be?
4. Ollie and Miles' love story
The first movie had a smidge of a moment for LGBTQ+ representation. But The Kissing Booth 2 devotes a little more screen-time to the blossoming love between Ollie and Miles. In fact, often when the main character storylines felt a bit too dragged, I enjoyed the whole school rooting for these two characters!
5. The dynamic between Elle and Rachel
IRL, the relationship between a girl BFF and a girlfriend is immensely treacherous to navigate. We know that Elle and Lee are platonic but Rachel, like the rest of the school in the first movie, didn't. So to see their relationship, despite the troubled waters in the middle, sail so smoothly in the end makes me extra happy for our species! More of this girl bonding please—Elle, Rachel and Chloe doing a girls' night, and inviting Mrs. Flynn to join them would be epic!
6. When they didn't make it easy for Elle and Noah's long distance relationship
While the story does get a little too unreal (those school kids in convertibles, what?) in places, I like that Elle and Noah faced some real challenges. Like Elle's father not being able to afford tuition fees or being too busy to communicate with each other These are issues that most couples do face IRL. 
7. Cape Town makes for a convincing Santa Monica!
I've been lucky to visit Santa Monica and I loved it. The Kissing Booth franchise uses Cape Town, South Africa, for its Los Angeles scenes. And I love the sunny colour palette of the film, because it reminds me of beach vacations, the summer, and a time when coronavirus wasn't keeping us inside.
Verdict: Worth a third date?
If it comes to light watching and just having a good time, which is the usual expectation from a rom-com, I'd still vote for the first movie. The Kissing Booth 2 does offer character development that makes sense most of the time. But it gets lost in its overdrawn run-time, and plotlines that unnecessarily complicate the situation or offer too much buildup to drive one point home. The last part sucks, especially when you're trying to make a lot of points with your film—friendship, long distance love, jealousy, insecurity, cheating, love is love, self-acceptance, thinking about one's future, self-assertion, and so on.
Since The Kissing Booth 3 has already been filmed, I don't suppose much changes can happen there based on feedback that the makers receive now. But here's hoping we get to see more of Elle's thoughts through her voiceovers, but they're a little less all over the place this time.
Jinal Bhatt
Sharp-tongued feminist. Proud nerd. Opinions with on-point pop-culture references about films, books, your toxic BF, the patriarchy, and the Oxford comma.
Know more