Jackpots Games With Potential To Make You Rich In a Spin!
Updated October 03, 2019
There are numerous stories of lucky players winning a jackpot when visiting a casino in Vegas, but you may be surprised to learn that you do not need to leave your house to win a jackpot. The best jackpot games aren't just found in Vegas; they can also be found on the internet. Who'd have guessed that winning a large sum of money over the internet could be possible? The truth is that some of the most famous online casino winners of all time have done so. Jackpot games, it turns out, are now more popular online than they are offline!
There are hundreds of games with fixed and progressive jackpots available on the internet. Mega Moolah, Arabian Nights, Mega Fortune, Major Millions, and Beach Life are just a few of the most enticing options available, and you'll be happy to learn more about them. If you want to increase your chances of winning by playing jackpot games, you must first understand more about each! Each of these games is described in depth below, along with how they can improve your gameplay.
1. Mega Moolah
Mega Moolah is the defining game in the genre that brings you some of the juiciest jackpots. The biggest win as of today stands at €19.4 million! This game pays out several jackpots per year and it is actually through Mega Moolah's efforts that we have jackpot games today. Nobody thought it possible, but Microgaming created a compelling game that connects hundreds of online casinos together and creates a tight network where every player, at any linked-up casino, stands to win big time. There are four available deposits:
The jackpots can be researched quickly in real-time at this Mega Moolah website so that you always know how much you are competing for. Mega Moolah is a fantastic progressive game with many different themed variations, all featuring amazing top online jackpots that you will definitely want to try and win!
2. Arabian Nights
Arabian Nights is a beautifully themed game that does bring some substantial payouts if you are interested in them. The biggest win recorded is €3,332,926. Players will be very happy to know that the game can pay over $1 million in jackpot with the majority of jackpots paid at least triple digits.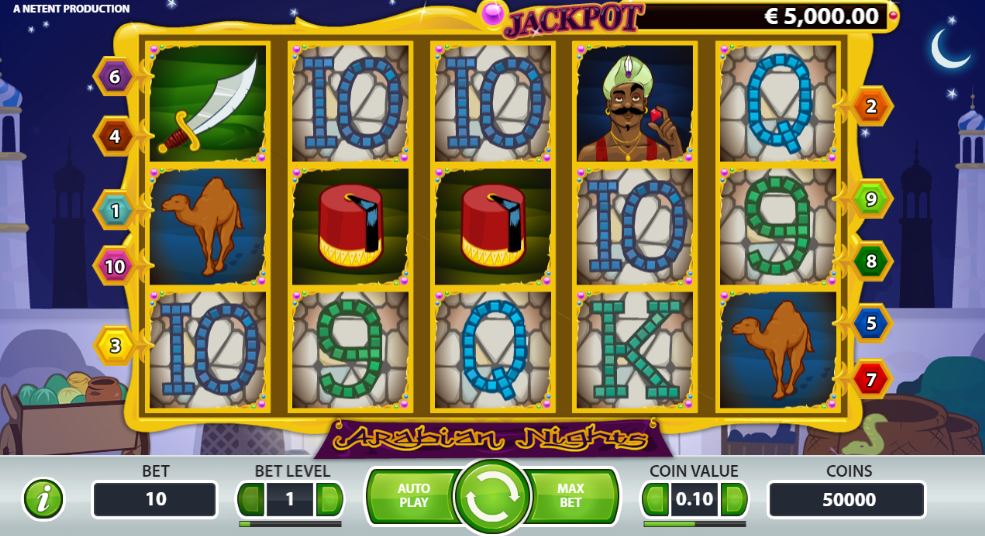 There have been a few much smaller jackpots, but this is no biggie since that means the game would be restarted and the jackpot amounts will start climbing up again! If you are a fan of the theme and culture in the game, you will definitely appreciate the subtle beauty of Arabian Nights.
3. Mega Fortune
Mega Fortune is another glitzy progressive jackpot that is reminiscent of the neon-lit skies above Atlantic City. One of the most famous wins in this game is a Finnish player who won €17,861,800 on a bet of 0.25 cents. The game is very generous and it offers some outstanding features as well as a massive payout for those lucky enough to claim it. There are three excellent jackpots that will be worth different amounts:
You will always want to try and win the Major Jackpot which is definitely one of the best out there. When you play slots online, you want to make sure that you have picked the right games to enjoy, and Mega Fortune surely is one of those.
4. Major Millions
Wittily themed, Major Millions is a game that focuses on six-figures payouts and an old-mustachioed major who is willing to test your mettle and reward it correspondingly. There are many great things about this game and you will realize that Major Millions is indeed one of the best progressive jackpots you can get and play today! The biggest ever jackpot on this game is $1,636,184.46. There are 3 classic reels and 15 cartoonish pay lines that will really add variety and fun to your gameplay, quickening up the pace of play and bringing you a lot of joy and excitement as you play along. Major Millions offers seven-figure payouts just as well and you will find them all exciting and great additions to your gameplay!
The jackpot amount will vary, but you can expect Major Millions' popularity to guarantee a constant stream of new funds and players who are trying their hand at landing a victory. Even though it's all still based on luck, you will get to enjoy the fact that there are so many ways for you to access some outstanding payouts. If you discounted the jackpot, Major Millions will still be an awesome game to bring you joy and excitement at every step of the way!
6. Beach Life
It's often called one of the best progressive jackpot games and there are several big winners ready to agree. A Canadian woman won $4,188,719.98 in 2008 and in 2015 a lucky UK player won £3.7m, breaking the 2012 record of £4.4m. As you can guess, Beach Life is another outstanding game where you will enjoy a quick pace of play and have quite a bit of fun as you do. The game will feature many ways to win more and land a cool bonus. The average drop for the bonus is some 131 days, but you don't have to worry too much about it as the jackpot can really hit out of a sudden. It's important to focus on the actual gameplay which is tons of fun and will help push your gaming experience beyond your expectations!
It's easy to see why these games have remained popular for years after their initial release. The jackpots handed out on these games appear to be on a constant upward trend!