Fashion
Every Time Sridevi Dressed For The Screen And We Screamed "ICONIC"
By
|
Indian cinema has gifted us many stars who have never failed to shine on the big screen. Churning out some memorable fashion trends, these actors and their iconic characters have found a safe space in trend charts and each one of our closets. And amongst this legendary list of artists, one name that still takes the top spot is of late actress Sridevi. Hindi cinema's forever favourite Chandni had an undeniable charm. From her onscreen to offscreen looks, we could confirm her closet had the best pieces lined up. The actress was not just an excellent performer but also a keeper of great sartorial taste. Stitched well with all her characters were her fashion choices that were always welcomed by her fans with open arms. Then be it her chiffon sarees, monumental avatars or flirty dresses, Sridevi flagged off many trends. Remembering the actress and her sartorial excellence, we have listed down our favourite onscreen looks by Sridevi.
Himmatwala
The 1983 film still drives its fans crazy with just the tune of "Tathaiya Tathaiya." Starring actors Jeetendra and Sridevi, the film flagged off some over-the-top looks and tapped to the tunes of Bollywood's more is more era. Apart from its ear-splitting music, Sridevi's Amrapali costumes in varied colours became a hit amongst fans. The popular look is still a favourite memory for current filmmakers that they often revisit with joy.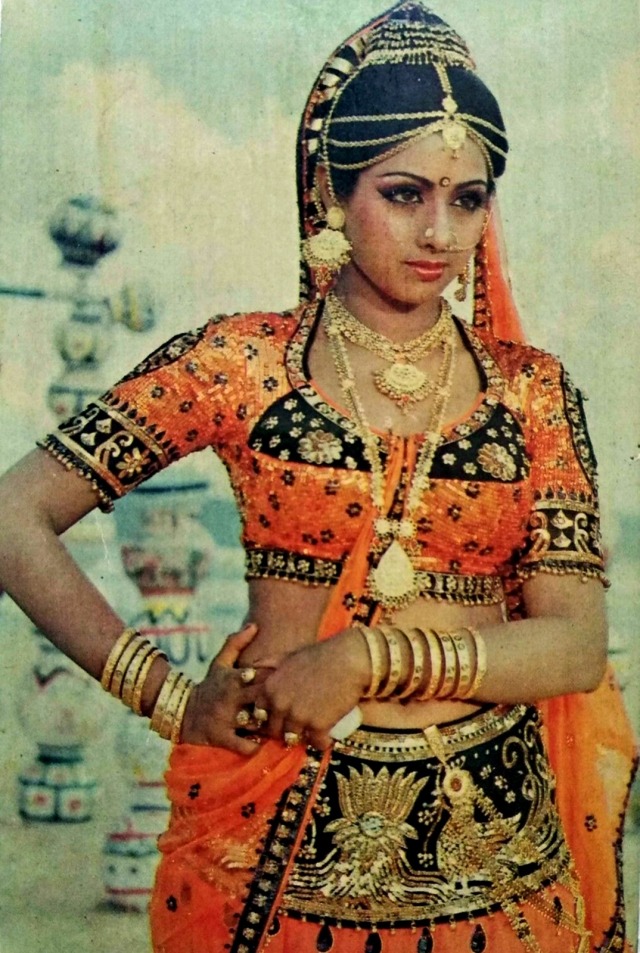 Mr India
Sridevi's 1987 film Mr India showcased both ends of her style spectrum. From maid dresses, and curly hair to voluminous big tresses and slinky chainmail, the actress was a delight in every avatar. Be it her blue saree from "Kaate Nahin Kat Te" or her golden headgear from "Hawaa Hawaii," Sridevi was par excellence in every look. Credited to costume designer Xerxes Bathena, Sridevi's iconic ensembles from the movie are still a topic of great interest.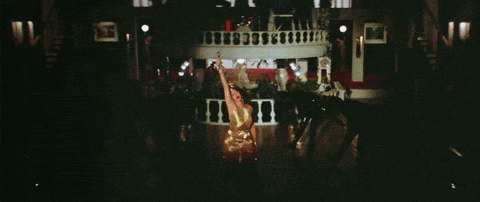 ChaalBaaz
Rajinikanth, Sunny Deol and Sridevi starrer 1989 film ChaalBaaz was a massive hit amongst fans. Apart from its interesting plot line, Sridevi's dual role had the audience glued to the screen. To play the poles apart twins, Sridevi used her sartorial skills alongside costume designer Narayana B. Rao. Through her screen presence, the actress made her blue prom dress a closet hit. Her colour coordinated accessories including head scarves in shades like fuchsia pink and cerulean blue remain our favourite from her character wardrobe.
Chandni
A magical film created by celebrated filmmaker and producer Yash Chopra, Chandni's charm is still alive. Sridevi's titular character Chandni made some spectacular sartorial decisions, when she swayed on the hills wearing a romantic chiffon saree, alongside a well-layered Rishi Kapoor watching her in awe. From her solo performance in "Mere Haathon Mein" to her neon tank tops paired with knitted jumpers in "Chandni O Meri Chandni," Sridevi created sported some magical looks curated by the pioneer of Indian costume design, Bhanu Athaiya. Sridevi's Chandni still inspires many designer mood boards.
Lamhe
Another remarkable addition to Sridevi's filmography was her 1991 film Lamhe, alongside Anil Kapoor. The film was yet again a successful collaboration between the legendary actress and filmmaker/producer Yash Chopra. Her characters Pooja and Pallavi shared some similarities in their styles. From interesting colour combinations, and ethnic wear to statement jewellery, ace designer Neeta Lulla is credited for creating some iconic looks for the actress in the film.
Gumrah
The Sridevi and Sanjay Dutt starrer 1993 film dished out the style flavours of the early 2000s. With hairbands, printed shirts, ballerinas and bob hair taking the centre spot, Sridevi's character Roshni Chadha, offered a refreshing change in her onscreen persona. Curated by costume designer Manish Malhotra, Sridevi donned some interesting looks in the film.
Laadla
Sridevi channelled the rich girl aesthetic for her 1994 film Laadla. The actress' character Sheetal Jetley was always in favour of power dressing, achieved by minimal jewellery, luxury fabrics like satin, royal pearls and neat hairdos. Every costume played along her character's journey in the film, as it depicted the stubborn to soft aesthetic through the transition in silhouettes and colours.
English Vinglish
Another of our favourite films from the actress' kitty is English Vinglish. The 2012 film presented Sridevi in a different light. From the heartwarming plot to her character Shashi, Sridevi brought her magic to the big screen again. What also made its place in conversations around the film, was her character's collection of sorbet-hued, printed sarees. Designer Sabyasachi Mukherjee is credited for the impeccable drapes worn by Shashi in the film.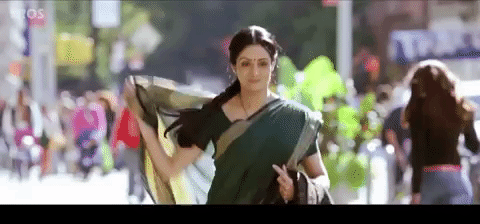 Tell us your favourite Sridevi character!
Image Credits: Pinterest
From Romantic Chiffon To Tapori Chic, Every Bollywood Melody That Gifted Us An Iconic Monsoon Look