Harsh Varrdhan Kapoor's Rant Got You? Check These 5 Affordable Indian Brands For Sneaker Heads
They definitely won't break your bank!
Updated September 12, 2023
Sneakers have made an impactful impression on the face of fashion and pop culture. With sneaker heads keeping a count of their favourite designs, the industry in no time is soaring high in demand. But damn, the price on these pair of shoes is higher than we can ever imagine. In the price of one sneaker, I could feed myself multiple meals at a fancy place, and buy less cheaper shoes in abundance. Wait, but celebrities don't care about the tag right? At least, that's what we get from actor and Anil Kapoor's son–Harsh Varrdhan Kapoor. In recent set of Instagram stories, Kapoor expressed his thoughts over people wearing fake copies of popular sneaker brands.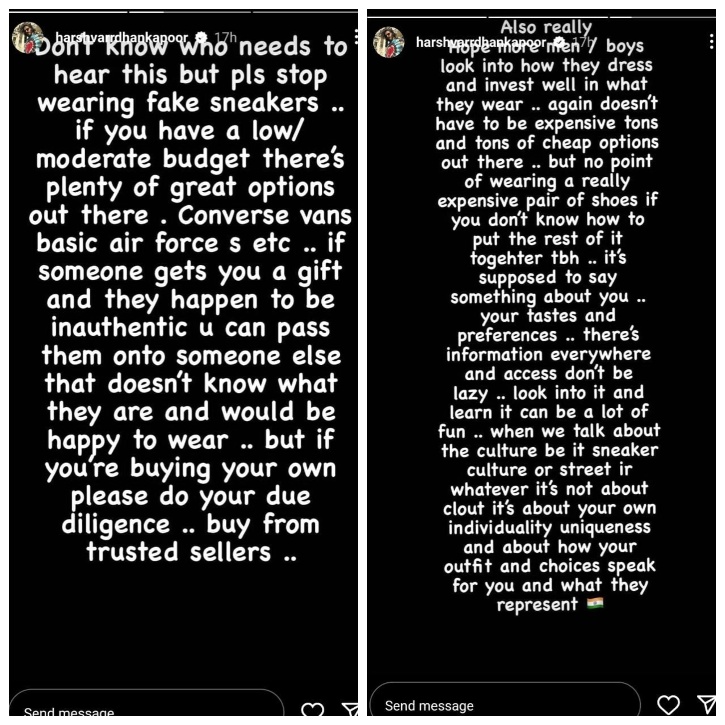 He went on to say–"Don't know who needs to hear this but please stop wearing fake sneakers… if you have a low/moderate budget there's plenty of great options out there. Converse vans basic air force etc… if someone gets you a gift and they happen to be inauthentic you can pass them onto someone else that doesn't know what they are and would be happy to wear…"And while Harsh's ideas were not to be taken in bad taste, and tagged as "privileged," many people found it offensive and called him out. Netizens called the actor out for his opinions and asked him to sit down and think before speaking. But hey, is the actor right? I mean, not that we in any way promote people to not choose fake copies, but wouldn't it be a cool idea to just shop from new-age Indian labels? That hello, is also affordable. And if you're looking for a list, allow us to help you out. 
For The Love Of Sneakers
First up on our list is The Aurous, which aims at providing sneakers at an affordable price. From tan-coloured pairs to black soles, the brand's newest collection will have you buying more than a pair of shoes. What makes it more fab is the super affordable price tag. 
View this post on Instagram
Colour Therapy 
Another homegrown Indian brand, serving the needs of sneakerheads is 7-10 (Seven-Ten). Blending high fashion design with superior quality and affordability, 7-10 brings a collection of unique designs to the table. Chunky soles, zig-zag threads and a refreshing colour palette make this brand a favourite amongst Gen-Z.
View this post on Instagram
One For Mother Earth
For shoppers looking out for a variety of environmentally-friendly designs, label–Solethreads has you covered. Experimenting with new-age materials, and walking on the rules of conscious fashion, Solethreads gives a unique spin on everyday wear designs. 
View this post on Instagram
Classic Whites 
India's household footwear brand–Bata has been serving its age-old legacy and trust built with customers. Juggling between the categories of everyday wear, casuals and formal wear, Bata is your one-stop shop for affordable designs. The brand is a go-to name when shopping for classic whites. 
View this post on Instagram
Simple Perfection
Working on the idea of comfort and responsible design., brand–Neeman's masterfully designed collections take comfort very seriously. Some of the brand's popular offerings include slip-ons, tan sneakers, light-weight soles and shoes. 
View this post on Instagram
Get your favourites now!
Channel Barbiecore With Everything Pink From Anarkali And Sneakers To Scents And More