'Koffee With Karan' S7 Ep 7 Review: Punjabi Mundas, Sidharth And Vicky Made The Show All About Ki And Ka
Updated August 18, 2022
What do we do every Wednesday night? Well, we wait for the clock to strike 12 'coz midnight is when the latest episode of Koffee With Karan Season 7 drops. And every single week, without fail comes the newest episode of this talk show full of masala, gossip and hum toh chatkare le le ke dekhte hain, with popcorn (of course). Episode 7 of Koffee With Karan 7 dropped a while ago. Ever since we found out that Vicky Kaushal and Sidharth Malhotra, we've been waiting with bated breath for these munde to Punjabify the Koffee couch. Now, as much as I'd like to say that I loved the episode, I cannot help but point out that nearly every episode of season 7 has been a total snooze. But Vicky and Sid gave us some fun goss but fir bhi dull tha yaar!
View this post on Instagram
The Manifestation Couch
By now, we've all established that the Koffee couch is also the manifestation couch that we all need in our lives. The show opened with Karan Johar talking about how the Koffee With Karan couch is the perfect place for Sidharth to manifest marriage with his rumoured girlfriend Kiara Advani while pointing out that Vicky Kaushal also manifested Katrina Kaif on the Koffee couch. And Sid responded by joking that Vicky and Kat practically had their Roka happening on KWK. Well, we'd like a Roka like that too! Moving on Sid actually manifested good things for himself (and Kiara too!).
Sid And Kiara Just Went KWK Official
View this post on Instagram
Sidharth Malhotra and Kiara Advani haven't gone public with their relationship despite all the rumours and speculations about their romance. But during this episode of Koffee With Karan, the OG Gossip Girl of B-town aka Karan Johar confirmed that the duo are actually dating while Sid kept blushing and did not directly comment on it. Well, we say Jugjugg Jeeyo, Sid and Kiara. And if that wasn't enough, Karan also played a snippet from Kiara Advani's appearance on his show in the previous season where she spoke about her relationship with Sid without giving anything away. She also described her life as "Shershaah" and "King sized" and Sid's reaction to the video was the most adorable thing on the show tonight! But wait, there's more…looks like Karan Johar and Shahid Kapoor will be shaking a leg to 'Dola Re Dola' at Sid and Kiara's wedding.
Psst….Kiara's name is saved as "Ki" on Sid's phone, hai na cute? Sidharth Malhotra is truly Kukkad Kamaal Da! The one thing that Sid said that is still ringing in all of our minds is "What is sex without love, Karan." This Punjabi Munda really has our heart. Where can we find men like these?
Vicky Kaushal And His Mrs!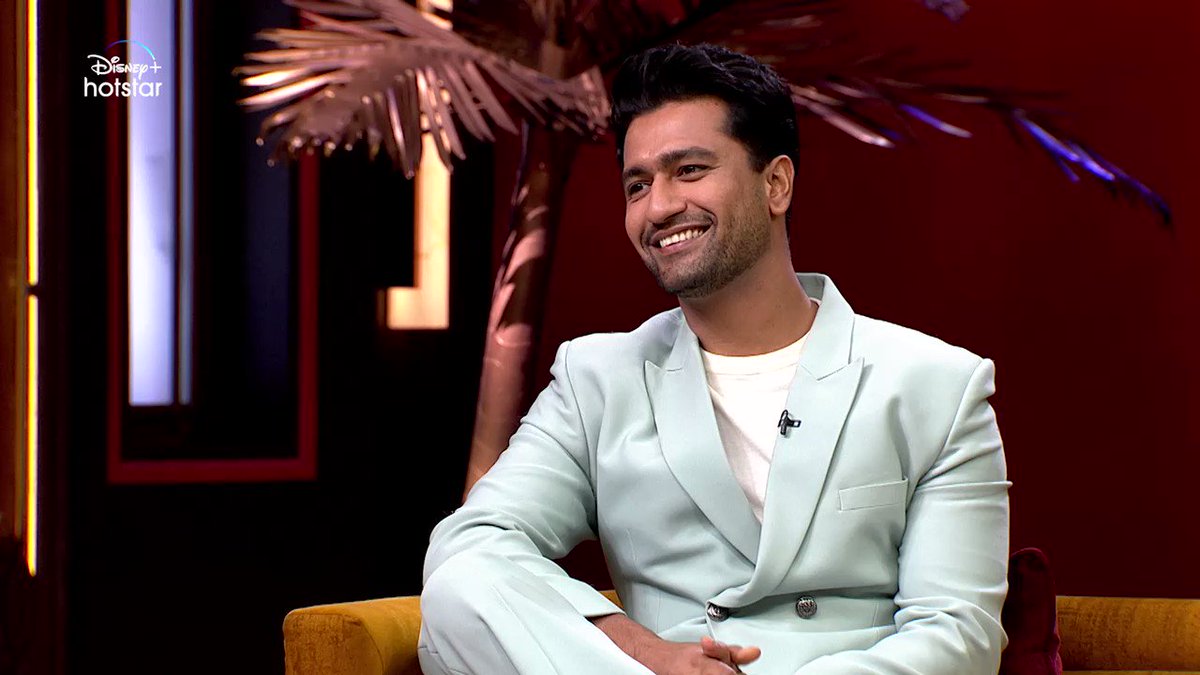 Vicky Kaushal and his love for Katrina Kaif was hard to miss. The actor was practically wearing his heart on his sleeve throughout the episode. From talking about how he never even imagined marrying Katrina Kaif to being surprised that she knew his name to manifesting her and marrying her, the actor spoke his heart out. He also opened up about how he feels "settled" in life and said that Kat keeps him grounded. He also spoke about the memes about his wedding and the bizarre rumours. But did you know that Vicky actually asked the Panditji in the mandap to hurry up and wrap up the wedding? Isse toh shaadi ki sahi mein jaldi thi! How adorbs!
Karan Johar's Confessions About Student Of The Year
KJo confessed that Student Of The Year did not have a screenplay and was a total thirst trap. Ek dum Satya vachan! Finally, Karan seems to be accepting the realities of his life including his midlife crisis and more. In fact, Karan also revealed that he wanted to have a backstory of how Sid's character in SOTY had the money to buy expensive clothes and had even thought of showing his character selling his gold medals to buy clothes. And that's when someone from Karan's team informed him that the gold medals that people win are not actually made of gold! Erm, what?
Rapid Fire Was Zzzzzz
While we loved the confessions that were made on the show and all the love that was there on the Koffee couch tonight but the rapid-fire was really a snooze. Apart from all the Ki and Ka answers Sid and Vicky did not have much to offer which made the rapid-fire kaafi dull. But then again, this still wasn't the dullest of it all, we've seen worse!
Verdict: We Love The Ishq, Mohabbat, Pyaar
From dropping hints about how he misses his ex's cat to revealing what Kiara's name is saved as on his phone, Sid gave us loads of deets about his happening love life. We love how the actor manifested Kiara without even talking about her or their relationship directly. Vicky, on the other hand, gave us deets on his post-shaadi life with Katrina and how the duo fight over closet space as the actor only has one cupboard while Kat has more than a room! But TBH, we missed the pipping hot goss and fun that Koffee With Karan usually has to offer. This season may be all about thirst traps but it's definitely missing the drama, fun and garma garam masala and gossip! But we'll make do as long as there is love in the air and manifestations on the Koffee couch.
'Koffee With Karan' S7 Ep6: 6 Moments That Made Us Go "Aww" Over Arjun Kapoor And Sonam Kapoor's Bro-Sis Bond!