Sama Meerza / The Hauterfly
Culture
Schitt's Creek Star Dan Levy Calls Out Indian Channel For Censoring A Kiss Between Two Men. It Dilutes The Whole Point Of The Show!
By
|
At the 2020 Emmys, held virtually, of course, Schitt's Creek swept all the major comedy awards. And why wouldn't it? It's one of the most beautiful pieces of television, and feels like a warm hug and hearty laugh when the world around you is going to shit. Its cast includes stalwarts of the genre, like Eugene Levy and Catherine O'Hara, as well Annie Murphy, Noah Reid, Dustin Milligan, and others. Show writer, producer and star Dan Levy, in his Emmy speech spoke about how the transformative powers of love and acceptance were at the heart of this show. Through his character, David Rose's arc, the show beautifully portrays the acceptance of sexuality minus any homophobia or even a cursory glance of hesitance.
Now imagine his frustration when a show that is centred around this theme of inclusivity gets censored. By an Indian channel. For a kiss. Between two men.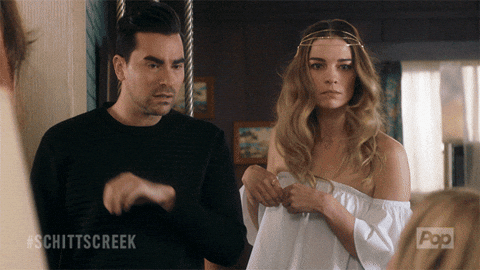 Same, David. SAME.
Back in 2019, Comedy Central India was airing Season 5 of Schitt's Creek. And while tweeting about Season 5 Episode 5, titled 'Housewarming', the channel managed to censor a kiss between two of the leading men on the show, David and Ted. Now, I know, for non-Indians, that's a shocker of a moment. Naturally, because they haven't grown up to the imagery of two flowers being used to depict lovers kissing or heroes kissing the heroine's necks instead of their lips to denote passion. We have, so we know, that in India, censorship is that relative nobody invites to parties, but always drops in unwanted.
But let me set the context of this silly chop work. The scene is from a game of Spin The Bottle that the characters are playing. The bottle points at first to two women, and their kiss remains intact in the video. But when the video finally points to two men, Ted and David, their kiss is hastily edited out. You'd think the channel's probably okay with two women kissing, but as was pointed out, the earlier kiss was too quick to need a cut. Otherwise, it could've gone the same way, maybe?
Either way, this old tweet somehow came to Dan Levy's notice, and I'm kinda glad it did. Because he called out how this whole thing was an utter insult to the central theme of Schitt's Creek. Inclusivity, duh!
You showed the kiss between two women, you showed the kiss between a woman and a man, then removed the kiss between two men? This is a show about the power of inclusivity. The censorship of gay intimacy is making a harmful statement against that message. #loveislove https://t.co/3ouNbuetq1

— dan levy (@danjlevy) October 6, 2020
When he tweeted this, a lot of people assumed this was the global Comedy Central channel. Levy had to issue a clarification.
I thought I made this pretty clear but for those who are confused, this is about a channel in India. @ComedyCentral in America is not censoring the show. They have been lovely and respectful. Thank you for your time. ✌🏼🙃

— dan levy (@danjlevy) October 6, 2020
What can I say, Dan? Except, sorry? If I only I could tell you the irony that our country is currently celebrating the International Emmy nomination of Arjun Mathur for playing a gay man in Made In Heaven. And if he wins, we'll love to boast about it too as a badge of our country being progressive and accepting. But in reality, things are rather, excuse the expression, shit.
Dan Levy's replies were full of Schitt's Creek fans expressing their anger of this abysmal censorship decision by the channel. What was interesting was how some fans from India even apologised to him for their country having passed the law to decriminalise homosexuality, but failing to adhere to that change in practice. Sigh.
I am Sorry. Huge Fan of the Show. Beautiful Portrayal of Love which is not bounded by gender or social constructs but India is, idk how to put it gently, a country which is hypocrite to say the least. Smh

— Swat_Eye 🇮🇳 (@wakeupbeforend) October 7, 2020
If you edited that part, how do you plan on showing pretty much any episode from season 3 on? You're totally missing the entire point of treating these relationships as any other relationship on a show. pic.twitter.com/if3YvGP5Pu

— Nini (@the_nini) October 6, 2020
As some others pointed out, this kiss was one of the biggest plot points for the episode! Censoring it so wouldn't make sense, you guys! Little do they know, India would probably censor Fifty Shades of Grey, even if it reduced the film's runtime to, I don't know, 30 mins without the explicit sex scenes.
You cut the main part. The actual part that this episode revolves around. Really?? REALLY?!? pic.twitter.com/6vCUUWLSZV

— Lil'Lia (@HopelessScouser) October 6, 2020
@danjlevy maybe we should just help them out! pic.twitter.com/pjeoO1nGE6

— Mysti Dinger (@midid) October 6, 2020
This show has literally gone out of its way to show us a world free of bigotry and homophobia and you choose to keep the kiss between the women and cut out the one between two men? Why even bother to show this series if you don't understand the essence of it?

— Apoorvaa⁷ (@ApoorvaSingh519) October 7, 2020
There hasn't been any comment from the channel yet. But from what we do know about censorship, a lot of it has to do with the government authorities that enforce these rules than with the channels that follow them. It would thus be interesting to know if this was a decision taken by the channel independently or to adhere to some rule imposed by censorship laws.
In the meantime, I leave you with Dan Levy's beautiful speech from Schitt's Creek's Emmy award win, just as a reminder that we need to celebrate the message of inclusivity, and normalise it to the point that a person being 'different' doesn't even matter.
GET HAUTERFLY IN YOUR INBOX!