Twitter Slams Vogue For 'Whitewashing' Kamala Harris On Its Cover, Not Putting Enough Effort In Presenting Her
Updated January 11, 2021
2020 brought a superpower like the United States of America to its knees. But the one joyous moment, the dismissal of POTUS Donald Trump and the election of Joe Biden as the new President and Kamala Harris as the new Vice President, was enough to reignite some fervour in its people. In particular, the election of California Senator Kamala Harris, an immigrant woman of colour, as the first female VP of America, was a huge deal. Even before she begins her term, she's already a role model for many young girls and women all over the world. So you can imagine that if a magazine like Vogue f**ked up her appearance on its cover, the outrage would be massive.
Vice President-elect @KamalaHarris is our February cover star!

Making history was the first step. Now Harris has an even more monumental task: to help heal a fractured America—and lead it out of crisis. Read the full profile: https://t.co/W5BQPTH7AU pic.twitter.com/OCFvVqTlOk

— Vogue Magazine (@voguemagazine) January 10, 2021
Welcome to Week 2 of 2021, where Vogue and Anna Wintour are already facing backlash for representing the first female Veep of the United States in such a horrible fashion that you'd think the shoot was one of those DIY projects we've all been doing at home. It didn't take Twitter too long to dissect the covers featuring Harris, which were dropped over the weekend, and figure out all the things wrong with it. From whitewashing the Indian-Jamaican heritage of the VP-incumbent to putting zero effort in making the cover look, say, as impeccable as it would if it were a Kardashian on it, the scrutiny called it all out.
Folks who don't get why the Vogue cover of VP-elect Kamala Harris is bad are missing the point. The pic itself isn't terrible as a pic. It's just far, far below the standards of Vogue. They didn't put thought into it. Like homework finished the morning it's due. Disrespectful.

— Charlotte Clymer 🇺🇦 (@cmclymer) January 10, 2021
There's no theme to the pic. It's like they said: "Okay, yeah, we'll grab this sheet and stick it in the background. Ma'am, can you wear the Chucks to give it some pizazz? Great, that's good enough. Okay, moving on."

For a cover photo of the first woman VP.

— Charlotte Clymer 🇺🇦 (@cmclymer) January 10, 2021
Wait that Kamala Vogue cover is real?! I thought it was fake—that's how bad it is.

Did they just ask her to send them photos her husband took or

— Imani Gandy (Orca's Version) ⚓️ (@AngryBlackLady) January 10, 2021
Kamala Harris is about as light skinned as women of color come and Vogue still fvcked up her lighting. WTF is this washed out mess of a cover? pic.twitter.com/5O2q0axA0G

— E. Vaughan 💙 (@HypeVaughan) January 10, 2021
So my father, grandfather and great-grandfather were photographers. I grew up in my grandfather's dark room. The Vogue cover is horribly lit, the backdrop lazy and in a color meant to wash out Kamala Harris's beautiful skin tone. The VP-elect is a gorgeous woman: TIME and ELLE pic.twitter.com/c3ync0a3Qy

— Victoria Brownworth (@VABVOX) January 10, 2021
Looking at her face I can only imagine the interior monologue: "Wow. The cover of Vogue. This will be grea — wait did you take a shot? Really? Why? I was just relaxing. Wait, what? We're going with this as an option? Well…uhhh."

— Wajahat Ali (@WajahatAli) January 10, 2021
The background colors & lighting -washed out effect- pink & green background should have been replaced with a single color background. She is a gorgeous lady & the cover should highlight her beauty. Example is the superb cover : For Elle Magazine pic.twitter.com/9K1FQzIhw9

— Anju (@anjushankaa) January 10, 2021
Vogue knows Kamala Harris loves her sorority, suits, comfortable pants and chuck taylors. So they just jumbled it all together for the cover. Except they couldn't decide whether she is going to a luxe French salon, the Senate floor, or taking a jog. pic.twitter.com/FDNBbcw8tR

— E. Vaughan 💙 (@HypeVaughan) January 10, 2021
In what looks like too much scandal for our Monday morning coffee, it was revealed by some sources that the cover featuring Kamala Harris in the powder blue suit was actually the one agreed upon by her team to be the Vogue cover. However, we ended up with this atrocity, and that horrendous backdrop which reminds me of when we'd go into photo studios to get our passport photos taken and they had those sheets draped for background. Except, those were close shots. Come on, Vogue, you could've done this better.
2. In the cover that they expected, Vice President-elect Harris was wearing a powder blue suit. That was the cover that the Vice President-elect's team and the Vogue team, including Anna Wintour, mutually agreed upon…which is standard for fashion magazines.

— Yashar Ali 🐘 (@yashar) January 10, 2021
4. Here is the Vogue cover Kamala Harris' team thought would be released.

I'm told this cover on the left will be the digital cover, but the much maligned cover on the right has already gone to print and will be the cover available for sale and sent to subscribers. pic.twitter.com/5eWjPMTbdP

— Yashar Ali 🐘 (@yashar) January 10, 2021
 The Vampire Diaries and The Originals creator, Julie Plec, clearly gets my taste in men and magazine cover backdrops….
It looks like a high school dance backdrop. One of the most consequential female and WOC moments of our time and this is their best effort? Not impressed. (But she rocks and I love the Chucks).

— Julie Plec (@julieplec) January 10, 2021
I have half a mind to sic Miranda Priestly on them.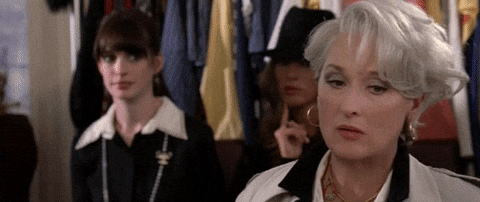 Turns out, this controversy invoked some more backlash towards Vogue Editor-in-Chief, Anna Wintour, with people claiming the magazine has done this several times before with celebrities and personalities of colour. It gives the impression that the magazine just does not know how to style and present people who are, for the lack of more impactful and clear phrase, 'not white'.
https://twitter.com/StilettoRoyalty/status/1348228893581438977?s=20
https://twitter.com/PTA_Daddy/status/1348103228152557569?s=20
Let's be real. Even if Kamala's cover is fake, the fact that people think it could be real is a testament to how shitty US Vogue typically is, especially with black women. Let's not forget how Anna did Cardi. pic.twitter.com/mubNxFSE6h

— maybe: diane (@dianelyssa) January 10, 2021
Michelle Obama's covers? Not much better, more like a different kind of bad. pic.twitter.com/A1fzgYhMxg

— maybe: diane (@dianelyssa) January 10, 2021
Many celebs like Priyanka Chopra and Indians back home have praised the cover, because well, Kamala Harris don't need no extra light to shine as they bright beacon of inspiration that she is.
View this post on Instagram
However, bad lighting is a nasty mood-spoiler, and there's plenty of that going on with the Vogue cover. Clearly, Kamala Harris isn't just an important political figure. She's also a cultural icon right now, inspiring millions of women that they can be whoever they want to be. Apparently, a perfect Vogue cover is not one of those things. Sigh. When we say representation matters, it doesn't just include putting people of colour on magazine covers and billboards and in movies and shows that were otherwise whitewashed. 'Right' representation matters more, because otherwise, it is all just tokenism.
https://thehauterfly.com/fashion/masaba-gupta-kamala-harris-vice-president-mixed-roots/