Relationships
Couple Hosts A Baby Shower For Their Pet Dog, Steffi. This Is Adorable!
By
|
While some people say things like, "Dude, it's just a dog!" or "Cats don't care about you!", there are those who treat their pets like family. Actually, most pet owners treat their pets like family. I have two cats and I share very individual bonds with each of them. Both have different personalities and I share a unique equation with each of them. The eldest cat doesn't like physical affection too much but she is more human-like than many humans I know. She comes running to the door and looks at me with the saddest eyes when I am leaving, times her meals to coincide with mine so we can have breakfast together, gets jealous when I give the other cat love, and likes to sleep on a human pillow like us. The younger one is more physically affectionate and would keep meowing at me all day—I have no idea what she says but I pretend to listen. We celebrate both their birthdays.
So when people who have no idea about what pets mean to us say stupid things, it's quite annoying. Like no, wanting to stay home to chill with your pet is a legit plan. However, this piece of news just made me very happy! Nutakki Asha and Navakumar hosted an adorable baby shower for Steffi, their female dog. They call it Seemantham, the traditional Telugu baby shower.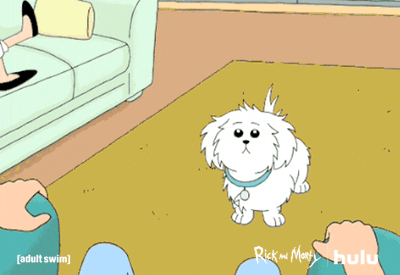 The house was decorated, Steffi was dressed up all fancy, sitting on her special throne-like sofa. The event was graced by well-wishers, relatives and friends who applied lal teeka on her forehead. Steffi, a 15-month-old pet dog, enjoyed a family get-together. The guests had a sumptuous meal and even received return gifts.
"All of us love her a lot. We had celebrated her first birthday in October last and all our neighbours were present. This time, when she got pregnant, we thought why not do a traditional 'seemantham', as she is very much part of our family," Asha told indianexpress.com. Navakumar who works as a principal of a private college said Steffi is like their daughter.
In fact, she is loved by one and all. A neighbour recalled how her son was crying outside and Steffi came to him and consoled him. "Steffi came to him and started licking his face to wipe off the tears. She is a harmless being and loves everyone," she said.
The ceremony took place on Sunday and on Tuesday, the couple lost their 12-year-old pet dog Scouty. "Our 12-year-old pet dog Scouty passed away on Tuesday night. She was terminally ill following a liver infection. Steffi has become dull, her eyes are red, she is sobbing and refusing to eat anything since," said Asha.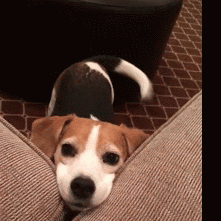 They would celebrate Scouty's birthday every year by hosting a party and calling other dog parents from the neighbourhood. The couple said all their friends and family were quite excited about the baby shower ceremony. "They were really happy to see how a pet dog is being treated like a human being, and not chained outside the home as a guard. Everyone was amazed as they had not heard of anything like this," added Asha.
Earlier in December 2020, another couple from Ahmednagar had hosted a grand baby shower for their pet dog, Lucy Kulkarni. They even dressed her in an adorable green ghagra choli for the ceremony! It's so adorable! People also include their pets in their wedding ceremony because that's how important they are.