From Number 8 Kaleeras To 'Baby On Board' Gharara, All The Times Alia Bhatt Spoke Through Her Outfits
Updated September 05, 2022
It is rare to find celebrities who take their closet as seriously as their selection of film scripts. And one of them on the list is actress Alia Bhatt. The Brahmāstra star is undoubtedly an excellent performer on the big screen, but her fabulous ideas of stitching everything from her current mood, and life update to character portrayal for film promotions have been a scene stealer. Alia finds the tiniest of windows to help herself connect with her sartorial decisions at a deeper level and her fans stay always in awe of her perspective on the look. With every new film in her kitty heading for release and the arrival of a new life and journey, mom-to-be Alia Bhatt has a lot to catch up on. Professionally and personally, the star has presented some marvellous outfits for us to look back at. Hence, we have listed down all our favourite times, when Alia Bhatt made her closet a window to her mood.
Love Is The Air
Besides Alia Bhatt's penchant for cat-themed attires, her love for the number 8 or the sign infinity is deep. All thanks to her husband/actor Ranbir Kapoor, Alia's prem for the actor's favourite number bloomed like her love for him. A Ranbir Kapoor stan for life, the actress dropped an update of dating the actor with a picture of herself, posing in his football jersey that says–'8.' And ever since then, she seemed to have gone on a hunt for the number in many of her jewellery pieces, like her favourite number 8 or the infinity ring.
View this post on Instagram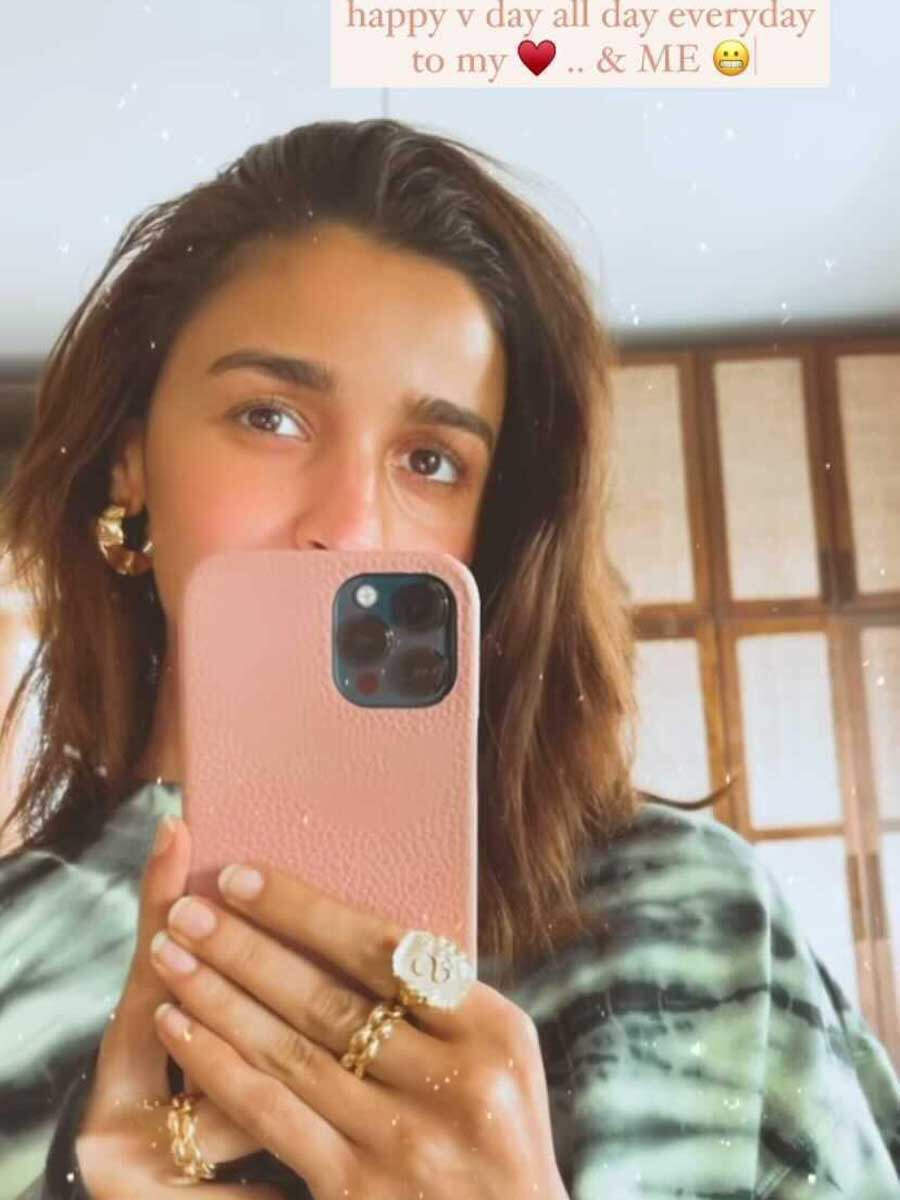 Gangu Wala Safed
Another of our favourite trail of looks was served by Ms Bhatt during the promotions of her blockbuster hit–Gangubai Kathiawadi. Channelling her titular role from the film, the actress appeared for every round of the press tour in the character's favourite colour–white and picked some moon-themed jewellery pieces, to honour its significance in the narrative. Besides the colour, Alia also made sure to pack a tall stack of sarees in her wardrobe, which describes the importance of the silhouette in her character's closet.
View this post on Instagram
View this post on Instagram
View this post on Instagram
Shaadi Ready
For fashion nerds, Alia Bhatt's wedding look was an interesting chapter to decode. From her Sabyasachi saree to her choice of jewels, Alia made sure to seal the day with meaningful elements in her bridal look. For kaleeras, the actress opted for a custom-made pair from designer–Mrinalini Chandra. Headlined by clouds, stars, and the number 8 (which is Ranbir's lucky number), the kaleeras described the coming together of a world of bliss and a new life. Alia's wedding outfit also had the wedding date–April 14, 2022, embroidered with ivory thread on it.
View this post on Instagram
View this post on Instagram
Ranbir's Biggest Cheerleader
Alia Bhatt is Ranbir Kapoor's biggest cheerleader and there is no doubt about it. Besides hyping his favourite number 8, the actress also chose to wear a 'Kapoor' t-shirt to cheer for the actor's first release in four years. For the theatrical release of Shamshera, Alia wore designer Dhruv Kapoor's oversized logo tee in the shade blue. She further captioned the post as–"It's Kapoor Day! Shamshera in theatres NOW!!!! Go watch."
View this post on Instagram
Eternal Sunshine
For the trailer launch of her first project as a producer–Darlings, Alia Bhatt opted for a yellow, taffeta dress by label–Valentino. Channelling the essence of her production house–Eternal Sunshine, Alia Bhatt's very first maternity look came dipped in the colour yellow. Sprinkled with positivity and a fresh start, the colour connection in her look was captioned with–"Its Darlings Day!"
View this post on Instagram
Baby On Board 
Another look from the shelves of Alia's maternity wear closet had the internet's unbiased attention. For the pre-release of her most awaited film–Brahmāstra, with husband/actor Ranbir Kapoor, the actress decided to put her life update on her attire in a custom look by designer duo–Abu Jani, and Sandeep Khosla. The pink gharara set on Alia featured "Love" written all over it with bold gotta work and a "Baby On Board" sign embroidered at the back of her kurta.
View this post on Instagram
Tell us your favourite look served by Alia Bhatt.
 Image Credits: Instagram 
Mom-To-Be Alia Bhatt Suggests Comfort Is Her Sartorial Priority In Another Maternity Look For 'Brahmāstra' Promotions