From 'Dilbar' To 'Manike,' How Nora Fatehi Rekindled Our Love For Dance Numbers And Blingy Costumes
Actress, singer and performer–Nora Fatehi has made her way to Bollywood with handwork and many successful iconic songs. The Canadian artist since her time in India has been a part of many reality shows and soon rose to fame through her popular dance numbers in films like–Satyamev Jayate, Batla house and some music singles by Punjabi artists like–Harry Sandhu. What made Nora's formula to fame a visible success were her brilliant dance moves. After a lull in special item songs in Bollywood, post heavily criticised lyrics in popular films, the actress marinated the idea of blockbuster performances with belly dance and her impeccable costumes. What made each of her songs a hit amongst people was the grandeur she brought back to the joy of Hindi music in films, which faded over a period of time.
View this post on Instagram
Her empire, built using a special appearance in box office hits, allowed her to achieve the feat to judge the reality show that she started her career with as a contestant, alongside jurors like–Madhuri Dixit. From lip-syncing to Hindi lyrics and popularising the art of belly dancing, Nora, a self-trained dancer changed the landscape of music videos in Hindi cinema and also became the first artist from Bollywood to perform at the FIFA World Cup in 2022. Her take on these special dance numbers was more than "item songs" that glorified the male gaze in films. Fatehi's consistent approach towards performance-driven, high-octane dance moves, slowly built her army of fans who worship her like their guru. For an artist from a foreign land to make a unique space for herself in Bollywood, wasn't something new for Indian viewers, but carving a niche was a refreshing change brought by Fatehi. Not through awkward acting but through an art form that she resonated with.
View this post on Instagram
The success of Faethi's performance rose higher than the box office collection of every Hindi film, that she danced in. This brewing bond between Nora and dance rekindled our love for iconic dance performances in Hindi films that are backed by impeccable costume design. Hence, as the star celebrates her 31st birthday today, we look back at all her iconic dance numbers in Hindi films and hit music albums.
Rock Tha Party
In 2013, John Abraham starrer–Rocky Handsome, Nora danced to the new version of the popular song by Bombay Rockers. This special song followed a similar visual aesthetic to Deepika Padukone's "Dum Maro Dum" and presented Nora in an all-white look. Without ruining or remixing the iconic song, Nora danced to it in a fringed dress, teamed with matching fringed boots in white. 
Dilbar
Soon after 2013, the dancing sensation again collaborated with John Abraham in a new song–Dilbar in the 2018 film–Satyameva Jayate. The song with close to 1.2 billion views on YouTube became the turning point in Fatehi's career and turned out to be the sole reason behind her brewing fame. Here, Nora for the first time marinated the essence of a Hindi masala film song with Egyptian belly dance. For the newest version of the original song filmed on Sushmita Sen in the 2011 release–Sirf Tum, Nora changed the narrative of the classic with glitter-loaded ensembles in red and silver and sought inspiration from Turkish belly dancer, Didem. 
Kamariya 
In the 2018 hit film–Stree, Nora made a significant appearance through the hit song–"Kamariya." Sung by Aastha Gill, Fatehi followed a mix of rural and urban street style by teaming up her sneakers with a pair of payal (anklet), and a cropped sweatshirt with a saree skirt and jhumkas. This combination of rustic jewellery and classic sneakers matched the overall aesthetic of the film. Unlike her previous hits in glimmering skirts, Fatehi played a village girl from a secluded section of Bhopal. The song was soon a hit amongst the smallest states of the country, and a must-played number at small-town weddings.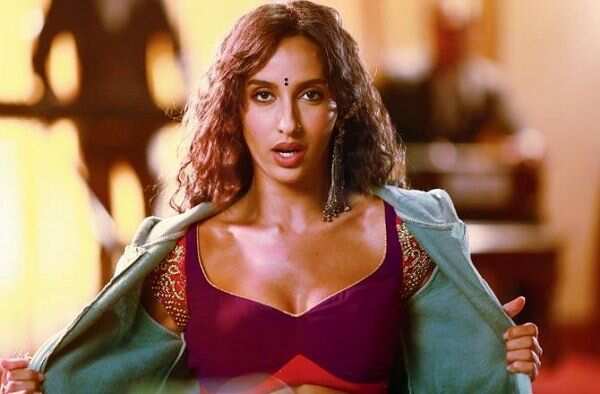 Saaki Saaki
Making a successful name by performing another reprised version of an original hit was Nora's "Saki Saki." Another T-series number from the 2011 film–Musafir, was rehashed for the 2019 film–Batla House. Performed by Nora Fatehi, this new version of the original was sung by Tulsi Kumar and Neha Kakkar, alongside B-Praak. For this, Fatehi revisited Madhuri Dixit's iconic, multi-colour skirt from the song–"Ek Do Teen," and seasoned her ensemble with nostalgia of an old-school romantic hair bun, decorated with a rose. Alongside her moves, Nora's mirror-laden outfit stole the show. Unlike the original song performed by actress Koena Mitra in an all-gold coin blouse and tattered skirt, Fatehi picked a red mood to renew the song.
Ek Toh Kum Zindagi 
In the 2019 film–Marjaavaan, Nora performed the latest version of the original–"Pyar Do Pyar Lo" from Janbaaz. Nora wore a sporty dress styled by Arpita Sarkar. The white outfit with lace waist cut-outs was styled using a pair of white heels. Unlike her signature outfits in fringed skirts, this look was refreshing and reminded us of her outfit from her first hit–"Rock Tha Party" from Rocky Handsome. 
Garmi
The same year, Fatehi was invited to join the cast of Remo D'souza's Street Dancer 3D. This time, Nora not only played an important role in the film but also had a solo dance number to herself with Varun Dhawan. The song "Garmi" replicated the street-style mood of the film and presented Nora in a refreshing avatar. Apart from her famous hook step, her fans loved her sporty chic look. The ensemble featured a slinky bustier in red, a two-strap belt under-boob corset, and a thigh-slit, two-toned pair of pants. For this song, the actress dyed her hair red and tonged it into crips curls. This look soon glamorised the idea of sporty dance costumes.
Pachtaoge Female Version 
After the success of her T-series' song alongside–Vicky Kaushal, Nora shot for the female version of the song in 2020. With costumes designed by Terrence Lobo, Nora followed another route of visual aesthetic through this music video. The goddess avatar on Nora featured shades of white and black, representing evil and angels. Although the song turned out to be a hit amongst fans, many eagle-eyed viewers accused Fatehi of copying Beyonce's 2014 single–"Mine," reacting to which Nora clarified that it was inspired by Mother Mary and not her. Whatever it may be, in terms of visual appeal, the song was a culture reset for any Hindi music videos in a long time. 
Naach Meri Rani 
For the 2020 music single by singer–Guru Randhawa, the actress played a robot and experimented with futuristic fabrics and silhouettes for the look. With costumes by Nachiket Barve, and Maneka Harisinghani, Nora experimented with dyed hair in burgundy and digital lavender, alongside fabrics like shimmer, glitter and latex.
View this post on Instagram
Dance Meri Rani 
Taking a whimsical approach for the second version of the song, singer–Guru Randhawa again welcomed Nora to play a sea princess– mermaid this time. Styled by her longtime stylist–Maneka Harisinghani, Nora had three significant look changes in the song, which ranged from mermaid tale, beach waves and crystal-covered gown. Again, an intricate, and well-conceptualised approach towards costume won our hearts.
View this post on Instagram
Kusu Kusu
For the next instalment of Satyamev Jayate, Nora collaborated with India's celebrated couturiers–Abu Jani Sandeep Khosla for the iconic look. This time, Fatehi experimented with pearl colours through a tiny choli, cape sleeves and a fringed skirt. In another shot from the song, Fatehi wore an Elie Madie bodysuit in gold and black, which she styled using a twinkling crown and a net fabric train. 
View this post on Instagram
Jehda Nasha
In the reprised version of the song by IP Singh, Amar Jalal, Nora performed in three outfit changes. The song not only added a Punjabi flavour to the Ayushmann Khurrana starrer film–An Action Hero but also added a unique genre to Nora's kitty of projects. Here, she experimented with her love for bling, through fringed sequin dresses, half buns and flouncy gowns. 
Manike 
Renewing the popular song by Sri Lankan singer-songwriter–Yohani, Nora performed the iconic number in the 2022 film–Thank God. A version of apsara was curated by designer duo–Abu Jani Sandeep Khosla. The lustrous white cut-out dress and beautiful bandeau blouse, draped skirt and pearl collar reminded us of the signature Abu Jani Sandeep Khosla opulence and grandeur in the song.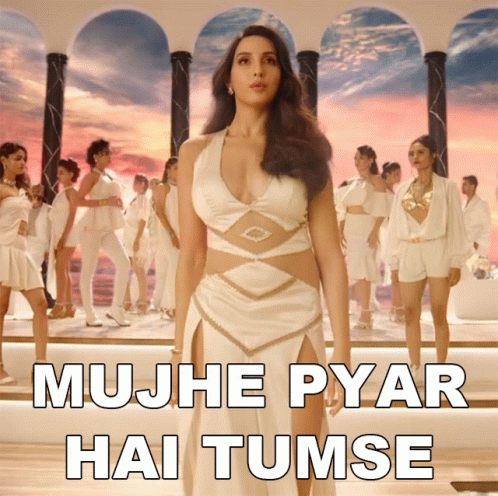 Happy birthday to the queen of dance!
Image Credits: Instagram/YouTube
Nora Fatehi Sang, Danced, Made Us Proud At FIFA Closing Ceremony!
Jasveen Kaur Sawhney
Jasveen Sawhney loves writing about fashion, enjoys collecting cute pyjamas, and admires her Pinterest mood board every one hour!
Know more