Fashion
From Dua Lipa To Janhvi Kapoor, Stars Are Celebrating The Homecoming Of Sequin-Soaked Butterfly Top
By
|
The homecoming of Y2K trends has brought with it many iconic style moments. Low-rise jeans, beaded hair and colour-pop bracelets, from the biggest to the finest of pieces, everything has contributed to the glorious style era of the 2000s. Amongst this evergreen list, one design that is hoping to make a comeback is the butterfly top trend. Back in 2000, when Mariah Carey walked the red carpet at the VH1 Divas Live concert, all eyes were on the "Fantasy" singer's beaded butterfly crop top. The open-back, crystal-soaked number, instantly became a sartorial obsession for many. The piece curated by designer–Emanuel Ungaro, went on to inspire a million other mood boards for the generations to come. Even today, a version of this pop-culture darling has crawled down from the closets of Cher to our favourite Dua Lipa.
A combination best made with Y2K-adored low-rise denim, celebrities from Olivia Rodrigo, Dua Lipa and now Janhvi Kapoor have expressed their desire to hoard a stack in this category. An expression of freedom and a symbol of resurrection, the butterfly motif that made its top spot in jewellery treasures is now an important member of the clothing aisles. From prints to pattern-making, a version of this beautiful motif has enjoyed its fair share of popularity in every generation. The design has been an imperative member of many iconic looks.
And as it makes a comeback today, with designer collections by Blumarine and Area, it seems to deliver a taste of what's iconic. Designers and celebrated labels are hoping to serve their audiences with their version of the hot girl summer staple. Experimenting with fabrics like denim, sequin, and chiffon, the products as we see them today come in a variety of colours and eye-catching embellishments. The ever-blooming love for the silhouette and all its kinds has found its takers in many celebrities. And if just like us, you too hope to add the iconic pattern to your wardrobe, then take some style cues from these starry combinations.
Dua Lipa
Sharing an obsessive relationship with the butterfly silhouette, Dua cannot keep herself away from anything that screams this design. From butterfly cutwork corsets to crop tops, there isn't any version of this iconic Y2K trend, that the "Levitating" singer has not loved. For both concerts and summer vacations, a butterfly-headlined top is always waiting to decorate Dua's Instagram grid. The musician's experiments with the motif, have found a place in red carpet gowns, and a match in light-washed denim. Dua suggests that the possibilities of styling one, are endless. We agree!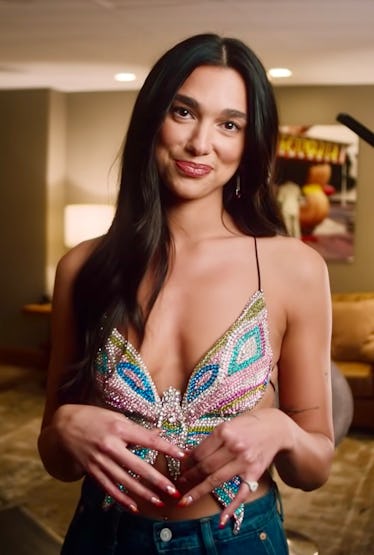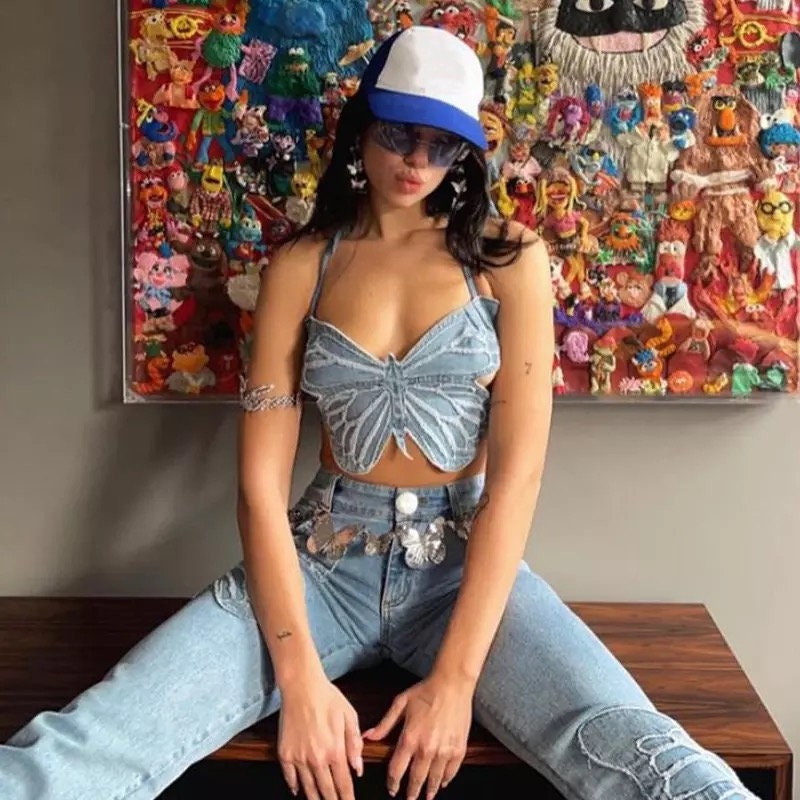 Olivia Rodrigo
The 19-year-old musician has already caught attention with her whimsical wardrobe aesthetic and of course her music. For Olivia, the motif has found a window to express in many forms. Be it prints, Met Gala-worth hair accessories, or even a sequin-soaked crop top, Olivia's love affair with dreamy butterflies is visibly big.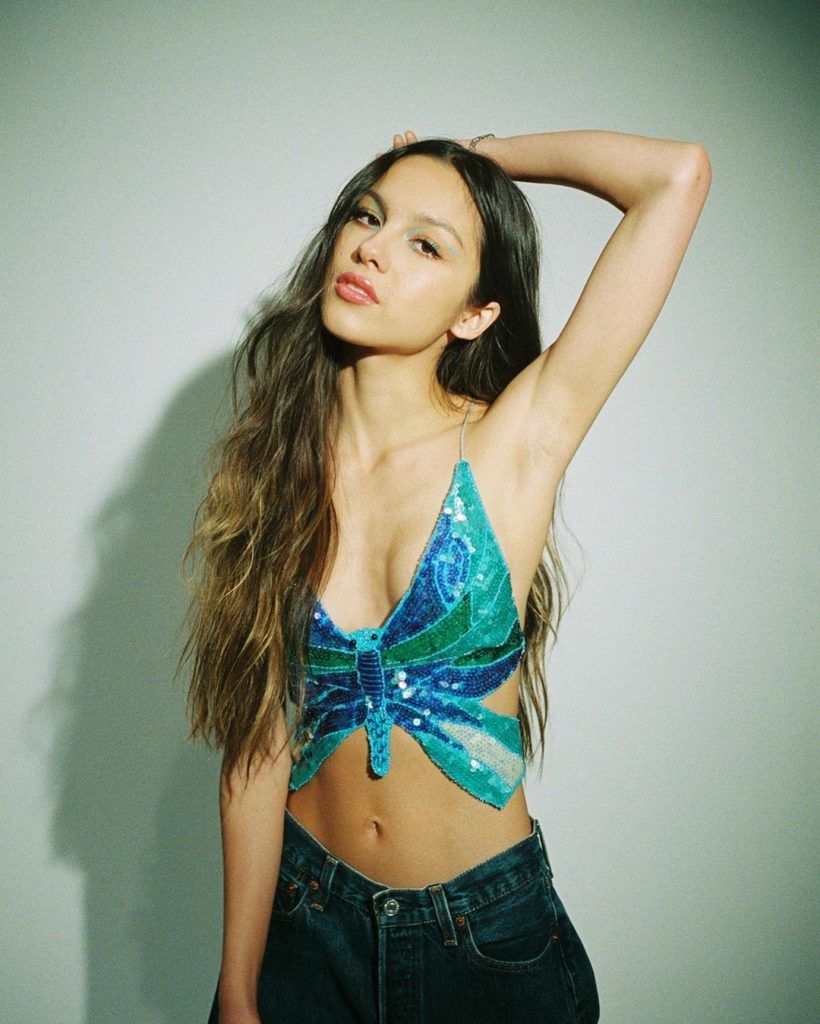 Janhvi Kapoor
Our very own, Ms Kapoor has been serving to the fantasies of hoarding all things iconic. Besides her undying affection for sarees, the Good Luck Jerry star makes sure to keep up with the trends of the past and present. Making some space for the motif in her well-decorated closet, Janhvi too tried her hands on the famous Area butterfly top, but with a twist. In pictures on her Instagram handle, we swiped till the end to find the actress, dressed in a piece from the popular shelves of label–Area, and a sparkling, draped skirt to match the colourful glitter. An appealing match for party girls, Janhvi curated her version of the butterfly top, as previously styled by Dua Lipa.
Anitta
For her collaborative collection with Shein, Brazilian singer–Anitta, gave her spin to the cult-favourite crop top. Keeping all the colours away, Anitta curated one using black and navy sequins that delivered the glimmer of green. For the launch party, the "Downtown" singer wrapped herself in one and paired it with wide-legged white denim.
Image Credits: Instagram
Featured Image Credits: Jasveen Kaur Sawhney
Barbiecore, Coastal Grandmother, E Girl: Find Your Style Vibe From Our List Of Fashion Aesthetics