Culture
Having Children Is A Much Harder Decision For Women Than For Men. This Thread Reveals The Reality
By
|
I turned 30 this month, and every time I told my friends "Gah! I'm old!" they tried to give me the whole 'So what? Age is just a number" speech. And you know what? That's not news to me. I know. But being a woman, 30s don't just bring a more angular face, financial stability and independence, but also the pressure to get married and have kids before my best reproductive years go by. Sometimes, even if you're not ready for it. Ironic isn't it, that for men, who don't even have to bear but only rear children, the service remains fully functional until the very end. And for women, it's a race against time, sometimes putting a major dampener on the plans they have to live their life to the fullest.
I know, it isn't exactly an easy decision for men either. If our society dictates that a woman must be ready to be a mother as her 30s approach, it also dictates that a man must be financially ready to provide for his children. That's how the roles have been divided by our societal norms, right? Once a man becomes a father, he has to be this lifelong ATM machine, provider and protector. No wonder that men prefer being financially prepared and feel the pressure to establish steady income before they make such a decision.
For women, however, it is much harder. It isn't just about wanting kids or being financially stable to bring up one (or more). There's so much more to take into consideration, not the least being the changes that their body would undergo. Just as puberty and menstruation change a woman's body for good, so does pregnancy and childbirth. And some of these changes are irreversible, can give you body image issues, ailments like low blood pressure that you might not have had before, mental health issues, and sometimes, women are the risk of losing their lives too.
They're also at the risk of losing certain freedoms, starting with a minimum of nine months of giving up some of our favourite things that could be potentially harmful to the baby, to hitting pause on our career ambitions, and having a little demon monkey (adorable one) attached to our hip for the next few years. The sad part is, just when women are finally getting into a zone where they are their own person, is when they have to give it all up. Otherwise, it would be too late.
And that's again, just the tip of the iceberg.
In fact, this Twitter thread that I came across perfectly sums up why for women, it is a much harder decision to have a child than it is for women.
It must be so easy for men to consider having children. You just think about the financial and emotional burdens of it. I'm almost envious. As a woman, you can't think about having children without looking at how it'll effect your body, your career, and your freedoms.

— mariam (@unearthedd) March 21, 2021
And will I have to put up a fight to work? I do care what people think about me. I try not to but it really does impact my self esteem and my confidence and everything else and so am I emotionally prepared to be a working mom? Will I be okay with leaving my kid with someone else?

— mariam (@unearthedd) March 21, 2021
Is it fair to bring someone into this strange world and horrible country and also expect them to happily be a part of your life? If you don't have any expectations then why are you bringing a kid into this world?

— mariam (@unearthedd) March 21, 2021
I just. I don't know how women do it. And I don't know if there's actually a ticking clock or if it's just a myth. And I don't know if I'm just chasing dreams the fulfilment of which I've already forgone. And I'm tired. Of thinking about children. Of the future.

— mariam (@unearthedd) March 21, 2021
Sure, there are women who've been ready to be mothers for a long time before they actually do. And for them, having children might not even deserve a second thought. But as more and more women are finding their voice and daring to step out of their comfort zones and really explore what it means to be independent and free, they are choosing to not have children. It's a decision that is often perceived as being selfish but feminists and environmentalists who've been alarmed at the growing population will tell you that's BS. It's probably a good thing that more women are choosing to not have children.
In the current season of the show This Is Us, a character who has struggled all her life with anorexia and  body image issues struggles with her changing belly and the requirement of eating more "for her and the babies" (yep, twins). I know my mother, having had two cesarian deliveries, hates that the shape of her belly will always be the way it is, and there's nothing other than surgery that can fix it.
Similarly, female celebrities are also shamed for not wanting to biologically have children and opting for surrogacy because they put their bodies and their careers first, as if that is proof of their maternal prowess. But really, if a woman, for the sake of her body or her career, does not want to have children, why the hell is it selfish?
It's not even just about the women anymore. The whole pressure about the future, the responsibilities, the expectations that come with becoming a parent… all of that can be so overwhelming. Especially, when you're being rushed into making that decision by a bunch of people who don't even understand your issues.
Several women responded to the Twitter thread with their views.
If I was a man I would definitely have had at least 3 kids by now. https://t.co/c5SZyq6S18

— Chioma (@Chxoma) March 23, 2021
Men be like I want a football team, okay and who's gonna give birth to that team??? And take care of it most of the time? And need to take the time off job and so on?? They're unrealistic as fuck https://t.co/sWdhFV9s8y

— •Ⓥ• (@ricemilkstxf) March 23, 2021
I'm not sure how to reconcile that ~"innate desire" for motherhood~ or the ~when you become a mother, you will know~ with the cruelty and pain of motherhood in modern society. That tension between "maybe I'll want one" and "I don't ever want one" just messes me up sometimes

— shumai (@harmonicsunbeam) March 23, 2021
meanwhile, men cheat on their wives because they look less beautiful after pregnancy…. https://t.co/09oAxXkc1l pic.twitter.com/wJ4Ud4fn9U

— ᴋʏᴀ (@thouartmine_) March 23, 2021
Or… Having the "option" of deciding you're not ready for fatherhood. Leaving and coming back whenever your entitled a** feels like it. https://t.co/qtSfKORqkV

— Niande (@Zizikazi_Y) March 23, 2021
being an uncle for 11 kids is what makes me think, girl, if u love your mental and body, please birth one only. https://t.co/vrOnqgfht4

— saDiq (@sadicartier) March 23, 2021
Das it, never asking my wife for kids, she gon be the one to strike the convo cause that's her body https://t.co/PMcHOLJlfj

— Ryan | Raihan BLM (@GyroFrost) March 23, 2021
This thread is hitting home right now.
And the comments from the men on this thread terrify and disgust me. https://t.co/RSlnDbiudr

— yungancestor (@thiaful) March 23, 2021
Now while some men actually understood where the women were coming from, there sure were a few who just came in there for bashing women's opinions, calling them 'sluts' and 'whores' and tooting the "Men too" horn to once again make it about themselves. And you guessed it right, some of them don't have their own DPs even but still want to have opinions about women's uteruses.
Don't marry if you have such thoughts. And many present day women have such views https://t.co/Ic6jH22Srz

— a hindu (@ahindu_) March 23, 2021
So are you complaining to god about this or do you want men to go through a sex change https://t.co/UAqxYCO5Dp

— H (@shottyknot) March 23, 2021
Sed for her husband tbh
Imagine having such a self-righteous wahmyn as a wife who would prefer slaving for a company instead of starting a family and continuing your bloodline.
Can't really blame her when whole Western world have lost its common sense lol https://t.co/FgU9MJrSiC

— SIMA YI (@_Medatithi_Stan) March 23, 2021
What she actually wants to say is: I want to keep wh0ring around till m young & beautiful but once i hit my late 30s i ll think of having a child & you better be financially ready to take care of them. https://t.co/pARjXuT9Xs

— Mahratta 96k (@WrathOfShiva) March 23, 2021
It isn't easy for men to consider having a children either , we have to think about parenthood as well , more than future of kids or thinking about raising there is always self doubt we have if we could be better parent or not and give good life to human we created https://t.co/Io9K1E3AP2

— Human (@humanhumein) March 23, 2021
Men in the replies actually think having children is harder on them than the women lmaooooo i love the tone-deafness 😃👌🏻 https://t.co/cOzCNeiC42

— Kimi (@Kimi_Aminuddin) March 23, 2021
I think Rachel from Friends put it forth as succinctly as possible when she said,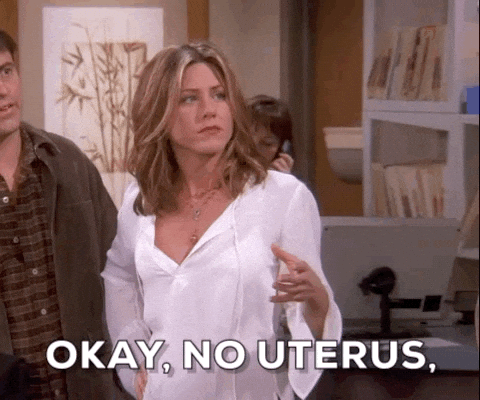 'Women Are More Powerful Than Men But Don't Understand Their Own Power': Rahul Gandhi
GET HAUTERFLY IN YOUR INBOX!