Lifestyle
A Letter To My Period: A Tale Of Love, Hate, Pain And Longing. Of Timings And False Alarms.
By
|
Dear Period,
After a while, I can say I'm glad you came…I can't tell you how much I have been waiting for you. I have been PMSing for quite some time now, getting cranky and emotional. My people can vouch for that and I must say, there was a sigh of relief that almost everyone had.
The thing is, I realised that I do need you, like a lot. But you must know that our relationship isn't the easiest to handle. When you arrive, you bring along cramps and make me look bloated. For five whole days, I can't wear light-coloured clothes or sleep comfortably at night. I have to use the washroom so many times a day, it's like you think my bladder is a stress ball. My girlfriends are constantly on standby,  on stain watch, which isn't the most exciting way to spend your day. There are little things that I can't even explain. Like God bless me if I sneeze, cough or break into a laughter while on my period. The gates just open and I feel like I am on the Titanic. At that point, I can't even tell anyone that a crime scene has just been created in my vagina.
Keeping all of this aside, what's with your erratic timings, if I must ask? You leave me hanging for days when you get delayed and all I can do is keep hoping you will come soon. I carry my pads in my bag and so many times, I have got a false alarm. Were you just messing with me? Don't even bother answering that…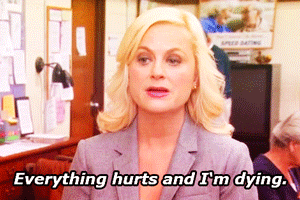 I don't know why, but your timing sometimes is so bad. I won't start chumming when I am just sitting at home, wasting the day away. I will chum when I have planned a nice vacation after so long and I can't wait to flaunt my new swimwear and stay in the pool for hours. I will chum when I have a dancing night planned with my girlfriends. I will chum when bae and I were finally going to get it on. Why must you be so against my love and social life? Is my mother funding this? If yes, then this is the time you let me know…
See, I know I have at times cursed your very existence. I know I have said I didn't want you. But you know it's only in the heat of the moment. I get so moody when you're due, you should know. So here's the thing, I want you. There, I said it. I also like I use this as an excuse to binge on desserts and carbs. I want you every month, even though you're not easy. But only if you worked on your timings a little…
Until next month…
Yours Miss Forever Hopeful.
Hauterfly Love Letters is a Hauterfly initiative for the month of February where we will be expressing our love for all things that we love, owe an apology to or simply want to acknowledge. Watch this space for letters we write to everything from our lipstick to our pedicurist and everyone and everything in between. 
GET HAUTERFLY IN YOUR INBOX!