Fashion
Kareena Kapoor Khan's Customised Saree Has All Kinds Of 'Geet' Vibes To It And Now We Want One
By
|
Subtlety was never Kareena Kapoor Khan's strong suit. The actress is flamboyant with her style and does not hold back. Earlier this year, Bebo single-handedly changed how fashion is approached on the small screen, becoming the best-dressed reality show judge we have seen in a while. She sports a pair of baggy jeans and a denim jacket, and instantly elevates airport style with her blend of cool-girl basics. Kareena is also one of those rare celebrities who hasn't committed to one particular stylist, making her style file diversified and full of fresh looks. One of which she donned yesterday for an event, a customised hand-painted 'Bebo' saree from the Jaipur-based label Picchika.
The powder blue saree paired with a glowing complexion and flushed cheeks got us nostalgic for one of her iconic characters in the best way. This saree is exactly something 'Geet' from Jab We Met might wear on one of her many adventures. Styled by Rhea Kapoor in a label that has been on our radar for a while, this is such a great way to personalise one's wardrobe. The organza silk is luxurious and the free-hand painting makes this saree a breezy piece of art.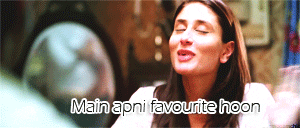 We can't imagine getting our name printed on our clothes and wearing them out in public, it seems borderline narcissistic. But if you have a nickname that is common knowledge to an entire country, we think you get a pass. We love Bebo's show of self-love, it might just tip us over to one day of self-obsession with completely customised clothes, accessories and maybe even shoes!
The saree was one of many from her on-going promotional junket for the comedy flick Good Newwz. As usual, we have been seeing some fab-fantastic looks from Bebo, making us reconsider or basic tees that we wear with everything.
Tailored To Perfection
The craftsmanship of label Peter Do is a testament to how great tailoring can make even the most structured suit look feminine. Bebo gave us a major fashion moment of this year with a backless blazer. BRB, heading out to buy smart cotton blends to recreate this suited look!
Colour Block Perfection
A classic case of colour blocking, Kareena chose yet another Prabal Gurung dress for her media appearances. We are loving this collaboration between these two, Gurung's playful colours complement Bebo's style so well. We love the touch of baby pink heels in this look!
High Fashion Chokers
As we mentioned before, Bebo does not like to stick to a genre of colour or clothing. Her all-black Elie Saab ensemble is a good example of how to go monotone with dark colours without making it look you are headed to a very fancy funereal. The off-shoulder detail, scarf choker, and a blinding piece of bling on her ears is a touch of genius. We're in love.
3 Things Kareena Kapoor Did With Her DID Finale Look That Prove That's She's A Queen And We Should All Bow Down To Her
GET HAUTERFLY IN YOUR INBOX!