Sama Meerza / The Hauterfly
Culture
Ex SC Judge Markandey Katju Claims He Isn't Justifying Rape But Says Sex Is A Natural Need. The Man Needs To Shut Up
By
|
Some people just do not know how to read the room before they say anything. It's okay, I guess, not everyone can possess all the skills. But you'd think having been a Supreme Court judge and Chairman of the Press Council of India would have made you a tad more capable of measuring your words. Then again, it's Markandey Katju, you guys. The man who did Indian Matchmaking before Netflix did, and who drops sexist statements about women as frequently as rapes happen in our country…. What more, other than twisted, desi WhatsApp Uncle logic, would you expect from him. His Honour's (ex) latest offence against womankind is that he attempted to justify the increase in rapes in India by blaming it on rising unemployment. Mind you, he clarified that he wasn't justifying rape here at all. But he was doing a very sucky job at convincing us.
The fact that he'd put out such warped logic in the wake of the sickening Hathras rape makes our blood boil even more. READ THE ROOM, MR. KATJU. Read the f**king room, Sir.
On Wednesday morning, India was watching in horror the news of how the Hathras rape victim's body was cremated in the dead of the night. The UP cops reported locked the victim's family members inside the house, while some 200 of them, with batons in their hands, barricaded the entrance. Her family repeatedly pleaded to the cops to let them take home their daughter once. But the Dalit girl was cremated forcibly, without her family's permission.
Meanwhile, Mr. Markandey Katju chose to write and tweet this. It's an explanation of how, after food, sex is a natural urge in men. In India, men can usually have this urge quenched through marriage. But with rising unemployment, men are finding it hard to get married. So what do you know, this sex-deprivation is what leads them to commit a heinous crime like rape! Genius.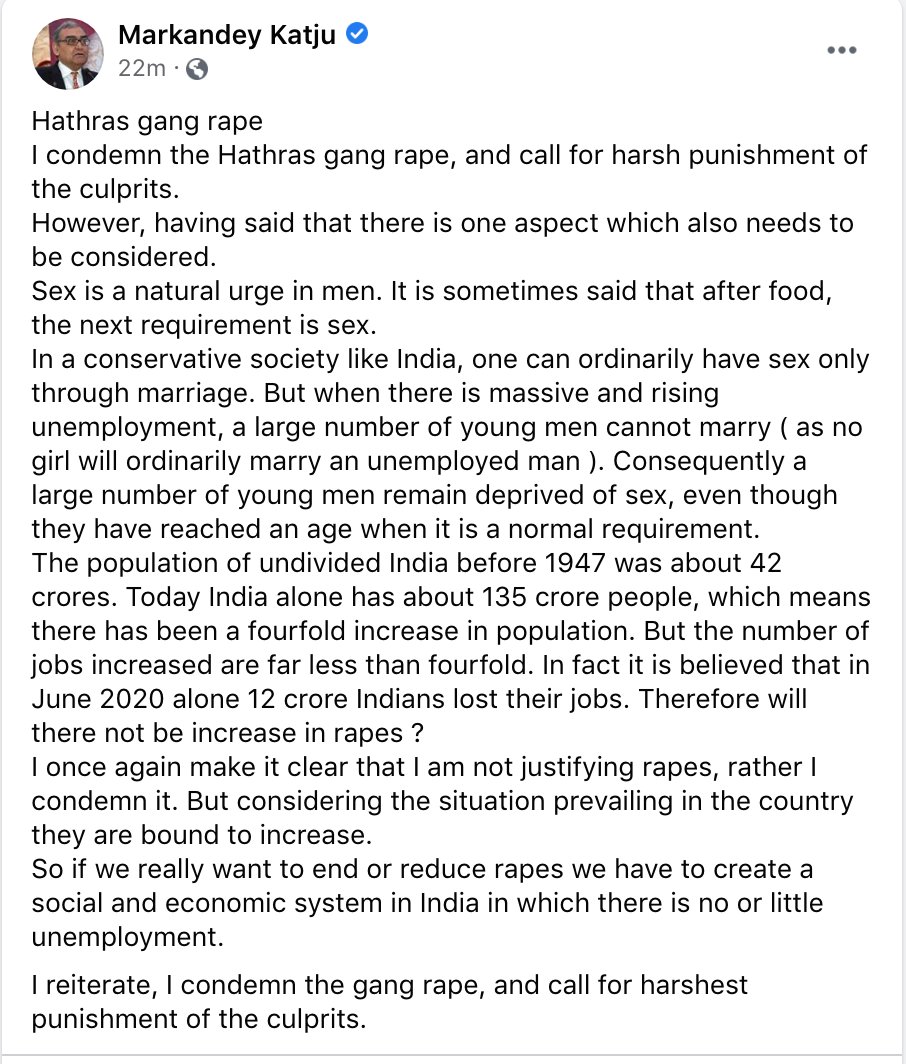 At this point, I'm not even going to waste my emotions of anger on this man. You know, better save it for real causes, like the outrage for what happened in Hathras. Or the rising incidence of rape and crimes against women in Uttar Pradesh, heck, the entire country. I'm just disappointed. We get it. Unemployment can wreck the youth's psyche. So does that mean men turn into utter monsters? Is the former Supreme Court justice trying to say that he 'understands' why jobless men might be tempted to rape? The unemployment has hit women hard too. You don't see us giving in to our id, use men as our personal punching bags or sex toys, and commit such heinous acts, do you now?
Excuse me, but what is this constant need to find logic behind why a man rapes? The motive can be a lot of things—sexual urges, assertion of power, staking a claim. But none of these matter, because the only reason that should be upheld is that he is a monster. Why are a victim's circumstances blamed to shame her, but a rapists circumstances are blamed to redeem him?
By putting forth this warped logic to 'not justify' rape is to shift the burden of blame from the rapist to other things. It plants a 'reasonable doubt' in the minds of the people about what truly is to blame in this situation. Not the victim, or the accused's situation. But the rapist himself! You'd think a former jurist would know how this could weaken the case against the perp!
Twitter gave it back to Markandey Katju and his ridiculous justification. And I wish I could embed every single tweet here that trashed his logic. Because they don't just attack his argument about rape, but also about how women wanting an employed man for a husband is their fault! Umm, uncle, it's the patriarchy you and the rest of the country are upholding!
This country is a joke, this man the biggest joker https://t.co/sJ9WVcm4p1

— Priyanka Paul (@artwhoring) September 30, 2020
tw / rape

also it is bc of judges like these that marital rape is not deemed an offence yet. you're so terrified of your sacrosanct institution of marriage breaking down that you allow a man to take full advantage of his wife bc marriage implies consent to have sex WHENEVER na? https://t.co/JpmuZwSXCV

— myutron69 • meher jaan 👩‍❤️‍💋‍👩 (@erysmin) September 30, 2020
did you just compare massive systemic unemployment and lack of economic opportunity to rape shut the fuck up you better start using your brain before writing https://t.co/KaRAcFL6sw

— Life Of Arjun In Home (@looserboihere) September 30, 2020
i just wanna add, nirbhaya's rapists were all making money and employed, some had wives and one was a minor!!! so how will u justify this act of rape by saying unemployment and urge of sex in men are causing this brutal situations???? https://t.co/vMlUv6kdl6

— ᴮᴱ ꪖꪗꪊకꫝỉ ⁷ (@_DevAkshi_) September 30, 2020
It's an urge for a lot of people regardless of gender but do you see women going around forcing themselves on men??? STOP with this narrative of men can't control themselves BECAUSE THEY FUCKING CAN. Hold them accountable instead of putting the blame on UrGeS and unemployment. https://t.co/8B5CmolacA

— Anu⁷🏳️‍🌈 (@sedlifemax) September 30, 2020
tw / rape

don't get me fucking STARTED on the "no woman will marry an unemployed man" !! when all of family law is BUILT on the fact that the woman is dependent on her husband, expecting the man to be financially stable is selfish now ?? https://t.co/JpmuZwSXCV

— myutron69 • meher jaan 👩‍❤️‍💋‍👩 (@erysmin) September 30, 2020
Women's safety, our rights. The system is unfair to us and who the society takes it out on? Women. Thank you for reminding us once again that this country is basically doomed because people like you are in power

— ᴮᴱ αуυѕнι⁷ ✜ (@BangtanismyRock) September 30, 2020
Sex is a natural urge in all genders, but RAPE is NOT a natural urge. If you believe that rape is a natural urge, that says a lot about YOU.

Please study psychology, biology, and/or sociology before saying such blatantly foolish things to people.

— christa seven (@ryuminating) September 30, 2020
"Sex is a natural urge in men."
Then, I say murder should be treated as a natural urge in women for all the men that touch them without their consent. Sounds fair, right? https://t.co/VrXiXQ37xl

— ₁₃bee⁷ (@desiswift) September 30, 2020
What a ridiculous logic. Unemployment or whatever excuse doesnt impairs a man's ability to differentiate right from wrong. Even animals who acts according to basic instinct, don't get this much cruel when they dont get food. We're humans, we hv more than just basic instinct.

— Rajnish Chauhan (@IronManRC) September 30, 2020
how to deactivate:
1. Press your profile.
2. Go to Settings and Privacy.
3. Click Account.
4. Scroll down to "Deactivate your account".
5. Click the deactivate account.
6. Never ever come back.
7. Ever.
8. Never.
9. Never ever.
10. Literally go tf away

— Thapad se dar nahi lagta babu12am kst s lagta hai⁷ (@btshit_613) September 30, 2020
More Seema taparia less Harvey specter please sir

— anti pigeon (@aluminiummaiden) September 30, 2020
Academically qualified ≠ Educated

We mix the two quite often

— KelvinR (@KachaK3la) September 30, 2020
NCB should look up for your case. Don't know what have you been smoking or snorting….

— Ayus (@Aayushetty3) September 30, 2020
Sir u completely ignored Caste angle…
They not only raped but cut tongue
legs shows the brutality…How administration behave Here is upper caste society behave.. pic.twitter.com/zDhsBWdEqb

— AMOL (@amol49240) September 30, 2020
Caste-based violence against Dalit women continues to rise unchecked, and it only gets horrifying with each case. If there is a statistic that should be considered in the case of rape, then it should be this.
Fixed it for you 👍 pic.twitter.com/jG1PohNiVs

— rushil (@rushildalal_) September 30, 2020
Gentle reminder that we continue to raise men like Markandey Katju in positions of power in our country. And the result can only be a u-turn into the Dark Ages.
PS: Better hold on to your jobs, ladies. Lest we get the urge to murder.
GET HAUTERFLY IN YOUR INBOX!