Chingsanghoih Guite / The Hauterfly
Culture
No Ya, Kangana! Not Everything Is About Karan Johar. Farmers Pe Focus Kar Lein, Please?
By
|
You think you're tired of reading about Kangana Ranaut and her questionable antics in the news? Try being one of us, who has to chronicle it because humara toh kaam hai. I mean, okay sure, we could refuse. But the sheer disbelief that she evokes with her ludicrous statements on the political issues in India have us thinking… coverage or it didn't happen. And so here we are again. What's the agenda today? A very masaaledar, juvenile tiff between Diljit Dosanjh and Kangana Ranaut on Twitter, after the latter made some unsavoury and uninformed comments about an elderly Sikh woman at the farmer protests currently raging in the north. And for some absolutely inexplicable reasons, Karan Johar is once again a part of the conversation. Yeah, don't look at me. I'm stumped too.
Why are Diljit Dosanjh and Kangana Ranaut squabbling?
In a now-deleted tweet, Kangana Ranaut misidentified an elderly Sikh woman during the farmers' protest as Bilkis Bano, the famous Dadi of Shaheen Bagh. You know the one who has been named by TIME and BBC as one of the most influential people of the year?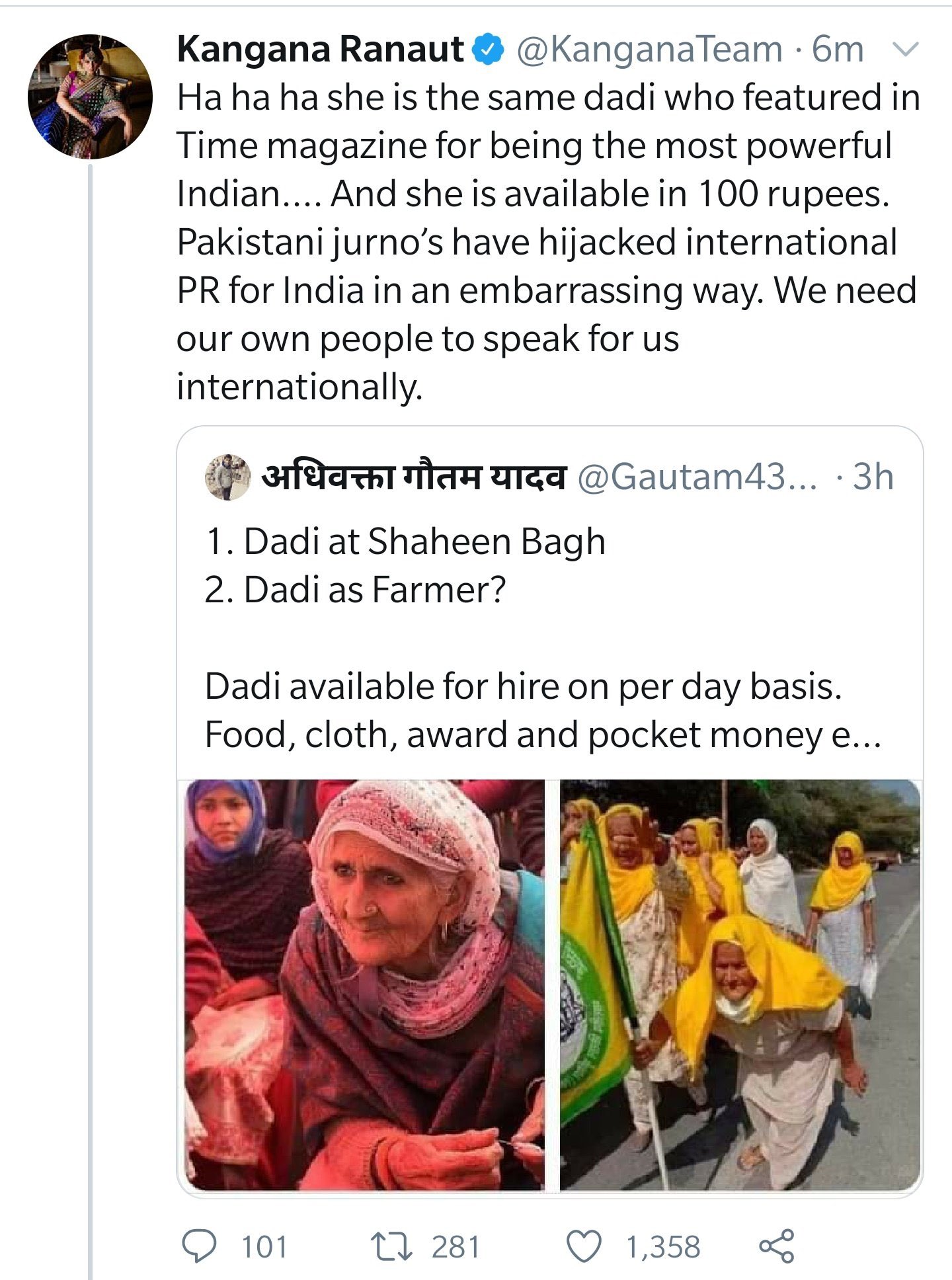 That's not all though, because I've come to realise Kangana's allegations aren't complete unless someone has been accused of cheating, bribing, or doing something immoral. So she also wrote in her tweet that the woman had joined the protest for something as little as Rs 100.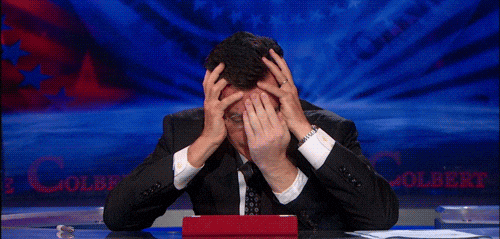 Following this, Diljit Dosanjh posted a video interview of the elderly lady, whose name is Mahinder Kaur, and called out Kangana (in pristine Punjabi) for speaking things that she had no idea about it.
Respected MAHINDER KAUR JI 🙏🏾

Ah Sunn La Ni With Proof @KanganaTeam

Banda Ena V Ni Anna Hona Chaida..
Kush v Boli Turi jandi aa .. pic.twitter.com/Ie1jNGJ0J1

— DILJIT DOSANJH (@diljitdosanjh) December 2, 2020
Clearly, Diljit ne dil jeet liya of the Twitterati. But Kangana Ranaut didn't let it go. She clapped back with a tweet of her own. And remember that bit about Kangana's tweets always having insinuations about the person's immorality? Well, we were not disappointed.
सुनो गिद्दों मेरी ख़ामोशी को मेरी कमज़ोरी मत समझना, मैं सब देख रही हूँ किस किस तरह से तुम झूठ बोलकर मासूमों को भड़का रहे हो और उनको इस्तेमाल कर रहे हो, जब शाहीन बाग़ की तरह इन धरनों का रहस्य खुलेगा तो मैं एक शानदार स्पीच लिखूँगी और तुम लोगों का मुँह कला करूँगी- बब्बरशेरनी pic.twitter.com/mYx5mmLkEE

— Kangana Ranaut (@KanganaTeam) December 3, 2020
Ah, but there was more.
I had only commented on Shaheen Baag dadi cos they instigated riots there even that tweet was deleted almost immediately, I don't know from where they brought another elderly lady in to the picture and now endlessly spreading lies.Vultures trying to instigate mob against a woman. https://t.co/EI9xlXwaEu

— Kangana Ranaut (@KanganaTeam) December 3, 2020
Oh chamche chal, tu jinki chat chat ke kaam leta hai, main unki roz bajati hoon,jayada mat uchal,main Kangana Ranaut hoon tere jaisi chamchi nahin jo jhoot boloon,maine sirf aur sirf Shaheen Baag wali protestor pe comment kiya tha, if anyone can prove otherwise I will apologise.

— Kangana Ranaut (@KanganaTeam) December 3, 2020
Punjabi samajh aati hai mujhe, jinhonne Delhi mein riots karvaye khoon ki nadiyaan bahae, dangge karvaye unko defend karte hue sharm nahi aati? Tujhe kya sharm aayegi, kjo kaise kaam deta hai sabko pata hai 🙂

— Kangana Ranaut (@KanganaTeam) December 3, 2020
Oye dumbo baat wahi hai jab kisi ki citizenship gayi he nahin toh Saheen Baag dadi ne kiske kehne pe protests kiye? Jab MSP hataya he nahin toh phir wahi dadi kiske bhejne pe Farmers protests mein hissa le rahi hai? Kaun usko peeche se prompt karta hai when she speaks ? https://t.co/GZE2dyqVK3

— Kangana Ranaut (@KanganaTeam) December 3, 2020
Mera ya tumhara sahi hona zaroori nahin hai, desh ka sahi hona zaroori hai, tum log farmers ko bhatka rahe ho, pareshaan hoon main inn protests se aaye din in riots se iss khoon kharabe se, aur tum sab bhaagidaar ho ismein… remember that … https://t.co/shhe4lyM43

— Kangana Ranaut (@KanganaTeam) December 3, 2020
I mean. I am speechless. I won't even try and talk about the million ways in which this whole conversation is problematic. This is how our country debates political matters. Not via politicians taking the podium and addressing things, or lawyers submitting proofs in a court. But on frickin' Twitter.
See, my point is… Good. Great, we're talking about relevant issues here, calling each other out, that's amazing.
But, Kangana Ranaut, can you stop making everything about Karan Johar, FFS? This is about farmers of India! Have you seen KJo's movies? Have you see Fabulous Lives of Bollywood Wives? He has no door-door ka connection with khet and kheti, unless they are in Switzerland or New Zealand and for a song! What does he have to do with this? The argument, the actual point of this entire debate just went for a toss!
Diljit : you disrespected our mothers by calling them 100₹ women

Kangana : Tu Karan Johar ki chaat le

the argument : pic.twitter.com/dYyxl5hrTr

— Pakchikpak Raja Babu (@HaramiParindey) December 3, 2020
And again, trying to stay neutral here, but how is "Karan Johar ke paaltu" strengthening your argument? The man provided you legitimate proof that you messed up. You deleted your tweet because you know you messed up! Facts, right? Has apologising for a mistake become so hard for you? You say you don't care about the 'political party ticket' that people think you're going to be up for soon. But you've already started down the path of most politicians, who'll stick to their version of the story, no matter how wrong they're proven.
Twitter is flooded with memes about this, and for once, they're pretty bang on.
Meanwhile, Karan Johar when he sees his name trending again pic.twitter.com/xjI0gQIf70

— Nidhi Razdan (@Nidhi) December 3, 2020
#DiljitDosanjh
*Any Matter Of Kangana Ranaut exists*

*Meanwhile Karan Johar-: pic.twitter.com/uRlEqNeZSF

— Kadak Chaiii🔥👉👈 (@Assumation1) December 3, 2020
But can we all agree, there's a more serious problem with Kangana Ranaut's constant need to drag Bollywood and Karan Johar into everything? This is a time when the farmers' protest needs to be the main focus. Not who has whose favour in Bollywood, and how is whose pet, for crying out loud. Furthermore, the insinuations that she makes in her tweets are a whole different level of problematic and slanderous. Is she dismissing Diljit Dosanjh and his entire career before movies? Is she saying he had to get exploited to get into Bollywood?
We kids have known Diljeet Dosanjh since we were like 11 or 12, long before he did any hindi movies. Right from school we've listened to his songs so it's funny when I read Sanngana calling him Karan Johar ka paltu. As if his entire career revolves around him.

— Sisyphus ki Amma (@nalayaktragedy) December 3, 2020
"KJo kaise kaam deta hai yeh sab ko pata hai". She's insinuating that since Karan Johar is supposedly homosexual, he physically exploits his actors before giving them work. And Diljit has gone through the rigmarole.

Vile and ugly, this isn't delusional shitposting anymore. Chhi! pic.twitter.com/obNd6C5eJA

— Vaibhav Vishal (@ofnosurnamefame) December 3, 2020
it'll never not amuse me that kangana ranaut claims to be a LGBTQ+ ally and had the nerve to insinuate that diljit dosanjh made it big in the industry because he has "connections" with karan johar, the rw will always excuse and glorify homophobia and that's what they stand for.

— diljit dosanjh simp ☭ (@pussyriottt) December 3, 2020
Even the farmers' protest has been reduced to Karan Johar and 'bad' Bollywood. Incredible levels of obsession- both with self and with Mr Johar.

— Rohini Singh (@rohini_sgh) December 3, 2020
So, please, stop it Kangana. You want to comment on political issues in the country. Go for it, but can we not shift the focus to the same old parroting of Bollywood mafia, nepotism, drugs, etc.? It's not even funny anymore.
GET HAUTERFLY IN YOUR INBOX!