Christopher Miranda/ Hauterfly
Beauty
A Company In Japan Has Come Up With Spray-On Artificial Skin And While Interesting, We Think We Will Pass
By
|
The world of beauty and cosmetics is home to many weird rituals and bizarre products. These are a product of innovation in science and technology put into cosmetology to create unique tools used in advanced skincare. We have all heard of Cali-girl Blake Lively using mayonnaise as a hair mask or Margot Robbie using nipple cream as a lip balm. These offbeat beauty habits of celebrities can be credited for the growing demand in the public for improved methods of skincare, which can help one's skin stay younger longer and reduce the use of makeup on a daily basis. Well, ask and you shall receive because companies all over the world are spending millions in R&D to come up with innovative products that are both futuristic and a shocker at first glance…case in point: a spray-on artificial skin that hides all your skin's imperfections, while creating a cocoon for it to stay moisturized and protected.
A Japanese company called Kao Corporation are all set to release 'BIOMIMESIS VEIL', a three-step skincare range that creates a false layer of skin on our face, which can be peeled off later. Much like a mask, but only thin this time,  so thin that it looks like actual human skin and perfectly protects the skin from external elements.
According to the Kao Global, "First, the user blends the VEIL EFFECTOR (essence) into the skin. Next, she sets her VEIL DIFFUSER (small high-performance device) with the VEIL POTION (cosmetic liquid) and sprays it gently over her skin. Once applied the potion blends into an ultra-thin, translucent veil of a superfine fiber that stays in place overnight like a second skin and is peeled away the next morning. The veil helps to protect against dryness and maintain a moisture-rich environment, replenishing the skin with ample moisture during sleep".
The technology is said to have many more applications rather than just an overnight treatment. Women use primers to form a layer between their skin and makeup to provide added protection, but with a product like this, they can hope to not damage their skin at all. According to industry insiders, "The translucent membrane renders bruises and scars invisible when combined with the liquid. It is also touted as helping to heal wounds".
We do like the prospects that this product offers. A bottle of the beauty lotion is set to retail at around 8k while the diffuser will cost around 32k. A container of fibrous potion to be set in the diffuser will be available for an additional ~5k. We doubt that a product like this will be popular with individual users but can definitely see this at high-end salons where the technology can be used to protect one's from layers of coverage.  We can't wait to stand in front of the mirror and do the 'American Psycho Mask-Off'!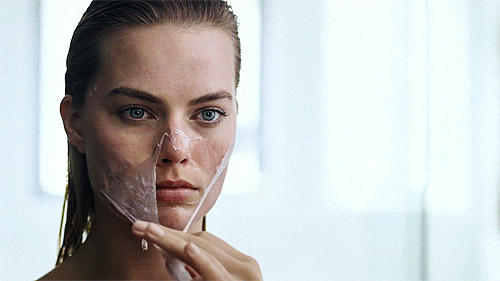 Has the product kindled your curiosity for other bizarre products available in the market? We found some, check 'em out!
A Mascara That Forms Individual 'Tubes' Around Your Lashes
A Perfect Brow Stamp
A Nail Cream That They Use On Actual Horse Hooves
A Placenta Anti Wrinkle Cream
Don't forget to let us in on your experience with these outrageous but cult favourite products!
GET HAUTERFLY IN YOUR INBOX!