Courtesy: All Recipes
Food
4 Types Of Coffee Ice-Creams That Are Basically God Sent
By
|
The one thing we are possibly splurging on the most currently is buckets and buckets of ice-cream. No matter how hard we try to keep up with our diet, the heat ultimately wins and takes over our cravings.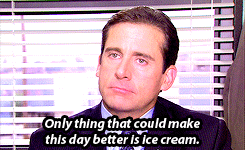 And what if I told you that the miracle that an ice-cream is can now being accompanied by another absolutely magical substance (okay, not that) — Coffee!
Yeah, even though it's been around for a while, no one can blame me for getting excited about it. I mean, it is like the perfect dessert ever produced (doughnuts, I haven't forgotten you).
Basically, if it's a day when you have a terrible headache, have to work long hours, have fought with bae, the boss is being a bitch, and you hate life — it is THE cure.
Of course, it is great as it is, but here are 4 twists you can give to your scoop of goodness and make it even more amazing — right in your kitchen! Also, these can double up as tasty shakes too.
ALSO READ: 7 Best Summer Drinks To Survive The Heat
Courtesy: The Little Epicurean
1. Mint Mojito Coffee Ice Cream
Enhance the flavour of the coffee beans by adding the freshness of mint to it and turn it into the most refreshing thing ever!
Ingredients:
2 cups heavy cream
1 cup whole milk
2 tbsp granulated sugar
1/3 cup fresh mint leaves, torn
1/3 cup whole coffee beans
6 large egg yolks
1/4 cup granulated sugar
3 teaspoons instant espresso powder
1/2 vanilla bean, split and scraped
Method: 
In a medium pot, bring cream, milk, and 2 tbsp sugar to a boil. Microwave coffee beans for 30 seconds. Once the milk boils, remove from heat. Add warmed coffee beans and torn mint leaves. Stir together. Cover pot and let it steep for 45 minutes.
Strain liquid mixture and discard coffee beans and mint leaves. Place the pot of milk over medium heat and bring to a boil.
In a large bowl, whisk together egg yolks, and 1/4 cup sugar. Once milk begins to boil, lower heat. Temper hot milk mixture into sugar-yolk mixture. Slowly add hot milk into yolk mixture, about 1/4 cup at a time, whisking to distribute heat. Continue to add milk into the yolks. Once all the milk has been added, transfer everything back into the pot.
Continually stir over medium-low heat until mixture reaches nappe consistency or 180 degrees F on a thermometer. Let mixture sit at 180-185 degrees F for a few minutes to pasteurise eggs. Remove from heat. Add espresso powder and vanilla. Stir until espresso powder has dissolved.
Pour mixture into a plastic wrap lined sheet tray. Spread over the tray and cover with plastic wrap. Let cool in the freezer for 5-10 minutes until mixture has cooled to room temperature. Transfer to an airtight container and let mature in the fridge overnight.
Freeze mixture in ice-cream maker according to your unit's instructions. Once the volume has increased by half and has reached a soft-serve consistency, transfer mixture into a freezer safe container. Let chill in the freezer for at least 2 hours before serving.
Courtesy: Serious Eats
2. Coffee & Cookies 'N' Cream Ice Cream
I'll let you take that in. Too much happiness in one dish! Also, Oreos. Lots and lots of them.
Ingredients:
2 cups heavy cream
1 cup whole milk
1 Tahitian vanilla bean, split and scraped
7 egg yolks
1/2 cup plus 2 tablespoons sugar
4 teaspoons medium grind coffee
1/4 teaspoon vanilla extract
1/2 teaspoon kosher salt, or to taste
1 1/2 cups crushed Oreo sandwich cookies
Method:
Bring cream and milk to a simmer in a heavy saucepan. Stir in vanilla bean, cover, and let steep for 30 minutes. Remove vanilla pod and reserve for another use. In a bowl, whisk egg yolks, sugar, and coffee together until pale in colour and thick. Ladle about 1/3 of dairy into egg yolks, whisking constantly, then transfer yolk mixture back to saucepan.
Place pot over medium-low heat and cook, whisking frequently, until a custard forms on a spoon and a finger swiped across the back leaves a clean line, or until custard temperature reaches 170°F. Stir in salt to taste.
Strain custard through a fine mesh strainer and chill in either ice bath or refrigerator until it is very cold, about 40°F. Churn in ice-cream maker according to manufacturer's instructions, adding Oreos in last minute of churning, then transfer to an airtight container and to harden in freezer for at least 4 hours before serving.
Courtesy: A Zesty Bite
3. Hazelnut Coffee Ice Cream
This recipe has hazelnut in the form of liquor, making it ideal for a party.
Ingredients:
1/2 cup hot fudge topping
1/3 cup sugar
1/3 cup light brown sugar
1 2/3 cup whole milk
1 1/3 cup whipping cream
2 Tablespoons hazelnut liquor
1/2 teaspoon vanilla
2 Tablespoons coffee cooled
Method: 
Place the fudge and sugars in a large bowl. Blend until the sugar is well mixed with the chocolate. Add the rest of the ingredients and blend until mixture is creamy and smooth. Cover and place in refrigerator for 3 hours.
Remove and place in ice-cream maker for 20 minutes. Remove and place in freezer airtight container.
Courtesy: All Recipes
4. Almond Coffee Ice Cream
Heavenly coffee ice cream with crunchy bits of almonds — for those who are all about the drama.
Ingredients:
Method: 
Mix heavy cream, half-and-half, sweetened condensed milk, almond extract, and vanilla extract in a bowl; stir in coffee granules until dissolved. Cover and refrigerate until chilled, at least 1 hour.

Pour mixture into an ice-cream maker and freeze according to manufacturer's directions until softly frozen. Transfer ice cream to a lidded container; cover surface with plastic wrap and seal. For best results, ice cream should ripen in the freezer for at least 2 hours to overnight.
GET HAUTERFLY IN YOUR INBOX!