Fashion
Uorfi Javed Is All Praise For Internet's Paper Queen Who Dishes Out Dresses Using Newspaper
By
|
DIY fashion has always been an interesting and sustainable way to put your closet on display. From upcycled garments to at-home styling, fashion nerds have always found a deep fascination towards it. And trying her hand on exactly that, is the internet's new star–Apeksha Rai. Popularly known as 'Paper Queen,' Apeksha who according to her Instagram bio is a fashion designer has many finding ways on her page to learn some style skills.

View this post on Instagram
View this post on Instagram
Just like her name, Apeksha is known for whipping up some interesting outfits, made out of a newspaper. With a penchant for DIY fashion, the class 12 girl finds an innovative way to wrap herself with paper. Some of her latest design experiments have included a fringed skirt, a red-carpet-esqué gown and even tiny flowers cut out of paper. Besides fan bodices and pleated skirts, she also curates sarees and accessories out of the same. Apeksha's creations have in no time found a follower base of close to 2,04,000. Well, her unique talent reminds me of my time in design school. 
View this post on Instagram
View this post on Instagram
And while everyone is impressed with Apeksha's bizarre fashion, one popular name who seems to be supportive of her work is our very own–Uorfi Javed. The Ex-Bigg Boss OTT contestant and her outlandish sartorial decisions, go hand in hand. From experimenting with risqué cuts, sliding into sky-high heels and surprising the internet with every new look, Ms Javed's interesting twist on fashion has always grabbed many eyeballs. Praising the young designer, Uorfi took it to her Instagram handle to appreciate her skills and wrote, "This girl got some skills." Well, we think so too.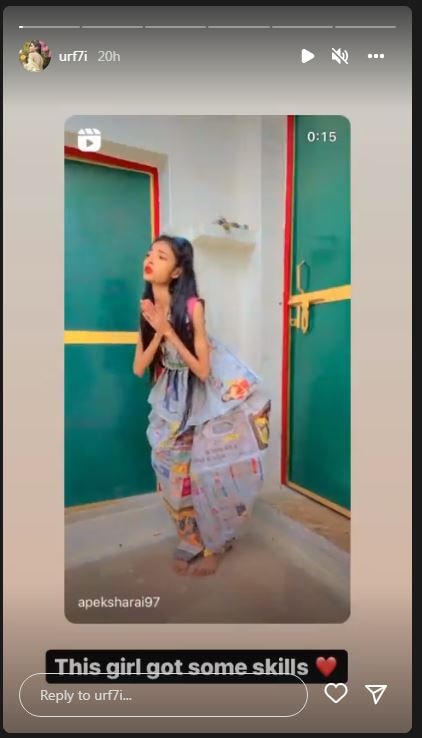 Much like the 12th class student, Uorfi has also made paper her style tool. Previously, the actress dished out a top made out of paper and recreated Rihanna's iconic, silver Met Gala look, using foil sheets. 
View this post on Instagram
Image Credits: Instagram
Uorfi Javed Is Dressed Like Chaand, Sitaare, Phool Aur Khushboo And Hum Unke Latest Dewaane Hai