Get Ready For Bappa's Arrival With Our Festive Wear Picks That Go From Playful Fusion To Usual Classics!
Updated August 30, 2022
The upcoming months are all about India's favourite festivals. Starting the celebrations with Ganesh Chaturthi, we are sure you are hoping to find the best of occasion wear to dress up. From high-octane designs, spectacular anarkalis to scintillating sarees, the list is endless. And if you're still confused about what to add to your cart, allow us to help you find your favourite festive pick with these designs. Take a look.
A Classic Kurta
A classic kurta is the most easiest and effortless pick for festivities. Versatile in nature, this silhouette can find a match with anything from palazzo pants to the usual salwars. For the upcoming festivals, find your pick from label Devnaagri's exquisite range of kurta sets. The colours weave the joy of festivals with delicate, wearable embroideries. Check out the label's latest festive edit–Sitara here.
The Timeless Shine
The timeless lustre of festive-favourite textiles, makes up for an heirloom-worthy piece to choose from. Amalgamated with the evergreen sarees, label–Ohfab's range of tissue sarees in a variety of jewel tones is perfect to light up every special occasion. Find your pick from this varied range of mulberry silk and gold-plated zari sarees here.
A New Flavour
For shoppers looking for the un in conventional, designer Arpita Mehta's range of festive wear silhouettes is fun, frilled and flavoured with trends. From georgette ruffle sarees and ethnic separates to beach-adored occasion wear, the designer hopes to offer a refreshing new silhouette to your usual pile of sarees and suits. Shop Here 
Twirl-Worthy
Lehengas and kalidars have a charm of their own. And if you are looking to twirl in a massive skirt during this season of festivals, then find your pick from designer Amrita Thakur's range of traditional cuts and sprightful colour-play. Shop Here 
Go Bold With Bandhani
A veteran textile that has found a loyal consumer base today, bandhani has crawled from annual garba events to regular affairs. And giving a modern-day twist to this oldest form of tie-dye, label Pink City by Sarika has some exciting silhouettes to suit your sartorial taste. From one-shoulder kurta sets to concept sarees in fuchsia pink, experiment with bandhani in your favourite shade. Shop Here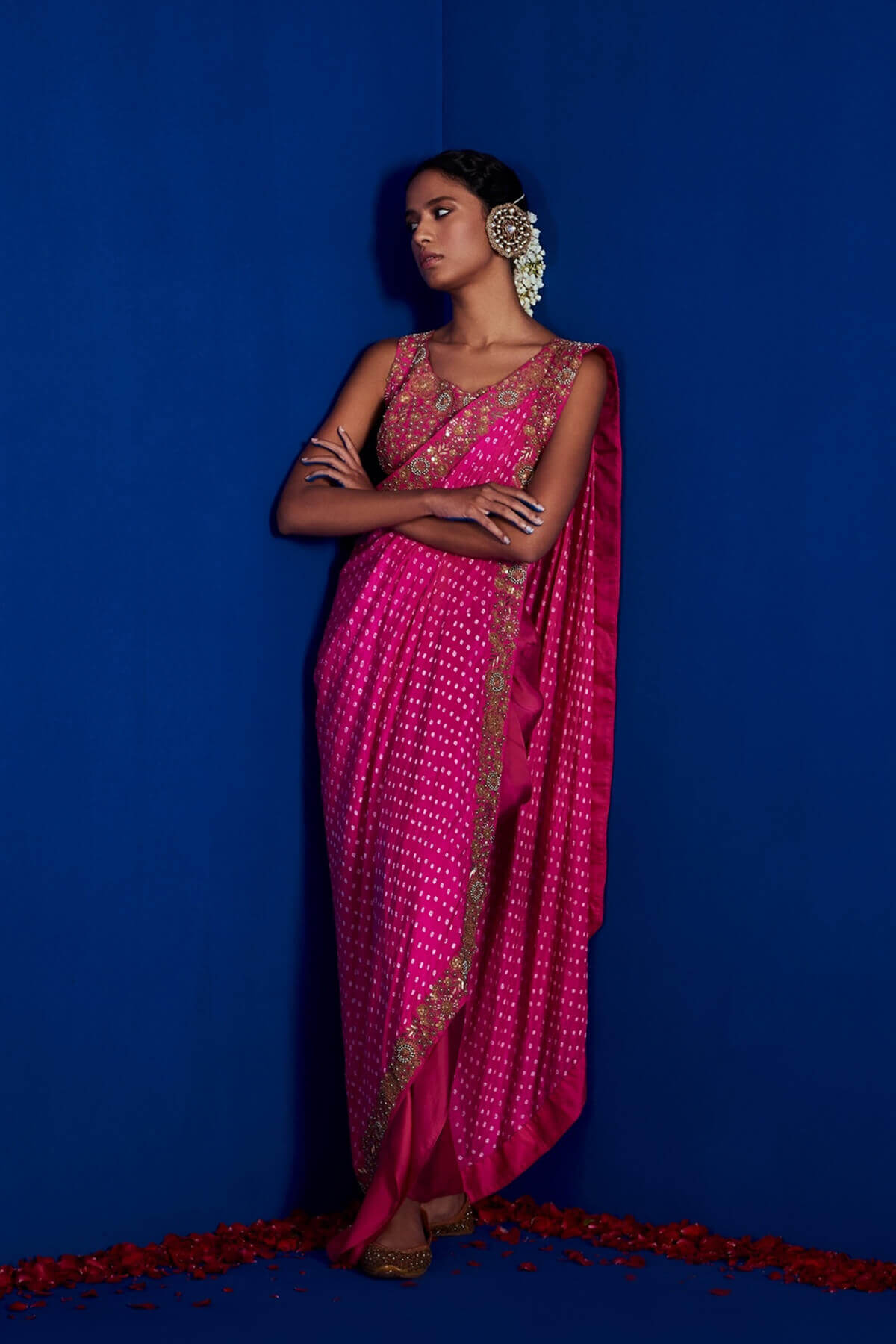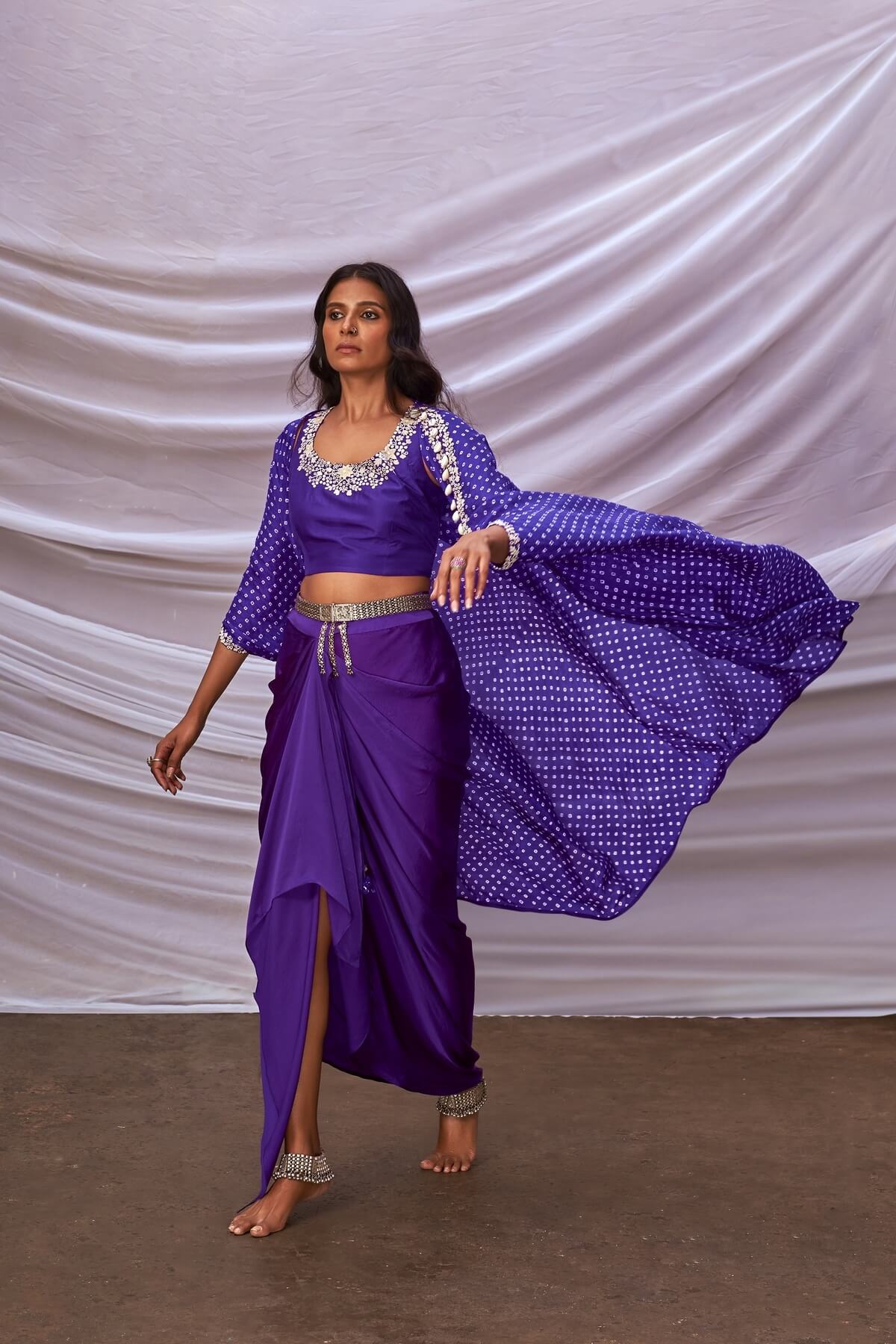 Happy Hues
Welcome the trendsetting shades of today into your festive wear closet with label–Maison Blu. From the draped dress, adorned with exuberant raffia and shells to playful sharara sets, the variety is endless. Shop Here 
Comforting Shararas
With at-home pujas and dinners, the hassle of being the best host calls for easy and comforting silhouette choices. From choosing the most breathable of fabrics to looking for the easiest to 'run around in' cuts, label EverBloom's festive range will help you find your perfect pick, without compromising on the designs. You can find your favourite from a variety of sharara sets and cotton anarkalis here.
Fusion Wear
A blend of both worlds is never a bad idea, and in the category of occasion wear, fusion dressing is competing to take the top spot. With designs brought to life by designer Punit Balana, find an ethnic version of your favourite corsets, slit skirts and scarf tops, with sultry lehenga-cholis, draped, concept skirts and printed, infinity blouses. It is versatile and has all the sass that you are looking for. PS, the designer's latest Lakshmi collection is entirely curated out of natural dyes. Shop Here 
So, what's your pick?
Image Credits: Instagram
From Embroidered Separates To Pant Sarees, These New Flavours Of Festive Wear Will Convince You To Skip The Usual Lehengas And Sarees