From Poo To Lara Jean, 11 Stylish Fictional Characters To Inspire Your Valentine's Day Look
Time to live your teenage dream!
Updated February 09, 2023
Most of my childhood has been about running away from school books and being a gandi copy of my favourite onscreen stars. Apart from simping over the male lead, all I wanted was to have a closet that would bring a special mix of outfits, worn by every iconic film/tv character. And yes, nothing has changed even today. Only that, Clueless' Cher has tougher competition in Euphoria's Maddy and Cassie. That's the whimsical world of onscreen characters and their impact on us. While their idea of romance has turned out to be more toxic and less like a fairy tale, in the real world, at least a version of their outfits can help us achieve that dream. Right? So, this Valentine's Day, we bring to you a roster of our favourite characters from the world of television and films, to be your best friends and help you dress. Straight from Emily's frill dress from Paris to Karisma Kapoor's sheen ice blue design from Dil Toh Pagal Hai, these leading ladies will inspire your outfit for that extra special date.
Emily In Emily In Paris
Besides Gabrielle, the plot has less meat and more fashion that I am currently manifesting. With a bunch of quick tips to solve every problem in her professional life, Ms Cooper brought a delicious palette of designs. From her weekly date nights with Alfie to stumbling upon the hot chef, for a session of deep talks, every strand of Emily's hair was dressed to perfection. And with that, Ms Cooper experimented with plenty of date night-appropriate designs that range from heart-soaked column dresses to Parisian flounce. Maybe, you can seek help from her closet to inspire yours!
View this post on Instagram
View this post on Instagram
View this post on Instagram
Poo In Kabhi Khushi Kabhie Gham
Every new character in Bollywood competes with the OG Poo from Kabhi Khushi Kabhie Gham. An icon for years, Kareena Kapoor's Poo was a stylish leading lady that Bollywood had seen in a very long time. Many years after the film's release, fashion nerds took a trip back in time to applaud the character's brilliant wardrobe. A tribute to Y2K, Poo was a pioneer in turning rhinestone eyes and chic co-ord sets into breakthrough trends. For the most part, when Kapoor plays Poo in the film, she is either rejecting men or looking for a date. This means, there's a wide variety for all of us to choose from. So, deck up in a saucy blouse and bellbottoms, with of course the right pair of shoes or build a nostalgia-driven denim look with scarf tops and tinted sunnies, and your Valentine will eventually say, "I Likeeee It."
View this post on Instagram
View this post on Instagram
Anna Scott In Notting Hill
An iconic rom-com from the 90s is a delightful love story about a bookseller's romance with an American actress. As the high-profile Anna, actress Julia Roberts, paints a spectacular vision in every frame, with of course fashion that was termed underrated. Anna's classic style for this rom-com classic was filled with tons of moments in leather, berets, and luxurious silk jackets, dressed down with a strappy tank top and denim. Anna brings with her, a delightful mix between London sophistication and New Yorker ease, as she takes multiple walks on the street with her date–William. For women who have a liking towards relaxed street style, Anna will inspire your date look and you can also take romantic strolls in the fascinating gullies of your town this Valentine's Day.
View this post on Instagram
View this post on Instagram
Veronica In Cocktail
If sartorial drama and swanky clubs build your idea of a Valentine's Day dinner, then Cocktail's Veronica will serve you only the best. Dripping sequins, and sporting long trailing gowns, Deepika Padukone's character changed the fashion game for Bollywood. With glamorous caramel curls, smoky eyes, extreme cut-out skirts, and sexy, haute silhouettes will make your boy sing "Uff teri adah, I like the way you move." From Veronica's wardrobe, you may also learn the art of styling your lingerie with see-through dresses and picking the most dazzling sling bags for a dinner at a club.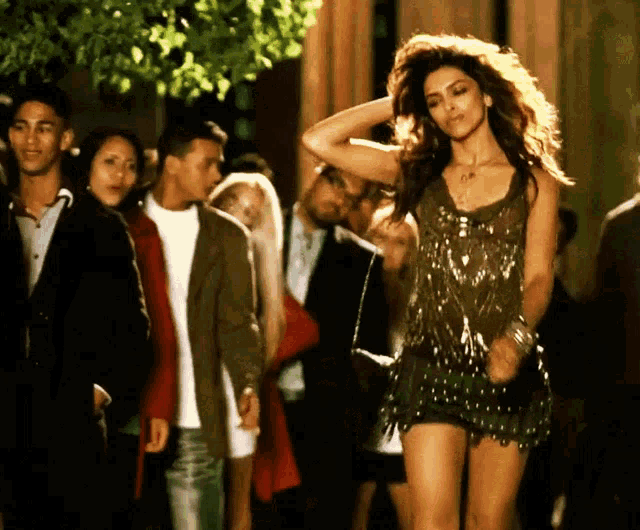 Lara Jean In All The Boys I've Loved Before
In the Netflix series, Lara Jean made meet cute moments look even more adorable with her bow-laden wardrobe. From coral colours, animated prints, and scrunchies to hairbands, her feminine aesthetic, marinated with high-school plaids was a refreshing change in the sea of designer dresses. Be it a quick snack date at your favourite cafe, a steamy time in the pool, a ballroom romance or even a luxurious dinner at a fancy spot, Lara Jean will help you with the cute hair dos, abundant frills, Cinderella colours and some more tricks to express your love for your special someone.
View this post on Instagram
View this post on Instagram
View this post on Instagram
Nisha In Dil Toh Pagal Hai
Soon after the release of this popular YashRaj film, we were all very much pagal about Karisma's contemporary, mixed with athleisure and Madhuri's soft-core, desi girl fashion. In multiple scenes in the film, Karisma reinvented fashion for Hindi cinema with an iconic selection of fancy active wear, sequin costumes, bold makeup and sky-high ponytails. For the time she romanced Rahul, she wore a magnificent, ice-blue dress with a sexy slit in the centre and embellished brooches on the sleeves. The shimmer, and texture of the fabric made her plain blue dress an iconic piece from the collection. You might want to dance to "Pyar Kar" with your real-life Rahul in this dress.
Anastasia In 50 Shades Of Grey
Besides tutoring couples a hundred types of bedroom romance, the leading lady–Dakota Johnson as Anastasia was nothing short of a dream. Straight from her brown fringes to her signature red lips, Ana's wardrobe leaned towards luxurious, statement pieces that were definitely easy to undress. For their quickies in the elevator and in the restroom, Ana's wardrobe full of backless, slip dresses, and easy wrap-around will bring help you undress quicker than ever. Have a happy and sexy Valentine's day!
View this post on Instagram
View this post on Instagram
Cher In Clueless 
We all have loved Cher's sunny uniform, but have you seen her iconic red dress? Yes, the iconic Alaïa dress has been sitting on my mood board for the perfect moment. A tall stack of classic designs in the Clueless heroine's closet were second-skin-like dresses, which included that famous "underwear" dress by Calvin Klein. And while most of us don't own that cool computer like Cher, all we can do is try to replicate her chic design with a bunch of dupes this Valentine's Day. 
View this post on Instagram
Shanaya In Student Of The Year 
The prince of rom-com and fashion in Hindi cinema, Karan Johar, reinvented a version of Poo, to appeal to the masses later in the 2000s. Johar's hit film–Student Of The Year, introduced Bollywood to Alia Bhatt as Shanaya, who may have less IQ but had every designer label on her tips. With that, she also brought a wide variety of teenage glam, mixed with bow hairbands, and playing with the little red dress nostalgia. Alongside her "Disco Deewane" moment, Bhatt's character Shanaya was the reason behind my obsession with the unusual, rose wristband that I begged my mom to get me. For us, Shanaya can definitely be your inspiration for a cute date night look.
View this post on Instagram
Rachel Green In Friends 
Make way, because the mother of television fashion is here. The stylish character from the group, Rachel Green brought a bag full of trends and sartorial taste throughout her time on the big screen. Probably the only character who can make rags look chic (except for Uorfi), Green's bundle of date night dresses have been every girl's teenage dream. And it's time to bring them back from your dreamland into reality. From her Chinese prints, strapless dresses, and maternity LBD to of course the mint number that melted our hearts like Ross, allow Ms Green to guide you towards a fabulous date night look. You may wanna sneak in a few hairstyle ideas from Phoebe. 
View this post on Instagram
View this post on Instagram
Monica In Monica O My Darling 
Screens were set on fire when Huma Qureshi turned into Monica for the Netflix special. For the 2022 film, Qureshi as Monica brought many shades of grey and a million reds to weave her outstanding wardrobe in the film. Edgy, classy and a love letter to Disco glam, her wardrobe has the perfect sparkle, sheen, and feathers for dressers who like to make an extra effort. The only closet that delivers red in more than one way, Monica-Aesthetic will appeal to your darling!
View this post on Instagram
What's your sartorial mood for Valentine's Day?
From Heart Soaked Bags To Sexy Lingerie, A Style Guide To Build Your Valentine's Day Look