How 'House Of The Dragon' Episode 4 Tackles Female Pleasure And Consent Through The Female Gaze
Game Of Thrones spin-off prequel House Of The Dragon continues to put the stories of its female characters at the fore. This episode especially gets right one of the things that Game Of Thrones has been repeatedly criticised for lacking in the past: The female gaze in sex scenes. Episode 4 'King Of The Narrow Sea' is directed by a woman, Clare Kilner, and features three intimate scenes, the most we've seen in the show so far. There's one scene between King Viserys (Paddy Considine) and his Queen wife, Alicent Hightower (Emily Carey); another between Daemon Targaryen (Matt Smith) and his niece Rhaenyra (Milly Alcock) in a brothel; and finally there's one between Rhaenyra and Ser Criston Cole (Fabien Frankel), knight of the Kingsguard, in Rhaenyra's bedchamber. What's interesting is that these scenes aren't just about sex. They deal with a complex set of dynamics of consent, power, and pleasure. And they are a turning point in the story, almost a catalyst for the Dance Of The Dragons. And the female gaze, coupled with the presence of intimacy coordinators on set, has made all the difference.
Like most people, my first reaction to watching Episode 4 was to hoot for the absolute queen that Rhaenyra is. She got it going with two of the hottest men in Kings Landing. However, after hanging around on Twitter and giving the episode a second watch, I understood just how grey each of these scenes were, and how they could be perceived differently by different people. This, in turn, makes the way they were shot rather important. Let us look at them one by one.
View this post on Instagram
Daemon and Rhaenyra
Game Of Thrones has a way of making you root for incest. Those who have read George R R Martin's Fire And Blood, know what's about to happen in House Of The Dragon. When Uncle Daemon sneaks his 17-year-old niece out of the Red Keep and into a brothel, the scene is laden with sexual tension. Actually, most scenes between the two are. But this is where it all crescendos, where they almost fuck.
Oh wait, can't use that word, because this almost fornication doesn't have the King's consent! But there's also a discussion going around about how valid Rhaenyra's consent is in this case. Could what Daemon did be perceived as an older man grooming a younger woman? He tells her, seconds before they start making out, that this is a place where people come to take what they want. When he proceeds to kiss her, he is taking what he knows he wants but he might not get it easily, because his brother, the King, would never allow it. What he perhaps doesn't anticipate is Rhaenyra's enthusiastic consent. It makes him hesitant and he withdraws, thereby spurning her advances and putting an end to what was clearly inappropriate.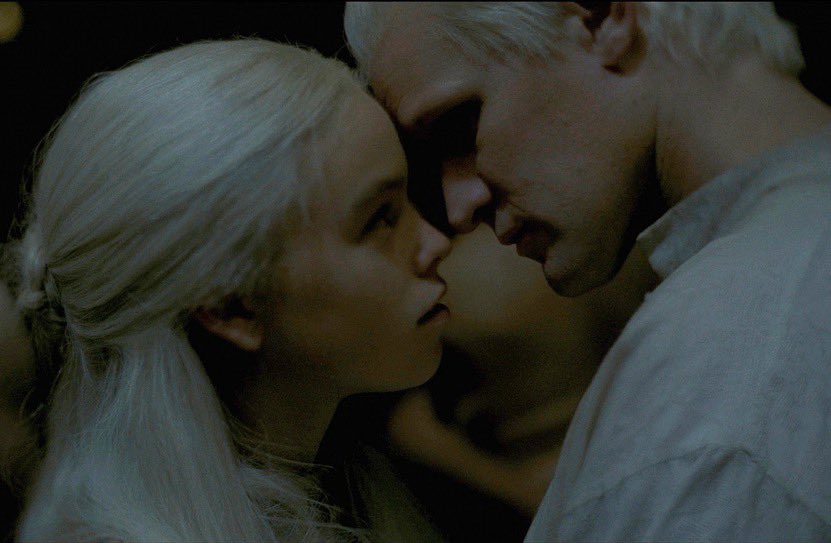 When you look closely at how the scene is shot, and how the act is choreographed, it is evident that Rhaenyra's experience, her pleasure, takes the lead. Sexual tension becomes more important than nudity. Considering Rhaenyra is new at this, her excitement and curiosity about breaking the rules without inhibitions is what drives the scenes. She too is taking what she wants. The nudity is tempered and instead, there's more focus on the facial expressions which would better indicate what the characters are feeling. Kisses are used as an indication of non-verbal consent here. 
Daemon pushes Rhaenyra into the dark, with her face against the wall, but when she turns around and he sees her face, and knows he cannot really hide from her, is when he stops. We know he has a performance problem. This is no random dalliance. And he must be naked in many ways before her like he never has been. There's probably a very tiny part of him that even thinks he isn't good for her, and another that does not want to mess up his mended relationship with his brother. And that makes him stop. 
The entire sequence of transgression is shot like a fever dream, or like a sex dream, you'd have about someone completely out of bounds. And that just adds to the overall effectiveness of it. It's sexy. The arousal is palpable. It makes you reach for water. Or other things.
Rhaenyra and Ser Criston
Now that she has tasted the truth that fucking is a pleasure, Rhaenyra seeks out to experience it again when the chance arrives, with her bodyguard with whom she already has hot chemistry, Ser Criston. What makes consent in this scene a grey area is the power dynamic. Rhaenyra is the heir to the Iron Throne, a princess that Criston has sworn to protect. He does like her, that much is evident. But men like him put duty and honour above all, and as a knight of the Kingsguard, they swear an oath to never father any children. The parallel with a certain Jaime Lannister is apparent here, for they both forsook their oaths and had dalliances with royal women. But in Ser Criston's case, his 'feeble' attempts at making the Princess stop are brushed aside. She is clearly in a position of power to command him and coax him into giving in. 
View this post on Instagram
He eventually does and we do see enthusiastic consent. In fact, Rhaenyra taking off Criston's armour, layer by layer, is symbolic. You see, undressing is foreplay, which is so important a part of female pleasure. It is paced well, giving them both time to explore each other's willingness. Does he want her to stop? Does she want to change her mind? The kisses indicate hesitance at first, and then consent. Rhaenyra takes charge, and we see the act from a female gaze, where nudity isn't required to titillate. The moans, the expressions, and the positions put the woman's pleasure on top. If anything, it is the man who is the object of fantasy here. And that is hot, and rarely seen on the screen handled so well.
Another flip in the power dynamic that we shall eventually see is how both Rhaenyra and Criston perceive this one-night stand. But more on that in later episodes.
Viserys and Alicent
The episode's third intimate scene, intercut with Rhaenyra's, is an uncomfortable watch. The shift is jarring which has the necessary effect. Earlier in the episode, we see Alicent tell Rhaenyra that most women don't get a choice between two suitors, and she is lucky to have a choice between two scores of them. The parallels between both girls' truths become even more stark later when the scene in question arrives. Rhaenyra spends the night exploring her sexuality with two men who want her, and who she wants. As for Alicent, sex becomes an act of duty, and her pleasure and consent do not matter.
At a late hour, Viserys sends for his Queen, who tries her best to find a way out of it. When she cannot, she resigns to her circumstances, which is what Alicent has been doing since her father pushed her into the King's path. While Rhaenyra gets to explore her sexuality as a normal person should, Alicent never gets a say in it. You can almost imagine what Alicent's first time would have been like, and how scared she would've been. The camera stays on Alicent's face during the act; she is numb, save for the time when her husband looks at her face, hoping to see her experiencing pleasure as she is, and she pretends to make him happy. She has been taught that's her duty.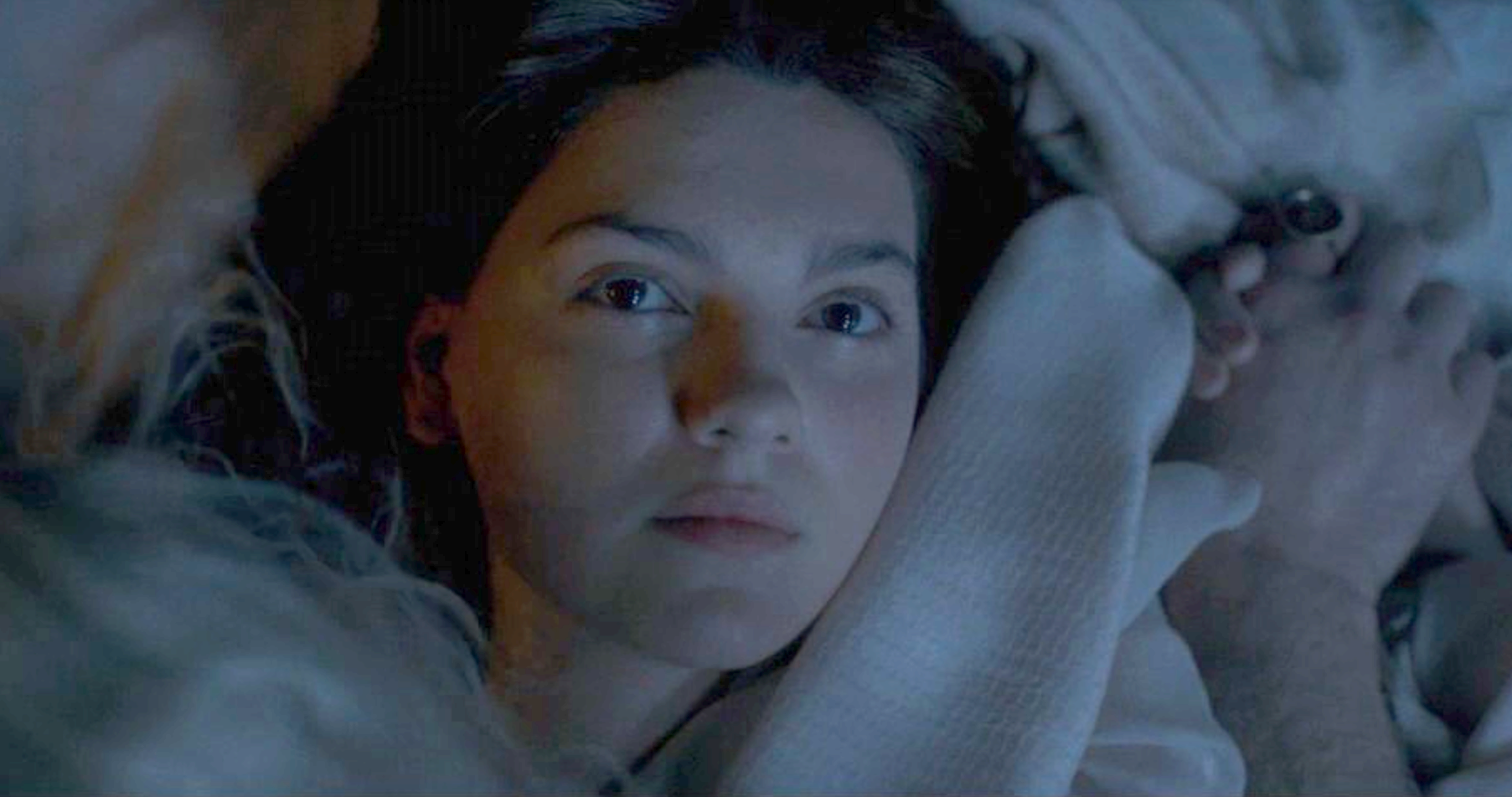 With the debate around marital rape raging in our own country right now, this scene explains the many complexities of consent. What power does Alicent have over her father's subtle coaxing to marry the king and the duty she has to her husband as his wife? And when she doesn't have the freedom or power to make her own choice, is her consent even valid?
This scene too doesn't resort to nudity. There's no kissing because sex here isn't really an act of love, but more an act of duty and a man's desire, not a woman's. And yet, it is not rough or harsh, to indicate that this is "between a husband and a wife who do have affection for each other." And yet, the reluctance is implied.
View this post on Instagram
Going by what actor Emily Carey said in an interview, her fears about shooting the scene were allayed by the presence of intimacy coordinators on set who took her through it. As an audience, being able to enjoy sex on screen guilt-free because you know proper care was taken to shoot them is amazing. But when scenes with tricky consent, sexual violence, and crimes against women are being depicted, it is imperative that the directors approach them from a place of empathy so that the audience actually understands these complexities instead of making it violence porn.
House Of The Dragon is currently streaming on Disney+ Hotstar, with new episodes every Monday morning.
Carice Van Houten Teases Fans Saying Melisandre Is Old Enough To Appear On 'House Of The Dragon'. Oh R'hollor, Make It Happen!
Jinal Bhatt
Sharp-tongued feminist. Proud nerd. Opinions with on-point pop-culture references about films, books, your toxic BF, the patriarchy, and the Oxford comma.
Know more