Someone Said Indian Food Was Terrible And Padma Lakshmi's Reply Was Epic. And Here's Indian Food That's Loved Everywhere
You could take an Indian to any place in the world and chances are, they have some thepla on them. And you put an Indian anywhere in the world and they be whipping up some sort of tikka which they will generously pass around and most people will instantly convert or at least develop a taste for. But perhaps some people can't develop a taste for it. We don't know why but they can't appreciate something like that. A lot like US academic Tom Nichols who was very upset  and  he made this very apparent in his recent tweet where he called Indian food 'terrible', and got terribly trolled for it. Talk about life coming full circle.
Indian food is terrible and we pretend it isn't. https://t.co/NGOUtRUCUN

— Tom Nichols (@RadioFreeTom) November 23, 2019
In what started with a twitter thread about sharing your "most controversial food opinion", where people had all sorts of replies, one stuck out like a sore thumb. Tom Nichols, the US academic took to his twitter handle to be a part of the thread and chose to comment, "Indian food is terrible and we pretend it isn't." A statement that for obvious reasons didn't sit very well with twitterati, had the internet raging about it and we have to side with them – it was kind of uncalled for.
Now, don't get us wrong, we agree that our food is kind of different, very out there and so may not be everyone's cup of tea, but claiming the entire cuisine is terrible was taking it a too far. Indian food is but known for being flavorsome and rich in so many aspects from nutrients to taste to everything. Of course, there is the occasional need to sip gallons of water after having Indian food, but in our experience it only adds to the taste and we aren't ones to complain.
Do you not have tastebuds? https://t.co/o2IVYsrr8R

— Padma Lakshmi (@PadmaLakshmi) November 24, 2019
Coming across as the kind of a reply a jilted lover who has possibly been burnt by the enthusiastic flavours and spices would frame, Tom was derided for his poor choice of words and taste. Many gave it back to the US academic with epic replies, but the most befitting of them all was of Author Padma Lakshmi who wrote, "Do you not have taste buds?" Possibly the only way we would let him off the hook was if he decided to say yes to this.
In fact, not just Indians, but all across the world, there are certain Indian dishes that are loved, craved and devoured. Here are 5 top Indian foods that are internationally indulged in –
https://giphy.com/gifs/ubereats-worldcup-uber-homemade-ZETt2XxMhNYjFRZvJi
Chicken Tikka
One of the most loved and ordered food item, this starter that is served in boneless chicken pieces, cooked in  spicy gravy and garnished with extra masala and onions and chutney. It is one dish that may have people reaching out for water but not without feeling the need to repeat their order!
Chaat Papadi
From paani puri to classic bhel and chaat, this light snack served with its own quirks is a complete delight and sold across the globe. From vendors selling it in streets of Paris to London to New York, Indian chaat has a way of getting around and for all the right reasons!
https://giphy.com/gifs/ubereats-uber-takeout-snackable-Y3MeN8yw1ybFPw27CT
Biryani
Be it vegetarian or non-vegetarian, biryani is a famous dish that Indians and many others find very difficult to say no to. Packed with flavour and texture, and then served it with a salan, biryani is known to have more variants than any dish!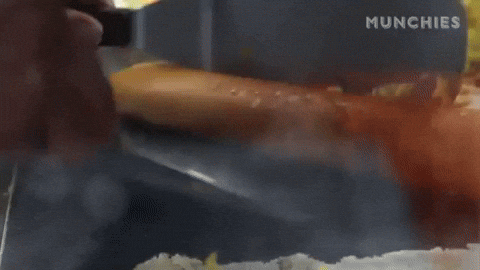 Dosa
A south Indian specialty, dosa and sambar are not just extremely healthy as a dish but also fills you up well and leaves you wanting more. Crispy, with a wholesome filling of potatoes, and served with hot and delicious sambar and a mix of coconut chutney, this dish is as Indian and as delicious as it gets. Also reminding people that not every dish us Indians eat is dripping with spice and chilies.
Samosa
Or better yet known as little pockets of happiness, this particular Indian snack is not just famous for being eaten during the evening chai time, but also internationally picked up by various restaurants and served in different more adaptable variations. The fried dough that is filled with servings of potatoes and accompanied by green chilli chutney are a foodie's delight!
Know more