15 Life Lessons We Learnt From The Harry Potter Series
The Harry Potter legacy can never die. As a Potterhead, I have read all the books and watched all the movies more times than I can count. And each time, there is something new that I learn. Be it a jaw-dropping new theory, or a beautiful life lesson, these discoveries resonate within me and are a part of my life.
The Harry Potter series is brimming with fleshed out characters. Every character in the series has something to teach you, if you take a closer look.  From the gentle Molly Weasley to the fierce Alastair Moody, there is something to learn from them all! Today, let's try and look at the bigger picture and discover exactly what we learned from these fictional gems. Let this be your takeaway for the day.
Here are 15 life lessons that every Potterhead out there can totally relate to!
Courtesy: Fanpop
1. Never Be Afraid To Be Yourself
Hermione Granger is proof of this! She was a huge bookworm and someone who knew the answer to every question that was ever asked in class. Despite being ridiculed by Draco Malfoy, she remained true to herself and was proud of it. She never tried to change anything about herself and that's what we love about her. Take your inspiration from Hermione Granger, folks! After all, she was the brightest witch of her age!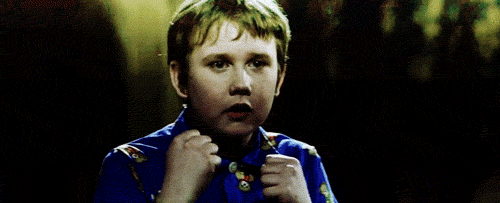 Courtesy: giphy
2. Sometimes, You Need To Stand Against Your Friends
As Dumbledore wisely said, "It takes a great deal of courage to stand up to our enemies, but a great deal more to stand up to our friends." Truer words have never been spoken. While friends make life a lot easier and are always by our side, it is important to let them know if they go off on the wrong path, by standing up to them. That's exactly what Neville Longbottom did, when he stood up to Harry, Ron and Hermione. Great going, Neville!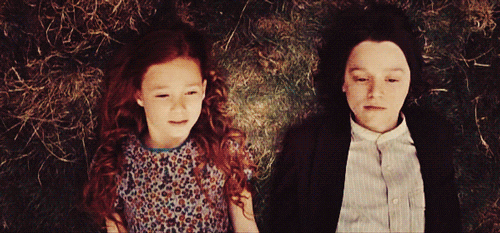 Courtesy: giphy
3. Love Conquers All
There is no emotion that is stronger or more powerful than love. Love is the be all and end all of life. The love that Snape harboured in his heart for Lily, enabled him to act in the correct manner and eventually helped lead to the death of Lord Voldemort. Similarly, Lily's love for her son, provided Harry with the protection that he needed, while he grew up. Love does conquer all!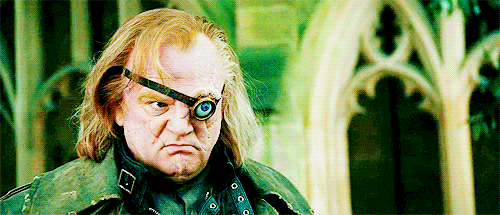 Courtesy: giphy
4. Be Fearless
You have only one life. Why waste it away by letting your fear (most of them irrational) get the better of you? It makes so much more sense to conquer our fears and make the most of our lives. Pretty much like Alastair Moody, who feared nothing (not even death), we need to learn to live life on the edge, and fearlessly.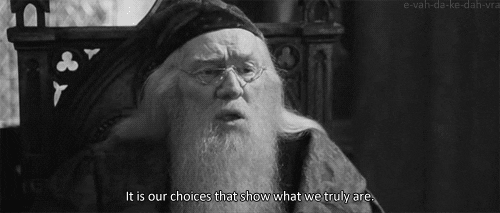 Courtesy: giphy
5. Never Let The Opinions Of Others Affect You
People will talk. That's what they do best! But you must learn to let it all go. Never be swayed by what others seem to think of you. Live your life on your own terms and be proud of it! Albus Dumbledore never bothered what the entire wizarding world had to say about him, did he? And this could be one of the reasons he could scale great heights in his lifetime. Let's take a page out of his book.
Courtesy: wifflegif
6. Everyone Is Capable Of Being Good
Everybody has some amount of virtues within them. Not everyone can bring it out; not everyone chooses to, either. But we must never forget that everyone in this world is worthy of being given a second chance. Take Draco Malfoy for instance. He didn't give away Harry's identity at the Malfoy Manor. Even in the end, he didn't move to join Voldemort's flanks, until he was asked to by his mother. It only goes to prove our point, that deep within most of us know right from wrong.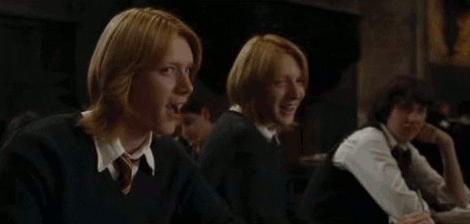 Courtesy: giphy
7. Laughter Is The Best Medicine
We've heard this phrase so many times, right? But Fred and George Weasley seem to live by the adage. Who can forget the time they soared into the Great Hall during the examinations and threw around crackers to lighten up the mood?! Also, Weasley's Wizard Wheezes! Take inspiration from Fred and George and stop taking life so seriously. Laugh! It'll take ages off you.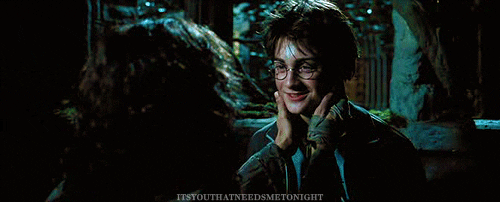 Courtesy: giphy
8. Some Relations Are Stronger Than Blood Relations
You don't have to be related to somebody by blood, to be special. Take Sirius Black and Harry, for example. They weren't related by blood but the bond they shared was so tender and so strong, that even death couldn't tear it apart. The relationship that Molly Weasley shared with Harry is also worth a mention. In her own characteristic way, Molly was like the mother that Harry never had.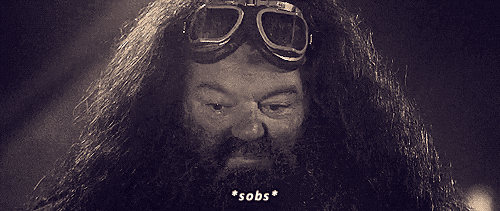 Courtesy: giphy
9. Don't Judge A Book By Its Cover
Hold on to those judgements! You can't always be right. One look at Hagrid might make one think that he's a rough, crude and an arrogant giant (okay, half-giant!). While he comes across as intimidating, Hagrid is just the opposite, isn't he? He's kind, compassionate and the greatest friend and guide Harry could have ever hoped for!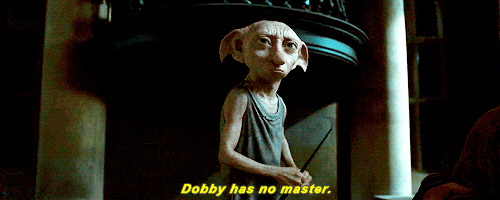 Courtesy: giphy
10. Great Things Come In Little Packages
You know who I'm talking about! Yes, Dobby the house-elf who else. Who could have imagined that a creature that fragile and tiny, could perform acts of such heroic courage? He was always unswervingly loyal and was never afraid of doing the right thing despite great threat to his own well-being. Let's take a leaf out of Dobby's book today.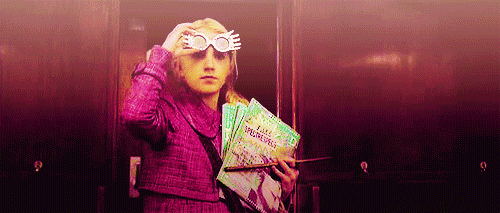 Courtesy: giphy
11. It's Okay To Be A Little Crazy
In fact, it's wonderfully liberating to be crazy! Life is so much more fun that way. Luna Lovegood proved this time and again. She was never what you could call 'normal' by conventioanl standards. But that only added to her charm, didn't it? So let those reins loose and by all means, indulge and embrace your kinks and quirks.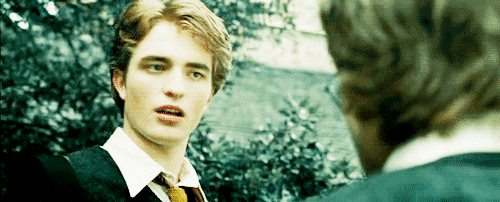 Courtesy: giphy
12. Move With People, Not Against Them
We all tend to get a little competitive at times. But remember: competition kills compassion. Cedric Diggory was kind and helpful to Harry during the Triwizard Tournament. Even towards the end when they were inside the maze, Cedric insisted that he would not grab the cup since Harry had spotted it first. So, move with the others and not against them.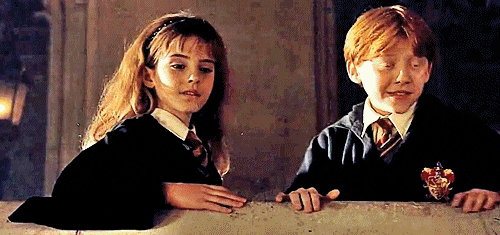 Courtesy: giphy
13. Be Patient And Wait For Good Things To Happen
Being impatient will never get you anywhere. Ron always felt that he was an average guy. He wasn't the brightest cookie around nor was he good at playing Quidditch. He always liked Hermione but he never quite gave up on her in spite of always feeling like he was inadequate! But in the end, he had his happy ending, didn't he? This goes to show you that at times, you need to wait for the good things to come to you instead of chasing something endlessly.
Courtesy: Fanpop
14. Be Humble
Of course, this one's all about The Boy Who Lived. He was famous when he was just a little child, wrapped in a blanket and left outside No 4, Privet Drive. But he never let all that success and fame get to his head. He was always rooted and kind. This is the biggest takeaway from the entire series.

Courtesy: giphy
15. True Friendship Never Dies
Be it James, Sirius and Lupin or Harry, Ron and Hermione, the Harry Potter series is solid proof that true friendship can NEVER die. It is really rare to find such good friends. But once you find them, know that they will never let go, both in good times and in bad. Friendship like this is sheer GOLD and must be treasured.
Know more